Success Stories 2011:
"To all whom this may concern,
I would personally like to thank all of those who have recently contributed their time and efforts in what I believe to be an awe-inspiring and frankly quite dramatic display of support from the home-front. The correspondence and care packages have been coming in at an overwhelming and nearly monumental pace. The "Any Soldier" campaign has seen tears from some, given hope to most, and has been inspirational to us all. Your relentless support has provided the simple reminder that any one of us would proudly die for a grateful nation in our ongoing fight against terrorism."

"Freedom is not Free"
Sergeant Brian Horn
Iraq, Nov 2003
---
22 Jan 2010: "You and I both know that the life of a Soldier is not without sacrifice; but thanks to Any Soldier Inc., coping with a deployment has gotten a little easier."

General Raymond Odierno, Cdr, U.S. Forces - Iraq
(Letter HERE.)

---

12 Jan 2010: "President and Secretary Clinton on behalf of the Clinton Family Foundation take great pleasure in making a one time grant...to Any Soldier Inc."
"...On behalf of the Foundation, all best wishes for success in your worthy charitable endeavors."
The Clinton Family Foundation

---

28 Jun 2107: "By establishing an extensive network of U.S. soldiers available to distribute letters and care packages from home, Any Soldier Inc. has taken a leadership role in making sure the men and women of our military receive vital emotional support in their times of greatest need."
NYC Mayor Michael R. Bloomberg (Letter HERE.)

---

1 Aug 2105: "Your organization's troop postings help our citizens show their steadfast support for our Armed Forces, and I am grateful."
President George W. Bush
(Letter HERE.)

---


Brian (left) and his Platoon Sergeant with the first of the AnySoldier packages, October 2003.

"It is a great honor to share with others the excitement and happiness of the men and women fighting for our freedom over-seas when they receive a care package from total strangers. AnySoldier.com has provided we WWII Veterans from a retirement community here in California with hundreds of names and addresses of our military fighting this war on terrorism. During my time in the service I never was able to receive a care package from home due unfortunately to my being in a Japanese POW camp for three and a half years, and I can honestly say it would have meant so much to we POWs if we knew the folks back home cared. Well, we care: and we show it by sending 50 care packages every week to our comrades fighting for our freedom.
Thank you AnySoldier.com for making these care packages possible."
Lester Tenney, National Commander
American Defenders of Bataan and Corregidor

---

"No matter personal opinions on the war, I believe every American understands and appreciates that men and women are sacraficing their lives daily in order to protect our freedom.
Our soldiers are national heroes and they should want for nothing. But they do.
Things we take for granted everyday, go a long way to a soldier away from their family and the comforts of home.
So please join me in supporting our troops by fulfilling their humble requests through www.AnySoldier.com.
Let us show our appreciation today and everyday until our heros are home safely. Bless you all."
Leah Remini, Actress

---

"My father was in the service and received a military burial where I was presented with our flag. I've gotten a few emails asking what the military website I have mentioned in the past was. The one to write our brave men and women dedicating their lives to some war somewhere. They LOVE hearing from you! That link is: www.ANYSOLDIER.com"
Dane Cook, Comedian

---

"I have many friends and now family that have been personally impacted by the inspiring work of AnySoldier.com while serving overseas. AnySoldier.com bridges the gap between willing Americans and our heroes, by giving us civilians realistic ways to serve those who are serving us."
Mike Vogel, Actor

---
"I couldn't be any more proud to have been apart of such an honorable organization as AnySoldier.com. This is priceless, and I would like to thank all of you who entrusted me to be your contact. To have been able to distribute the mail personally as a contact to soldiers who get next to no mail at all and for that brief moment see the look of hope in their faces of good things to come. The hope that somebody out there does care. That somebody does in fact love them as they deservingly should be loved. The hope that some day their involvement in the fight on terror was to preserve those that believed in them so much through and through, until their fight was done. We fight so that maybe, just maybe your grandchildren won't have to.
Pray for us in all that we do."

Sergeant Brian Horn
Afghanistan, Nov 2105
---
Any Soldier® in the News 2011:
---
(Many links are external and may not work now, sorry)
---
ABC, Australian Broadcasting Corporation (1)
Air Force Link (1)
ARD German TV (1 - 2)
Army.com (1)
Army Times (1 - 2 - 3)
ARNEWS (1 - 2)
Chicago Sun-Times (1)
Chicago Tribune (1 - 2)
CNN (1 - 2 - 3 - 4 - 5)
DarynKagan.com (1)
DefenseLINK (1 - 2 - 3)
Field and Stream Magazine (1)
FOX (1 - 2 - 3 - 4)
Kim Kommando (1)
Kiplinger's (1)
Military.com (1 - 2 - 3)
MSNBC - Newsweek (1 - 2 - 3 - 4 - 5 - 6 - 7)
PBS (1)
New York Daily News (1)
New York Times (1)
Pundit Review (1)
RTE, Radio Television Ireland (1)
Stars & Stripes (1 - 2 - 3 - 4 - 5 - 6)
The Christian Science Monitor (1 - 2)
The Daily Star (1)
The New York Sun (1)
TVP-1, Polish TV National Channel (1)
USA Today (1 - 2 - 3)
Washington Post (1 - 2 - 3)
Yahoo! (1 - 2 - 3 - 4)
---
Our thanks to the many of you who talk about Any Soldier in your blogs! Some HERE.
---
Effective December 5th: With the difficulty of keeping up with all the news about this web site and its supporters, please refer to this link for all relevant news.
---
Awards:
Click HERE for awards given to Any Soldier Inc.
---
Great Events and Efforts 2011:
---
---
8 October:
6th annual "JeepJam" by
O'Daniel West
of Fort Wayne, Indiana to benefit the Disabled American Veterans. This is the largest event benefitting the DAV in Indiana. Huge number of jeeps of all kinds, sizes, engines, suspensions, and of course, amount of mud.
---
This video was done as an Eagle Scout Project by Peter Armstrong. Some 210 Scouts have used AnySoldier.com as a basis for their Eagle Project, this video, however, is a first.
We are proud of Peter and appreciate his work!!
Also on YouTube
HERE
.
---
FOR IMMEDIATE RELEASE:
Sharon Klaschka
Sales & Marketing Director
Wailea Beach Marriott Resort & Spa
808-874-7845
808-874-7814
Sharon.klaschka@marriott.com
waileamarriott.com
In Memory of those we have lost … We will always remember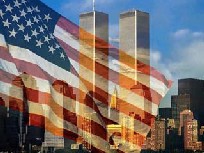 Wailea, Hawaii, 08/29/11 — The Wailea Beach Marriott Resort & Spa will be acknowledging our firefighters and those that were lost on 9/11/01 on the 10th anniversary of that fateful day in our history.
Our associates wanted to do something special for those who gave their lives on 9/11 and those who were rescuers and have come up sharing this day with our local firefighters here in Wailea and neighboring Kihei. Our Executive Chef Manfred has prepared a local style lunch to be delivered to the two fire stations and a total of 19 firefighters. Some of the mouth watering choices to be served are: assorted sushi, grilled shrimp summer rolls, Korean style fried chicken, braised 5-spice short ribs and Okinawan sweet potato cheese cake with haupia to name a few.
We will also have a display in our lobby of some items sent to us from Marty Horn who is the founder of AnySoldier.com. This is a 501(c)(3) Corporation formed by Marty when his own son, Army Sergeant Brian Horn stationed in Northern Iraq asked his parents to send more packages of goodies not just for him but for the soldiers who have not received any. It is through this organization that our resort has sent over 210 care packages to troops from Hawaii stationed in Afghanistan and Iraq. We will distribute AnySoldier.com pens and a very heart warming DVD called Tango Mike which is code for Thanks Much to anyone who visits our lobby. This DVD shares the letters and wishes from our troops and expresses how vitally important just one letter is to them. It is so rewarding to receive thank you notes from the package recipient who loved the saimin or ling hing mui or soap, slippas, socks and as many items as we could fit it the care box. For more information: http://AnySoldier.com/
Our Mei Court will be decorated with 25 American Flags in honor of this day as well as a representation from our National Guard soldiers from Maui will stationed in our lobby between 3pm – 6pm.
For additional information or a sample copy, Contact: Sharon Klaschka at Sharon.klaschka@marriott.com
The Wailea Beach Marriott Resort & Spa will be acknowledging our firefighters and those that were lost on 9/11/01 on the 10th anniversary of that fateful day in our history.
Marriott's unshakeable conviction that our people are our most important asset in an environment that supports growth and personal development
---

Live anywhere near Miami? Check out the National Day of Service, Sept 11th by the
Miami Dolphins Special Teams
doing "Care Packages for Troops: Card and Email Donations"
---
Happy 8th Birthday AnySoldier.com!!

Since August 26th, 2003, the supporters of this web site have helped:
Contacts: 61,400
Troops: 1,989,391 (Males: 1,595,302 Females: 394,089)
of ALL Branches of the Military.
Supporters are not just from America, they are from at least 68 countries.
The web site has had 223,969,325 hits!

Our thanks to you ALL!!!
---
The 2nd annual
"We Love Our Troops Charity Poker Ride"
Ithaca Fairgrounds, Michigan
June 11.
Pictures HERE.

I didn't have a back-seater this time so I only got a few pictures and my first attempt at video...
---
---
21 May:
Golf in Australia with Major Gary Bourland!
More pictures
HERE
.
---
2 April: Springtime Tallahassee Jubilee
Springtime Tallahassee is the biggest event in the Southeast in the Springtime. It occurs the first Saturday of April, and includes breakfast in the park, a large parade, 5k & 10k runs, a huge vendor area including food, crafts, and non profits. It brings nearly 210,000 people to the region. The event Joni and I set up a tent to gather as many notes from the public to send to contacts, introduce more people to AnySoldier.com, and to hopefully get some donations to send in. We give out candy to kids, patriotic temporary tattoos, and this year red, white and blue rope bracelets. For more information, http://springtimetallahassee.com/. We enjoy it every year, and are already thinking about next year!
---
---

18 March:
Bridgestone
in coordination with
Spellman Travel Partners, Inc.
included a Troop Support event with their conference at Huntington Beach, California. Speaker was
Brian Horn
, and the folks attending fulfilled some 450 care packages destined for our troops!
---
18-26 Feb:
Wailea Beach (Maui) & Wauikoloa Beach (Hawaii) Marriotts
Click HERE for some pictures.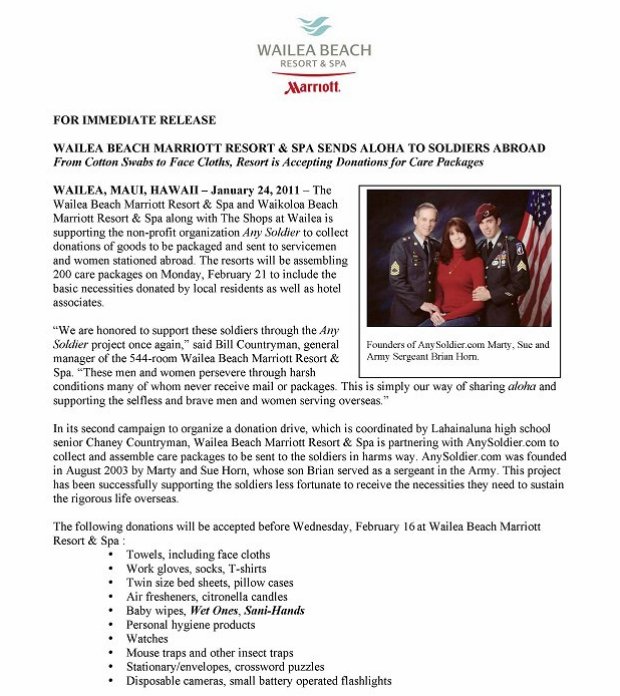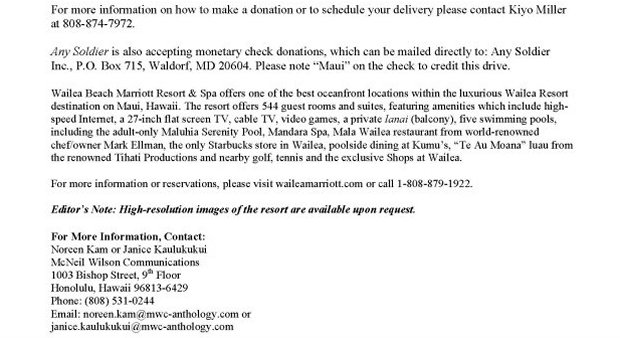 ---
For the 3rd year in a row, rather than mailing holiday cards Revision decided to support our troops. With the money they would have spent on printing, postage and envelopes Revision donated 500 sets of eyewear to Any Soldier®, Any Sailor®, Any Airman® and Any Marine®. They invited their customers and friends to help distribute the eyewear to their military service of choice with an option to leave a message. It took less than a week for the campaign to fill up-reaching their goal of sending 500 eyewear kits and messages to deployed troops.

www.facebook.com/RevisionEyewear



All eyewear is being distributed through Any Soldier®, Any Sailor®, Any Marine® and Any Airman®.
Military photo courtesy of Pvt. Jared N. Gehmann, U.S. Army

©2010 REVISION MILITARY INC., SAWFLY® AND REVISION® ARE TRADEMARKS OF REVISION MILITARY. REVISION MILITARY LTD., 7 CORPORATE DRIVE, ESSEX JUNCTION VT 05452 USA
---
---
---