Success Stories 2006:

"Your organization's troop postings help our citizens show their steadfast support for our Armed Forces,
and I am grateful."
Sincerely,
President George W. Bush (Complete letter HERE.)

"I did look up the site and it is quite impressive. The stories from the deployed troops are quite interesting and it is clear that you are making a difference. Keep up the great work I will certainly promote the program anyway I can."
MG Guy C. Swan III, Commanding General, US Army Military District of Washington

"Soldiers can rely on several things in a combat zone and one of the new additions is the outstanding support from our fellow Americans at AnySoldier.com."
LTC Craig Triscari, Battalion Executive Officer, Iraq

"All we see in the news is the negative side of this war on terrorism, but I know that the majority of Americans are standing behind what we do. Your organization represents that majority and your assistance brightens the Soldier's spirit, no matter where they are."
LTC Jonathan Spencer, Inspector General

"AnySoldier is truly a soldier's best friend."
SGT John Roberts, Army, Iraq


Brian (left) and his Platoon Sergeant with the first of the AnySoldier packages, October 2003.
"I do have something to add, of the many bases I visit on duty, every soldier I speak to - has high regards for AnySoldier.com and I am proud of you all for helping all of us out here. You are doing a sterling job."
Kind Regards
Col. J.Discoll, USMC, Iraq
---
AnySoldier.com in the News 2006 & 2007
---
Click HERE to see just a sampling of the major news coverage done on Any Soldier®
(Many links are external and may not work now, sorry)
---
ABC, Australian Broadcasting Corporation (1)
Air Force Link (1)
ARD German TV (1 - 2)
Army Times (1 - 2 - 3)
ARNEWS (1 - 2)
Chicago Tribune (1 - 2)
CNN (1 - 2 - 3 - 4 - 5)
DefenseLINK (1 - 2)
Field and Stream Magazine (1)
FOX (1 - 2 - 3 - 4 - 5)
Kim Kommando (1)
Kiplinger's (1)
Military.com (1)
MSNBC - Newsweek (1 - 2 - 3 - 4 - 5 - 6)
New York Daily News (1)
Pundit Review (1)
RTE, Radio Television Ireland (1)
Stars & Stripes (1 - 2 - 3 - 4)
The Daily Star (1)
The New York Sun (1)
TVP-1, Polish TV National Channel (1)
USA Today (1 - 2)
Washington Post (1 - 2)
Yahoo! (1 - 2 - 3)
---
---
Great Events and Efforts 2006
---
13 December: AmericaSupportsYou.mil 2nd Annual Conference
Allison Barber and Marty Horn
Secretary Donald Rumsfeld speaks to the ASY Members.
---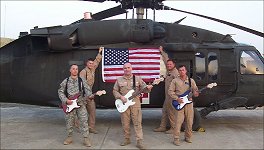 21 October:
"Dear Marty,
I had written you back in the spring to try to find out what voltage converters would be needed for some guitars my son and I hoped to send to an AnySoldier contact named Rob Finn who was serving with an air ambulance group in Kirkuk. Turned out we needn't have worried, the army supplies them with any they need.
However, I thought I should sent you these pictures to show you the happy result of our efforts. Thanks to Fender Guitars who generously made it possible to stretch the $520 my 15 year old son and his classmate raised by setting up a stand on Main Street one Saturday in June, these soldiers now have their wished for guitars!?
Not only did Rose Bishop of Fender help stretch that money far beyond what the kids could have afforded, she contacted Rob Finn to find out what they needed and put together a shipment that included amplifiers, t-shirts, hats, posters and lots of extras to really lift the soldiers spirits! What a great company!
We were fortunate to be able to meet Rob Finn and his family when he came home recently and will be keeping in touch and supporting him when he goes on to Afghanistan.
Again, thank you for all that you do.
Sincerely,
Sarah Havemeyer"
---
17 September:
Ferrari Rally, Long Island
Pictures HERE.

Professional pictures HERE.
---
19 August: 1st Annual S.O.S. Motorcycle Ride
Pictures HERE.
---
24 July: "My name is Robert Basil and I am a proud veteran of the United States Army. I wanted a way to help show my remembrance of our troops who have died in Iraq and Afghanistan and also bring awareness to the general public of the great organizations that support our troops and their families. The Fallen Heroes Car project is NOT "anti-war" or "pro-war" it is a "PRO TROOPS" project.
The Fallen Heroes Car was created to target today's younger generation. While a lot of the younger generation have opinions both for and against the war in Iraq and Afghanistan, after talking with them I realized that not many of them knew anything about the great non-profit organizations that support our troops and their families.
What better way to bring awareness to these organizations than with a cool looking show car? I take the Fallen Heroes Car to car shows, parades, clubs and stores to help get the word out about these great organizations. I have your website listed on the rear of the vehicle and also include it in the "links" area of the website. Keep up the great work!"

Robert Basil - Founder
Fallen Heroes Car Project
http://www.fallenheroescar.org.
---
8 July: Annapolis Harley-Davidson's "Salute Our Heroes"
Pictures HERE.
---
24 June: AnySoldier.com (Supporters Judy Doose and Candy Reinseth) attended the America Heroes Air Show in Los Angeles, California, to promote the website and to create new AnySoldier supporters for our deployed heroes.
The most rewarding experience was meeting some recipients of letters & packages from AnySoldier supporters who came over to the booth to "thank" us, to share their stories on how much these packages and letters meant to them. Hugs were exchanged. It was an honor to receive them on behalf of YOU, the AnySoldier Support Junkies out there!
---
18 June:
The *Miss Teen *Miss *Ms. *Mrs. U. S. Beauties National Pageant & U. S. Beauties *Mother *Daughter Pageant
Her Heighness Productions presenting the award winning *Miss Teen *Miss *Ms. *Mrs. U. S. Beauties & U. S. Beauties *Mother *Daughter National Pageant was held on Sunday,
June 18, 2006
at the Hilton Hotel, about 20 minutes from downtown Chicago. This years national pageant theme was "
Spirit in America
" and the national pageant was dedicated to the past & present fighting men & women. The 2nd Marine Division Color Guard was in attendance on stage during the national pageant competition. Any Soldier Inc. President Marty Horn was one of the national judges and his son Brian was the evening gown escort.
Military men & women & their familles received complimentary tickets to attend the national pageant. A few contestants who competed are in the military.
---
Lee Ann Womack used her
8 June
Fan Club party in Nashville as an opportunity to collect donations for AnySoldier.com, which benefits troops stationed overseas...
| | | |
| --- | --- | --- |
| | Lee Ann Womack spent her summer vacation entertaining our Armed Forces overseas. Lee Ann traveled to Germany to visit a military hospital, then on to Italy to perform for the Troops that returned from Afghanistan and Iraq. She has also teamed with AnySoldier.com to collect and provide care packages for the soldiers that are deployed. | |
---
31 May - 2 June:
Marriott International Travel Partners Conference Supports AnySoldier.com
Pictures HERE.
---
22 May: Raytheon Integrated Defense Systems Supports AnySoldier.com!
Raytheon has been a strong supporter for a long time and this time did it big, over 7,000 pounds of supplies and over $11,000 in donations to Any Soldier Inc.
Pictures HERE.
---
9 May: The Patriot Guard Riders (of which Marty, President of Any Soldier Inc, is a member), went to Washington D.C. in support of Congressman Mike Rogers (Michigan) proposal of the "Respect for Fallen Heroes Act". What a day for a ride with amazing people, beautiful bikes, and for such a worthy cause! Marty's bike was parked front and center of the media event in front of the Capitol. Got to meet Congressman Rogers and gave him an Any Soldiertm contact card. He said he would check out the web site.
Pictures HERE and ABC video HERE.
---

Radio CIA
runs our
public service announcements
done by our friends at Kroger Foods in Texas.
---
---
29 April: The Any Soldiertm cruise on the Amberjack V in the New York harbor was magnificent!! Any Soldier Inc. board member Nancy Ryan organized this event and we all had a great time.

Pictures of the event are HERE.

Be sure to read Capt Gary Bourland's account of the event HERE.
---
"Tango. Tango Mike!"
produced by Paul French & Partners, Inc. for Any Soldier Inc.
This is a truly wonderful 16 minute video done completely voluntarily by Mr. French and a number of professional actors and producers to help folks understand and use AnySoldier.com.
Note: This is streaming video which uses Windows Media Player.

---
Blocker Harley-Davidson in Parryville, Pa. had a "Support Our Troops Day" on Saturday, March 11th from 8am-3pm at their dealership. They invited a bunch of military groups, had beautiful Harley-Davidsons on display, some will featuring limited edition military paint-sets, raffeled some great items and collected a LOT of stuff to send to the troops. A great event!
Pictures HERE.
---
Send a Valentine to a Soldier by Pitney Bowes
February 9, 2006
NYC, Grand Central Station in Vanderbilt Hall
| | | |
| --- | --- | --- |
| | To illustrate the value of using mail and documents to connect to those who matter most, Pitney Bowes held a promotional event on February 9, from 7AM - 1PM at Grand Central Terminal in New York City, where consumers could craft and send personalized Valentine's Day messages for free and receive assistance with message creation from professional romance writers, as well as postage and processing for delivery. Participants also will had an opportunity to send Valentine's Day greetings to the troops overseas through a partnership between Pitney Bowes and www.AnySoldier.com. The handmade Valentine's Day cards provided to commuters visiting the New York event were selected especially for the occasion by CardSmart. | Virginia Madsen |
Academy Award Nominee Virginia Madsen, nominated for her role in the 2005 movie Sideways and star of the new movie Firewall, which opens Friday, February 10, 2006, assisted consumers who visited the event.
---
(Great Events from 2005 and 2004.)
---