Success Stories 2005:
25 December 2005
"I did look up the site and it is quite impressive. The stories from the deployed troops are quite interesting and it is clear that you are making a difference.
Keep up the great work I will certainly promote the program anyway I can."
MG Guy C. Swan III, Commanding General, US Army Military District of Washington

22 November 2005:
"Soldiers can rely on several things in a combat zone and one of the new additions is the outstanding support from our fellow Americans at AnySoldier.com."
LTC Craig Triscari, Battalion Executive Officer, Iraq

22 October 2005:
"All we see in the news is the negative side of this war on terrorism, but I know that the majority of Americans are standing behind what we do. Your organization represents that majority and your assistance brightens the Soldier's spirit, no matter where they are."
LTC Jonathan Spencer, Inspector General

25 August 2005:
"AnySoldier is truly a soldier's best friend."
SGT John Roberts, Army, Iraq

21 August 2005:
"I do have something to add, of the many bases I visit on duty, every soldier I speak to - has high regards for AnySoldier.com and I am proud of you all for helping all of us out here. You are doing a sterling job."
Kind Regards
Col. J.Discoll, USMC, Iraq

1 August 2005:
"Your organization's troop postings help our citizens show their steadfast support for our Armed Forces, and I am grateful."
Sincerely,
President George W. Bush
(Complete letter HERE.)


Brian (left) and his Platoon Sergeant with the first of the AnySoldier packages, October 2003.
---
AnySoldier.com in the News 2005
---
(News from 2003-2004
HERE
.)
---
Awards 2005
---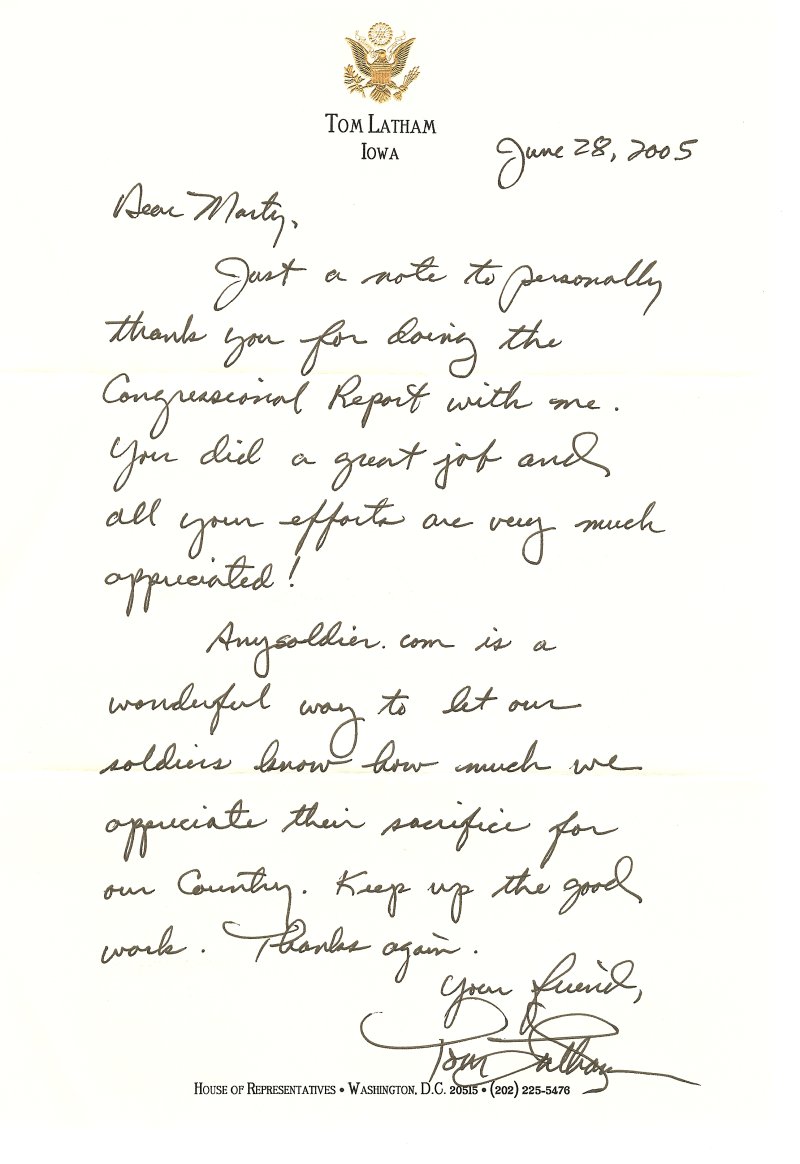 (Awards from 2004
HERE
.)
---
Great Events and Efforts 2005
---
2 December: A Visit and Donation from the Blue Knights!
| | | |
| --- | --- | --- |
| | Members of the Blue Knights Maryland Chapter IV stopped by to leave a very nice donation. It is a real honor to be recognized by a group of such outstanding individuals. We rely on them to protect us in our world of peace, and they support those protecting us in war. | |
---
16 November: An Evening of Comedy starring Bob Levy
Bob has been heard on the Howard Stern Show!
Rascals Comedy Club at the Hilton Hotel, Cherry Hill, NJ.
Picture (R) of Bob Levy (center), to his left in the leather jacket and cap is Keith Purnell, surrounded by other comedians who donated their talents for this show.
---
14-17 October: Miramar Air Show
AnySoldier.com was represented at the Miramar Air Show, San Diego, CA from Friday 14 October to Sunday the 17th.
Support Junkies Candy and Judy did all the work, Marty was there to say "Hi" and pass information on to everyone.
The "Any Soldier Quilt" was there and drew a lot of attention. Pictures of the event
HERE
.
---
Della Williams (
wpd232@hotmail.com
) from Wentzville, MO PD is organizing a Softball Tournament between Police/Fire/EMS of St Charles County, MO on Oct 15th, 2005 at TR Hughes in O'Fallon to raise money for Any Soldier Inc.
For further information, contact Della by e-mail!
---
23 September: Our thanks to the staff of "Stars and Stripes" for inviting Brian and Marty to their offices in D.C. to meet their staff, a tour of their facilities, and a great lunch.
---
18 September: Ferrari - Maserati of Long Island "Rally to Brooklyn" to benefit AnySoldier.com!
A HUGE "Thank YOU!" to Alfredo and the many folks that turned out for the rally in the most breathtaking city block of exquisite cars most folks will ever see. The weather was great, the food amazing, and the donations were a blessing! Pictures HERE. Their pictures HERE.
---
26 August & 2 September: A magazine drive that Troop 44 did at the summer concert series in Downtown La Plata, MD. The girls managed to collect almost 140 lbs of donated items. While our focus was on reading material (magazines & books) we also collected other things like baby wipes, beef jerky, hygiene items and individually packaged snacks.

During the concerts, we invited the children over to make cards for us to send in the boxes with all of the donated items.

We then had a slumber party where the girls made a short video telling our men and women to "come home soon." All of the girls helped pack up the boxes and made "packed with love" cards.
We managed to pack 20 boxes and chose 10 different units to be the recipients. They should be arriving to the AnySoldier.com contacts any day.
Thanks for all that you do for our service men and women. A message for the service men and women HERE.
The girls of Troop 44: Alexa, Ashlyn, Sydney, Breanna, Faye, Carle, Anna, Sarah, Gabby, Emily, Madeline, Shelby & the leaders, Kathey Childress & Melanie Ellis
---
23-24 July:
Betty and Larry Lodewick are pictured at a gun show at VFW Post 1503 (Dale City, Virginia). The Lodewick/Lloyd family put on an AnySoldier.com exhibit that netted a sizable amount of donations and interest in the program. Hundreds of attendees received flyers and selected soldiers' messages (with pre-addressed envelopes) to write to. Lots of young people were encouraged to write to soldiers and send them their used video games and DVDs in flat rate envelopes (provided). Valerie Lloyd planned the event and staffed the booth; husband Bob Lloyd built the banner frame and handled logistics; son BJ Lloyd contributed labor and support; father Larry Lodewick sponsored the exhibit and designed the banner frame; and mother Betty Lodewick enthusiastically promoted the effort as she passed the fishbowl and garnered mucho $dinero$.
---
| | | |
| --- | --- | --- |
| | 15 July: Under the direction of Mike Moors, the Ravinia Club in Atlanta raises about $3,000 for Any Soldier Inc.! Our thanks to Mike and all who attended!! | |
---
3 July:
The Annapolis "Harley Warehouse" in Maryland hosts a "We Support Your Service" event in their beautiful showroom.
A band, food, Cheerleaders from the Redskins, great weather, and friendly folks made for a really fun day.
Not to mention the tons of amazing bikes.
Pictures and story HERE.
---
3 June:
International Inc. invites Any Soldier Inc. to present it's program to 250 of their business partners in San Francisco. The Marriott went all out to make it easy to support the soldiers.
Pictures and story HERE.
---
| | |
| --- | --- |
| 23 May:"The Salem Middle School National Junior Honor Society in Chesterfield County, Virginia mailed FIFTEEN large care packages to soldiers serving in Iraq and Afghanistan. We sent the packages to the Army, Air Force, and Marines. Sheeler and Verity, our CCI dogs, (Canine Companions for Independence) made sure that one box went to a K-9 unit. The majority of the items were donated by the 2005-2006 members, and the boxes were "topped" off by the Salem staff. It was very exciting to get the boxes to the post office. We can't wait until the soldiers get them. We included in each box health/beauty aids, snacks, other goodies, a short note about Salem, and a poem written by B. Hoover (a Salem student). This was a great service project for us. It certainly wouldn't be possible without SUPER donations, and the www.AnySoldier.com site which made it SOOOOO easy." | |
---
22 May:
AnySoldier.com Car Wash organized by Cynthia Rollins and Nancy Ryan. Molloy College, Rockville Centre, NY at Kellenberg Hall Parking Lot with music by DJ Johnny Mack
---
21-22 May:
Dutch Wonderland Family Entertainment Complex in Lancaster, PA, honors the soldiers with an "Armed Forces Appreciation Weekend".
---
Lance Corporal Henry Wilkins, second from left, personally thanked, from left to right, Sheriff Frederick E. Davis, CFC Raymond Boelke, Sgt. Brandon Foster, Marty Horn, Jim Witthar, Cathy Witthar and Sgt. Tracy Williams for the care package he received while stationed overseas in the War on Terror. The same day, the Correctional Officers Association sent another round of packages to troops.
Charles County MD Sherrif's Department, April 2005:
In October last year, correctional officers placed collection boxes at all the Charles County Sheriff's Office facilities to begin collecting supplies to send in care packages to troops overseas for the holidays. Soon after, all the boxes were overflowing with gifts, from Chapstick to beef jerky to soap and toothpaste. The Correctional Officers Association prepared 50 care packages and sent them over the holidays in December. They collected so many supplies that they were able to send 25 more packages in the spring to remind the troops that they are thought of throughout the year, not just during the holidays. Jim and Cathy Witthar, franchise owners of the UPS stores in Waldorf and La Plata, sent the first 50 packages at no cost and offered to send the spring round of packages overseas at cost as well, saving the Correctional Officers Association hundreds of dollars in shipping fees.
"I'm former military myself and I wanted to do something to help," said Jim Witthar, who, during the Gulf War, sent first class letters free of charge.
---
15 May: (Belleville, MI) People to People Student Ambassador Program is pleased to announce their 2005 Wayne county student ambassadors collected enough supplies to fill over 100 boxes. The items included; $800 in pre-paid phone cards, lots of great food items, socks, books, magazines, cd's and assorted hygiene products, then sorted and packed boxes for shipping to United States soldiers serving in international locations on Sunday May 15th at Open Arms Lutheran Church in Belleville, Michigan for their community service project which has global reach. Each Student Ambassador delegation has the opportunity to do a community service project prior to their departure. This delegation group is the first to ever choose a "local project with global scale". They have chosen to gather items locally to send overseas to soldiers worldwide through a website called "AnySoldier.com".
The May 15th event began with a general meeting with Delegates giving presentations on Australian culture, food, currency, packing tips and final departure reminders. Delegates then gathered items from cars, vans and trucks to bring inside the facility to sort and prepare for packing. Boxes were assembled, filled with many assorted items, hand written cards, labeled and sealed for shipping. A brief pizza break helped them finalize details and clean up.
---
April: The Hollywood Video, Wilsonville, OR, Transportation team recently spearheaded a collection effort - through vendors, suppliers and fellow employees - that generated 200 care packages for our soldiers overseas. Given the nature of Hollywood's business, the boxes were largely filled with a variety of DVDs and Video Games (including Xbox Halo 2!), but also included personal and comfort items for the troops.

Through the information and inspiration of the "Any Soldier" program and website, this collection effort was truly a success and it galvanized the Transportation team behind this very worthy cause. What started as an idea to support immediate friends and family in Iraq, ended up with a surplus of goods to that will send a message of support to a few hundred soldiers.

Special thanks goes to VP of Marketing, Doug Orloff and the Hollywood Video Marketing team for picking up the costs to ship the goods overseas.

But most importantly, so much credit goes to the Transportation team for giving their time and energy to support our troops.
---
(Austin, TX), March 2005:

The Asleep at the Wheel Racing Team (
aatwracing.com
) recently announced they will race under the AnySoldier.com logo at all IHRA Division 4 Pro-AM events along with the 2005 IHRA Junior National and the 2005 Amalie Oil Texas National events held in San Antonio TX. The family will race their 86' Olds Cutlass in Stock Eliminator class along with Dylan Lee competing in his junior dragster. Team co-owner and driver Tim Lee stated "Our plans are to provide visibility and promote participation in the AnySoldier.com organization's one of a kind military care package effort". Judy Lee, co-owner and crewchief stated "We will also race and promote AnySoldier.com at selected ET/bracket race events at IHRA division 4 tracks, along with actively sending care packages to units. We've decided this is one of the most rewarding things we can do as a family".
Not to be left out of the promotional effort, Junior Dragster driver and team member Dylan Lee suggested the team also endorse AnySoldier.com at the IHRA Junior Dragster National Event level. On behalf of AnySoldier.com, the Asleep at the Wheel Racing team will award a $100 savings bond to the winner of each of the junior driver's age group classes contested at the 2005 IHRA Junior Dragster National events. To be eligible for the award, similar to any other vendor contingency, the winning junior dragster must display AnySoldier.com decals, available for purchase through the organization's website. "This will likely be one of the most economical, and easiest to participate contingency awards ever", stated one of the team members. Representatives from the IHRA sanctioning body were also excited to have such a unique and worthy cause participate in the contingency program.
---
Feb-Mar: Gregory Bauchan is a Boy Scout in Troop 1033 in Beltsville, MD. His Eagle Scout project involved collecting personal items and donations to send over 100 care boxes for soldiers from Maryland serving in Iraq. He was able to identify troops from Maryland serving overseas by using the web site AnySoldier.com. Gregory assisted by the boy scouts in Troop 1033 collected items from the Beltsville community at Emmanuel United Methodist Church and at St. Joseph Catholic Church.
He sent packages to three different groups the HHC 129th Signal Battalion, 29th ID Maryland Army National Guard, the 1225th Corps Support Battalion, 818th Maintenance Company and the HHC 46th Corps Support Battalion all serving in Iraq. The first soldier, a National Guardsmen for 9 years, to send him a thank you e-mail was a soldier who is an Eagle Scout himself.
---
28 Feb:
As a Spring service project, and to fulfill a requirement for the American Patriotism Interest Project, the troop decided to write letters and send "Care" packages to US Active Duty troops.
With help of the internet, the project was surprisingly easy to do, since we found a website designed specifically for this purpose! http://AnySoldier.com/index.cfm has a listing of many different soldiers and their platoons/divisions on active duty. This site also gives you information about them, along with a list of items they would love to have sent.
We selected a PFC Kelly M. Dahle, who is with Delta Co 3D SSB. They are stationed in Iraq until March 2006. We sent 17 boxes, filled to the brim with items that were on the Delta Company's list. The girls brought in loads of nonperishable snacks and toiletries of all kinds. One of our parents donated a case of toothbrushes, toothpaste, and dental floss from the Dentist office where she works to the project. Many of the girls also included CD's, DVD's, Playstation games, books and magazines to help entertain the soldiers.
The troop purchased some items for the care packages, including a box of Girl Scout cookies from each girl in the troop (her favorite kind!) Stationary & Envelopes, candy bars and gum, and paid for the postage. The boxes were shipped in the new USPS Priority Mail flat rate boxes, at a rate of $7.70, regardless of the weight or destination.
The entire troop participated and enjoyed being able to thank and give back to our troops in the field who are keeping us safe, and free. It was a wonderful experience, and we may adopt this Company for other care packages – since they will be there for a while. We encourage anyone who is looking for a way to show support to our troops to log on to the website, and find a soldier to adopt.
---
11 Feb: Supporters gathered for a cocktail reception at the Union League Club in New York City to raise money and awareness for Any Soldier Inc. With more than 200 guests, over $9,520 was raised for the organization!
VERY special thanks goes to (center picture) Kelly Fuhrman(L) and Liz Barney(R) for all they did to put this together!
---
10 Feb: One of our contacts, TSgt Margie Lusher in Iraq, told us that Actress Sean Young had sent packages to her folks. We emailed her a thank you and her reply was:
"Hey, it is absolutly my honor to send things over to the soldiers and thank you very much for defending our country and making it safe for my children and future generations! love Sean".
(Permission by Ms. Young was granted to post this email and picture.)
Her web site is HERE.

---
| | |
| --- | --- |
| | 7 Feb: Pitney Bowes teams with actress Aisha Tyler and AnySoldier.com in Grand Central Station, NYC, to send Valentines day cards to the Soldiers. More HERE. |
---
| | |
| --- | --- |
| 27 Jan: Cub Scout Pack 888 sending off 35 packages that the Cub Scouts put together for the servicemen/women serving in Iraq. They decided to send them to various Marine contacts from "Attn: Any Soldier" because the Marines from their local recruiting office in Colorado have been very helpful in performing the Pack's Uniform Inspection for the past 2 years -- and they figured this would be a good way to show them their appreciation. | |
---
| | |
| --- | --- |
| | 6 Jan: The Law Firm of Liechty & McGinnis, P.C., located in North Dallas, TX. put together a second round of packages for 100 soldiers. Mr. McGinnis put up $1,000 of his if the employees matched it, which they went to $1,400 in matching! All the packages are bundled together in plastic baggies, one for toiletries and one for goodies and snacks, then tied together with red and blue ribbon. |
---
(Great Events from 2004.)
---