Fri, January 2, 2004

Kirkuk's future could make or break new Iraq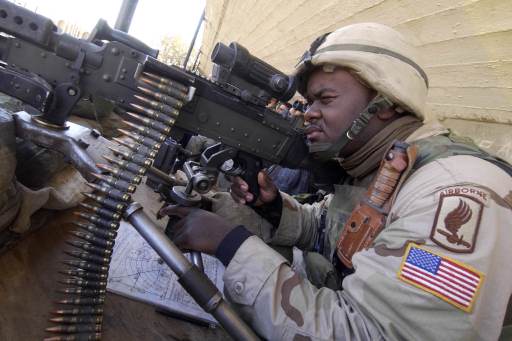 After gunfire broke out during a demonstration in downtown Kirkuk, Iraq, a coalition member mans his machine gun and keeps a watchful eye on the perimeter of the government building, Dec. 31, 2003.
(U.S. Air Force photo by Staff Sgt. Jeffrey A. Wolfe)

Kirkuk: Arab, Kurdish and Turkmen claims over Kirkuk are couched in explosive rhetoric and sometimes marred by bloodshed like incidents over the new year, but the fate of this northern oil centre could well be a factor in making or breaking US plans to reshape Iraq.

In a classic example of the Arab adage "my brother and I against my cousin and my cousin and I against the stranger," Turkmen and Arabs, both Sunni and Shiites, gathered in Kirkuk Wednesday to protest a recent push by Kurdish leaders for the city's incorporation in a Kurdish autonomous region.

Many came from villages in the predominantly Sunni Arab Hawijah plains west of the city. Some came from Baghdad and from as far south as Nasiriyah and Basra, heeding the call of their tribal kinsmen.

Iraqi flags fluttered alongside blue Turkmen ones and green and black Shiite banners as protesters gathered in the festival square of what they call "the city of brotherhood."

A fiery group of young people broke ranks with what the local US military commander said was a peaceful demonstration and made its way to the city headquarters of the Patriotic Union of Kurdistan (PUK).

Gunfire broke out, killing four and wounding around 30, with the Americans and Kurds blaming supporters of the former regime of Saddam Hussein for the trouble and the protestors saying the PUK guards shot first.

Two Kurds were stabbed to death Thursday night in Kirkuk and an Arab was killed in clashes with police south of the city.

"The struggle demands sacrifices," said Sheikh Ghassan al-Obeidi adding that the bloodshed marks a line in the sand in what could escalate into a civil war if Kurdish leaders pursue their "posturing and antagonistic tactics."

Sheikh Ghassan and his brothers Burhan and Salem carry the legacy of their late father Sheikh Mizher who commanded all of Iraq's Obeidis and whose ranks include many Shiites that married into the tribe.

"If Kurds continue to believe that Americans are on their side and just think about achieving maximum gains in the short term, then this will lead to a civil war," said Sheikh Ghassan, who resigned in November from a city council set up by US forces last May with representatives from all communities.

He said he had nothing against Kurds, many of whom have blood ties with Arabs, but his main concern was the "militant attitude" of the two main factions -- the PUK led by Jalal Talabani and the Kurdistan Democratic Party (KDP) of Massoud Barzani.

Talabani and Barzani want Iraq's US-installed Governing Council to recognise their vision of a federal state well before the approval on March 1 next year of a Basic Law to govern Iraq during the transition period through 2005.

Kurdish leaders in Kirkuk say their intentions regarding federalism have been clear since 1992.

"I am for a Kurdistan that would include Kirkuk but this must come after normalising the political situation and conducting a census," said Jalal Jawhar, the PUK's chief in Kirkuk.

Jawhar said the census would only come after allowing an estimated 250,000 Kurds, inside and outside Iraq, to come back to their homes in Kirkuk, from which they were driven by Saddam starting in the 1970s in his drive to alter the ethnic makeup of the area in favour of Arabs.

Kurdish leaders in Kirkuk also claim that Saddam chopped off parts of Tamim province around the city and added them to neighbouring Diyala, Nineveh and Salahaddin provinces.

They want this land returned to Kirkuk as part of any eventual settlement.

Enter the Turkmen, believed to be the third largest ethnic group in the city after the Arabs and Kurds out of an estimated population of one million.

The mainly Shiite Turkmen have strong backing from Turkey, which has criticised the Kurdish push for federalism fearing that this might fire up nationalist feeling among its own restive Kurds.

Kirkuk's Turkmen police chief Turhan Yussef wants US troops to take more responsibility for security and to scrap the current system of allocating 40 percent of police jobs to Kurds and giving Arabs and Turkmen 28 percent each.

The United States, which has control of northern Iraq, says its role in Kirkuk is to "facilitate" political discussion among the ethnic groups.

US Colonel William Mayville of the 173rd Airborne Brigade, which patrols Kirkuk and Hawijah, says the violence goes back and forth between Kirkuk's ethnic communities and insists the recent violence is not the start of civil war.

"There are a lot of AK47s out there, and in any country, including Iraq, the heat rises enough, you can get some of the kinetics you saw," he told AFP.

"This is not the start of a civil war but that is not to downplay how serious politically what's going on here is."

But Sheikh Ghassan complains that US forces sometimes succumb to what he says is the Kurds' tendency to play the Saddam card, accusing Arabs in the area of having collaborated with the fallen dictator.

"The Americans sometimes act out of ignorance," he said.