Sun, January 4, 2004

US arrest KDP's official in Kirkuk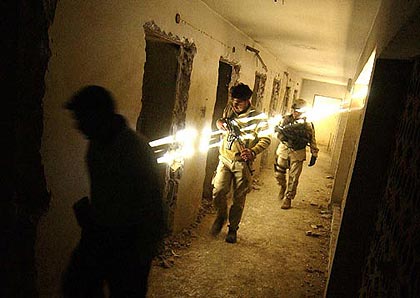 Soldiers and Iraqi police work together to search a building belonging to the 'Party for a Democratic Kurdistan' in Kirkuk, Iraq. The Soldiers and their allies were looking for illegal weapons and ordnance. Photo courtesy of the Department of Defense.

Iraq, Jan 4 - US troops detained an official from the Kurdish Democratic Party (KDP) during raids also targeting the rival Patriotic Union of Kurdistan (PUK) in the northern city of Kirkuk, a US military spokesman said Sunday.

"A senior KDP official was detained," said Sergeant Robert Cargie of the fourth infantry division based in Tikrit.

The KDP were not immediately available for comment. Iraqi police accompanied the 173rd airborne brigade on the operation.

During Saturday's raid on the KDP offices, the US troops confiscated two Rocket-Propelled Grenade (RPG) launchers, two AK-47s, two 107 millimeter rockets and an assault rifle, Cargie said.

The 173rd airborne brigade also stormed the PUK offices Saturday when they confiscated one AK-47 and five RPGs, Cargie added.

A wave of violence has shaken Kirkuk since last Wednesday when four people were killed after PUK militia men opened fire on a demonstration of Turkmen and Arabs protesting the Kurdish drive to incorporate Kirkuk into Iraqi Kurdistan.