Wed, December 31, 2003

Medic proves his mettle
Soldier on leave from tumultuous life patrolling Iraq
Steve Bloom/The Olympian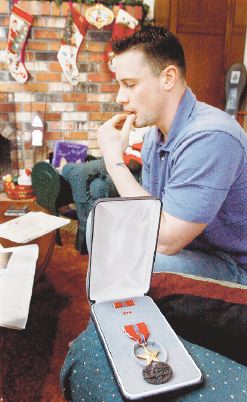 Spc. Dante Cammarata reflects on the battle with Iraqi gunmen in which he was awarded the Bronze Star for his efforts saving a wounded soldier.
Photo by Kim Kyung-Hoon/Reuters

The Olympian, Olympia Washington
TUMWATER -- A South Sound soldier was reunited with his family this week, more than six months after his actions during an intense firefight in Iraq earned him a military medal. Spc. Dante Cammarata, 22, a medic for a scout platoon from the 1st Battalion, 63rd Armor Regiment, treated a soldier who was shot during an ambush outside Kirkuk in May as bullets ricocheted feet away.

Cammarata, who earned a GED from Black Hills High School in July 2000, is on military leave. He arrived home Monday and will return to his base in Germany in early January.

He's unsure whether he'll be sent back into Iraq.

He now holds more than the Bronze Star Medal with a "V" for valor. The military gave him a career direction, responsibility and self- confidence, he said.

His mother, Dawn Stone, said her son is more disciplined than when he enlisted more than three years ago.

"He grew up," she said. "He went out and grew up really quick."

Cammarata and 300 other regiment soldiers landed in Iraq on April 18. They were there to support the 173rd Airborne Brigade, which parachuted in to open the northern front at the start of the U.S.-led invasion of Iraq.

The soldiers spent the first month conducting raids to find Baathist sympathizers in a portion of Kirkuk dubbed Delta 19.

Cammarata participated in the raids and was responsible for treating any wounds. But his platoon didn't have a single combat injury during the 100 or so raids during a two-month span, he said.

In addition to potential insurgents, the raids netted a stockpile of seized weapons, Cammarata said.

"We found a lot of heavy weapons," he said Tuesday during an interview from the home of his mother and stepfather in Tumwater. "We found rocket- propelled grenades. Pretty much, you name it, they had it."

On the evening of May 18, the unit was moving in to assist in the sweep of the nearby town of Al Hawija, a known hotbed of Iraqi resistance forces.

"Consistently, since we've gotten there, this is the place where driving down to Tikrit, people would always get attacked," he said. "When we would run patrols through Al Hawija, we were constantly finding resistance."

Cammarata's scout platoon easily pulled 20 kilometers ahead of the main force on the way to a rendezvous point. It stopped outside the town to listen for activity, but then had to stop and search cars leaving and entering town.

The soldiers found a weapons cache in one vehicle and detained the motorists.

Gunfire on convoy

Later, after making similar arrests, they noticed a passenger in a white pickup who had his hand on the roof and, they later determined, was reaching for a weapon. They told the passenger to put his hands up and the platoon's captain fired a warning shot.

Gunfire erupted from a nearby mosque and compound of buildings.

Spc. Billy Barnes was shot in the abdomen while manning a .50-caliber machine gun atop one of the scout platoon's seven Humvees. Barnes crawled on the ground to the front of the Humvee and called for help.

Cammarata was 10 meters from Barnes and returning fire near the group of detainees. Fully exposed to enemy fire, Cammarata rushed to stabilize the injured soldier as bullets ricocheted around him.

Cammarata reverted to the procedures he'd learned in training. He tore off Barnes' body armor, opened his shirt and began assessing and bandaging the wound.

"It helped a lot that I had my back turned to it because it's a little bit easier to zone out what's going on and work on what you're doing," he said.

Cammarata and Williamson then dragged Barnes behind the Humvee, and the medic, wearing body armor, used his body to shield Barnes.

Cammarata chatted with the wounded soldier as he shielded him and put pressure on the wound. It allowed him to gauge Barnes' condition and calm him.

"I can't believe this is happening right now," Cammarata recalled Barnes saying at one point.

"Yeah, this is wild," the medic replied.

Williamson and Cammarata eventually got Barnes aboard an armor-tracked vehicle that took the wounded soldier to a location where a medical evacuation helicopter could pick him up.

The 45-minute battle ended with the arrival of the main force and Air Force A-10 Warthog attack aircraft.

Back at home, with the medal sitting nearby, Cammarata said he hopes his friends in Iraq receive recognition for their contribution to the war effort.

His own didn't stop with the pinning ceremony.

Cammarata attended the wedding of an older cousin in New York before flying to Washington.

During the reception, his cousin paid tribute to Cammarata's service to the country as those in attendance looked on. Afterward, many came up to thank him for the job he's doing.

"It makes it worth it to come back and see all the support you have here in the states," he said.