Supporters: Captain Ward is replaced by LT Cumpston who has established her own profile. --Support Team
05 Jan 2006:
My replacement is going to be Meghan Cumpston and she has agreed to "continue on" as my AnySoldier replacement as well. She should arrive in about 1 to 2 weeks and we will get her set up on AnySoldier.com. We will try to link her site with my inactive one so everyone can still follow our story. Meghan's address will be the same as mine is now (except for the name). Thanks for a great year!
---
03 Jan 2006
Thanks to All for a Great 2005/2006:
Gladly and sadly this will be my final update to AnySoldier.com . My tour of duty will come to an end in a short month and my webpage will go to an inactive status very soon. I am glad to be going home but I am also sad that the relationships that I have built through the AnySoldier program will come to an end. We have received unconditional support from back home all year long. Not only did we receive the gamut of supplies for ourselves in the CJ5 Directorate but we received thousands of pounds of supplies (clothes, food, shoes, and school supplies) for the Afghan kids in Kabul from local orphanages, hospitals, schools, and refugee camps. It was incredible.
Our state competition will also come to an end. The winner will be Texas, the Lone Star state. We didn't make it to all 50 states but we tried. We really had a lot of fun with this competition all year. Everyone wanted their home state to win. Final results as of 3 January, 2006: TX = 74 // CA = 28 // MO = 18 // VA, FL = 13 // NY, MI = 12 // MA = 10 // CT, PA = 9 // MN, NC = 8 // IL, AL = 7 // MD, WA = 6 // NJ, WI, TN, OK = 5 // DE, OH, KS = 4 // IN, GA, OR, KY = 3 // CO, NV, MS, LA, SC, IA = 2 // NH, HI, ME, Wash DC, AZ, WY, NE, NM, AK, and Germany = 1 Thanks to all who participated with us!!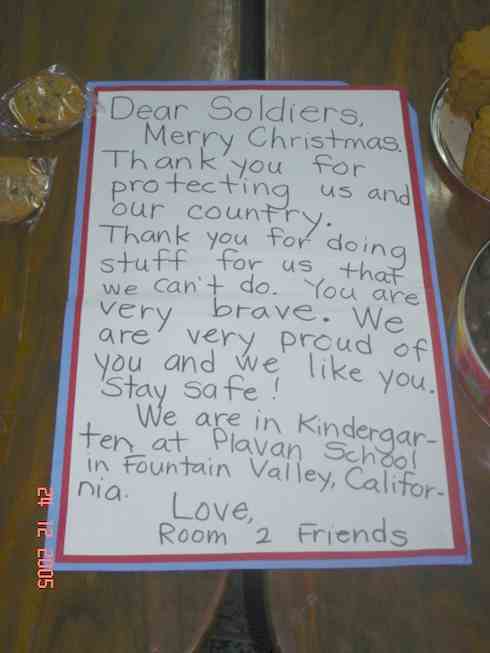 The photo is of a Letter from a Kindergarten class who sent us lots of letters for the Christmas season. We had them laid out during our Christmas Eve party and everyone really got a lot of enjoyment out of reading the letters and celebrating the birth of Christ together albeit far from our homes. Thanks for a great ride and making our deployment so much better than expected. We appreciate and love you all. Take care and God bless.

Respectfully Yours for Fulfilling the Great Commission in Our Generation,
Daniel J. Ward
"There are things worse than war - all of which come from defeat." - Winston Churchill
---
19 Dec 2005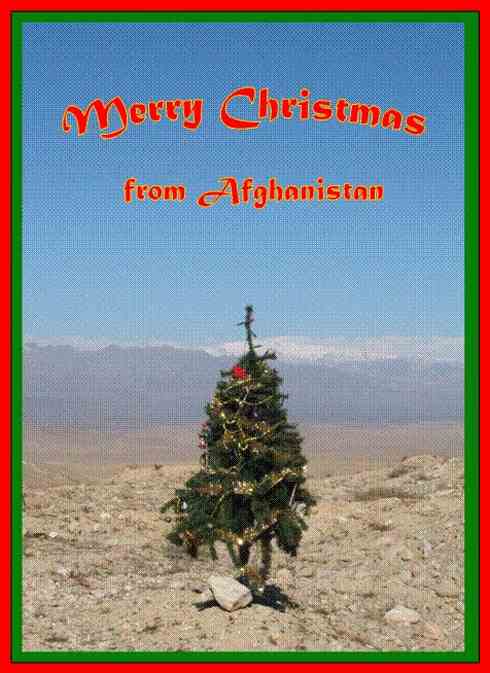 Wishing you a
very
Merry Christmas
and a prosperous
New Year
CPT Daniel Ward and the rest of the CFC-A, CJ5
Strategic Plans and Policy Directorate
I am as proud today as I ever have been to be an American citizen. No one is supporting the troops by calling for us to come home before the mission is completed – no matter how many letters or care packages you send – Believe that!! Domestic protests and political wavering of support for the War on Terror encourage the insurgents to target the troops of those governments in an attempt to shape the foreign policy. There is a reason why the Taliban and Al Qaeda are targeting NATO countries in the coalition and not American forces here in Afghanistan. It's because they think that those NATO governments are unwilling to suffer any losses and will pull their troops for political reasons. The President is right to not show ANY weakness. He is correct to say with resolve that we as a nation will STAY THE COURSE. He is ultimately supporting the troops as the Commander in Chief!! Thank you all for showing support to us as well.
---
18 Dec 2005
State Competition Update: A NEW LEADER!! Wow. The Victory Box Project from a few ladies in the Dallas, TX area has generated a new leader in our competition. Texas shoots into the lead over California. The totals would have been higher but due to some of the TX folks sending multiple boxes (thank you) the numbers had to be reduced to just one pushpin per person/family. Still a net gain of 42 although over 61 boxes have been received for Mission Afghanistan through the Victory Box project.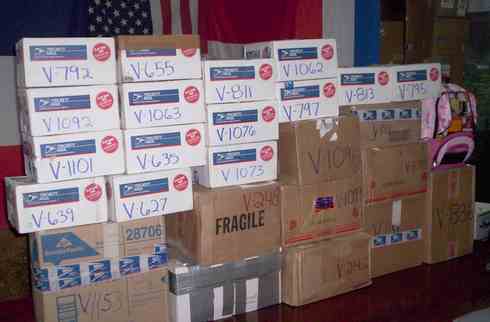 Photos are of some of the Victory boxes sent for the kids of the Kabul area orphanages and schools.
So without further delay…………..drum roll please………………..TX = 56 // CA = 24 // MO = 16 // VA = 13 // FL, NY = 11 // MA = 10 // PA = 9 // MI, CT = 8 // MN, IL, AL = 7 // WA = 6 // MD, NJ, TN, NC, OK = 5 // DE, OH, WI, KS = 4 // GA, OR = 3 // CO, NV, IN, LA, KY = 2 // MS, NH, HI, SC, ME, Wash DC, AZ, IA, WY, NE, NM, AK = 1 // Overseas (Germany) = 1
I only have 1 month left over here in Afghanistan……..still trying to reach a perfect 50 State record. States we still need a pushpin for 9 states: Utah, Idaho, Montana, North Dakota, South Dakota, Arkansas, West Virginia, Rhode Island, and Vermont.
Respectfully Yours for Fulfilling the
Great Commission in Our Generation,
Daniel J. Ward
---
14 Dec 2005
Army/Navy Football game fans:
Combined Forces Command – Afghanistan conducted our own version of the classic Army/Navy game on 2 December 2005 (day before the actual game) at the Headquarters ISAF compound. A crowd of locals gathered on the frosty tundra on the chilly morning to watch the Army team defeat the Navy/Marine team 10-9 in a flicker-ball type football game. Although the results of the actual Army/Navy game back in the United States didn't go Army's way, we here at CFC-A garnered the bragging rights until next year.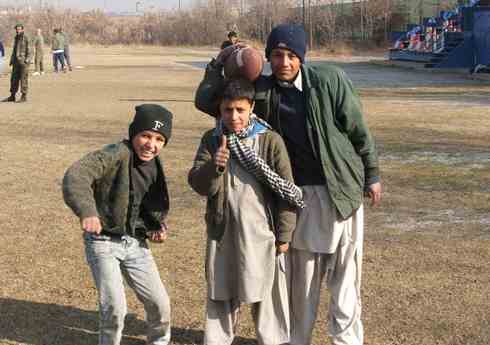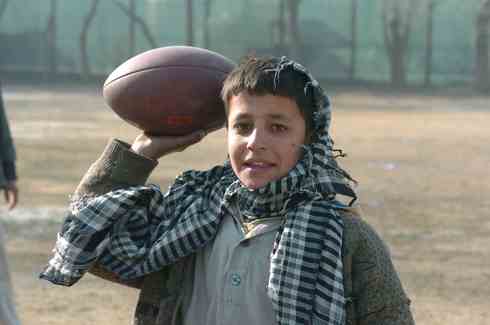 The photos are of some local Afghan kids who were present. We taught them some of the basic rules and skills after the game. Thanks for all your support. Updated state competition information coming very soon! Sneak preview: We have a NEW leader that has knocked California off the pedestal. I'm getting excited about the upcoming holiday season. Merry Christmas and Happy New Year to all of you!!
Respectfully Yours for Fulfilling the
Great Commission in Our Generation,
Daniel J. Ward
---
11 Dec 2005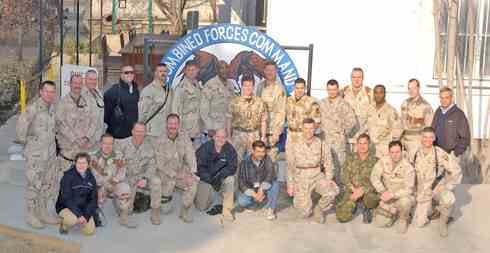 State Update: California is still tops only because I haven't had time to process the huge influx of boxes from the Dallas, TX area yet. Current standings: CA = 23 // MO = 16 // TX = 13 // FL, VA = 11 // MA = 10 // PA, NY = 9 // CT = 8 // IL, MI, AL = 7 // MN, WA = 6 // NJ, TN, NC = 5 // MD, DE, OH, WI, OK = 4 // GA, OR = 3 // CO, NV, IN, LA, KY, KS = 2 // MS, NH, HI, SC, Wash DC, AZ, IA, WY, NE, NM, and AK = 1 // Outside US = 1 (Germany).
I hope to have the Texas boxes counted up and added to the totals very soon. Thanks to the Victory Box campaign from the Dallas, TX area! The kids of Kabul will be singing Christmas carols before you know it!! Thanks to every one of our supporters. There has been a Christmas blitz and I'm trying to keep up. Please know that we are extremely grateful for each and every one of you out there supporting us and our Coalition partners. We could not do it without you!! The photo will show an updated Directorate photo from 4 December 2005. I, unfortunately, was on R&R pass to Qatar and not in the photo. Maybe that is a good thing since that means that I'll be leaving soon (Feb 06) to return home. Yeah!! I'll miss interacting with all of you, however. You have truly made our tours here in Afghanistan memorable to say the least.
Respectfully Yours for Fulfilling the
Great Commission in Our Generation,
Daniel J. Ward, CPT, USA
---
30 Nov 2005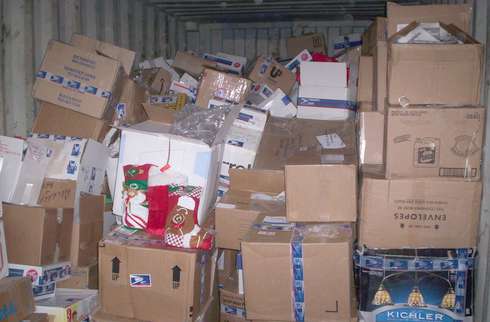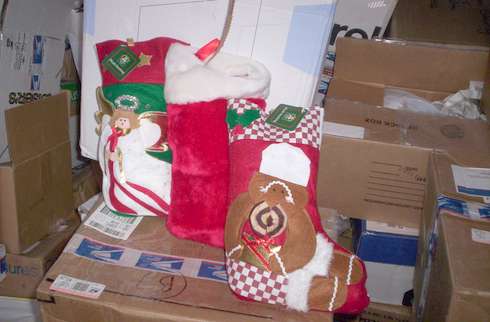 Greetings All,
I trust everyone had a wonderful Thanksgiving. We here at Camp Eggers had a fabulous feast that lasted from 1pm to 6 pm. It was a very nice set-up with all the Thanksgiving traditional food. We have had a tremendous response to Operation Christmas Stocking, not only through me, but throughout the entire compound. The word went out in all directions to everyone we knew and the response has been unbelievable. I have included a couple of photos of a storage container that is nearly filled with about 9,000 Christmas Stockings so far. The mission expanded to include everyone serving in Afghanistan and one company alone pledged to send 9,000 complete stockings. As Christmas is drawing near, I would have to say thanks a lot from all of us here in Afghanistan. We couldn't have done it without you and your support. If you are reading about this for the first time, I don't think we will need any more support for Operation Christmas Stocking as much more is probably already on the way here. If you are interested in sending anything to the CFC-A CJ5 in particular – things most asked for are nuts (cashews, dry roasted peanuts, jerky, and various snack foods). As always, we will work as a liaison for Mission Afghanistan and get any clothes, toys, and school supplies to the children in the Kabul area orphanages, refugee camps, hospitals, and schools. Again – thank you for your support. I will be coming off the website in about a month's time and returning home. I will try to identify and replacement for me to carry on for the CJ5 Strategic Plans and Policy Directorate, Combined Forces Command – Afghanistan. I will miss all of you but I'll be happy to go home to my family soon.
Respectfully Yours for Fulfilling the
Great Commission in Our Generation,
Daniel J. Ward, CPT, USA
P.S. The time frame for receiving mail from the US in time for Christmas has all but passed. I think it would be prudent to take off the money order request so that nobody new will come on the website and decide to send funds that will arrive after Op Christmas Stocking is complete. That would be awkward and I'd rather avoid that situation. The post in question is dated 1 November 2005. Thanks in advance. The operation has been a great success so far as indicated in my latest post.
---