18 Nov 2005
State Competition update: Just a quick update to the State competition – I have not forgotten about you all. Beware: a grass-root effort in the Dallas, Texas area will be significantly increasing the Texas numbers in a few weeks. I am waiting until they all come in before posting the new TEXAS total so that I can give the project an accurate accounting of all their VICTORY boxes. As is stands now: CA still has the lead with 22 // MO = 14 // VA, TX, FL = 10 // MA, PA = 9 // NY = 8 // MI, IL = 7 // CT, AL = 6 // WA, TN, NC = 5 // NJ, DE = 4 // MN, MD, OH, WI, OR, OK = 3 // CO, NV, IN, GA, LA, KY = 2 // MS, NH, HI, SC, ME, Wash DC, AZ, IA and WY = 1………OVERSEAS – Germany (American School) = 1

Tomorrow is another trip to the "little kids" orphanage with Mission Afghanistan…….I'll try to post some photos from our community relations projects soon.

Captain Daniel Ward
---
01 Nov 2005

Operation Christmas Stocking
Hi to all:
We at Camp Eggers are embarking on a bold mission for Combined Forces Command - Afghanistan (CFC-A), Office of Security Cooperation - Afghanistan (OSC-A), and Task Force Phoenix - all of which are located in the capital city of Kabul, Afghanistan.
Please help us meet our goal to put a Christmas Stocking in the hands of each military service member and civilian attached to the military forces in Kabul, Afghanistan this Christmas. There are approximately 1,200 personnel in the three commands listed above.
We are asking for small donations (money orders) to be sent by November 24th to allow us time to purchase Christmas goodies along with a Christmas card in every stocking. We think that the money could better be used to purchase the goodies in country rather than pay the additional cost to ship the goodies overseas. However, any goodies sent will help as well. Please get your neighbors, co-workers, churches, civic groups involved if you can. Thanks in advance. (ended)
Respecfully Yours for Fulfilling the Great Commission in Our Generation,
Daniel J. Ward, CPT, USA
(Please note: This is a bit unusual to ask for funds but OK with us in this case. Make the MO out to "CPT Daniel J. Ward, Operation Christmas Stocking" and be SURE to LEAVE OFF the "ATTN: Any Soldier" on his address if you send one so he does not accidently hand off your letter.
When asked to verify the money request his reply was, "I have been told by finance that any money order is okay but not personal checks." -Marty)
---
27 Oct 2005
Hi all,
Just a quick update to let you all know that we are doing great here at Camp Eggers, Afghanistan. My Kansas City Chiefs won this weekend against the Miami Dolphins so I am happy about that. It's definitely starting to get cooler up here in the mountains of Afghanistan. The results of the National Assembly and Provincial Council Elections are being released this week. One step closer to success. I included one final photo of my R&R vacation.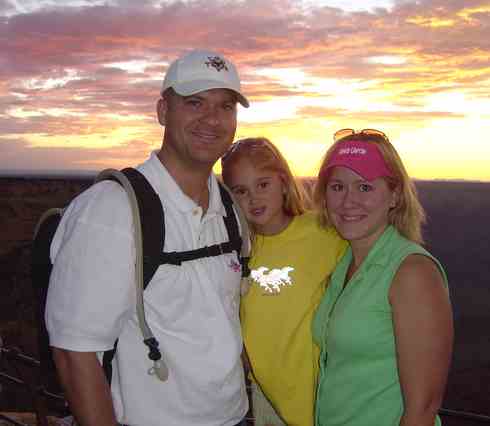 Thanks for being so good to us here in the Strategic Plans and Policy Directorate (CJ5), Combined Forces Command - Afghanistan. We are truly blessed.
Daniel J. Ward, CPT, USA
---
21 Oct 2005
It has indeed been a whirlwind since I arrived back in Afghanistan. The National Assembly and Provincial Council Election results are due out in a few days. What a remarkable process Afghanistan has come through in just 4 years. During the Taliban regime, executions were common place at halftime during public soccer games and now they have a democratically elected government. Amazing!
I have a few people and businesses to thank before I get on to the State Competition update. Several businesses were very generous to my family while I was home on R&R leave in El Paso, Texas, San Antonio, Texas and Grand Canyon, Arizona. I would like to say a personal thanks to the following businesses in El Paso, TX: Steak and Ale, Carlos & Mickeys, IHOP, Cattle Baron, Cinemark Tinseltown Theaters, Jaxon's Steakhouse, La Posta de Griggs, La Posta de Mesilla, and Adventure Zone. In San Antonio, TX: Sea World, Fiesta Texas, and the San Antonio Symphony. In Grand Canyon, AZ: the Holiday Inn Express. Restaurants provided complimentary meals for my family. Sea World and San Antonio Symphony tickets were complimentary. My entire lodging bill was complimentary thanks to Holiday Inn Express while I was at the Grand Canyon. Adventure Zone provided my 7-year old daughter with a birthday party she will never forget. To top things off, two businessmen from Wisconsin struck up a conversation with me at the Chili's restaurant inside Dallas-Fort Worth Airport as I was preparing to return to Afghanistan. They had questions about the media's coverage of the war in Iraq and Afghanistan. After a pleasant exchange of several minutes, they left to catch their plane home. I finished my meal and was told by the waiter that I was set to go - someone had picked up my check. I inquired who had done this deed wishing to thank them. The waiter told me the 2 gentlemen who had been sitting beside me. They didn't make a big deal about it or expect to be thanked. They had quietly paid and left. I was deeply touched.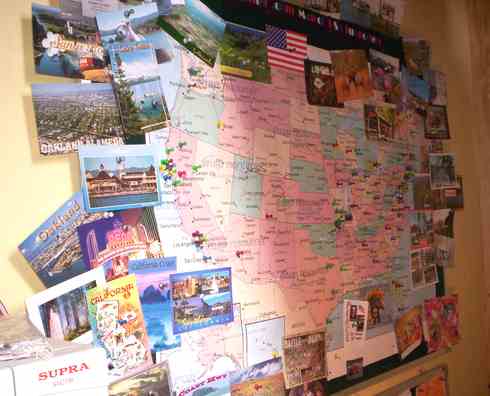 The state update has not changed that much since the last report EXCEPT for the Missouri folks. My hometown finally came through and we got 8 boxes from Joplin, MO in one day. Yeah - Mizzou!! CA = 22 // MO = 13 // VA = 10 // PA = 9 // FL, NY = 8 // TX, MI = 7 // MA = 6 // WA, IL, NC = 5 // NJ, DE, TN = 4 // MN, MD, OH, WI, OR, OK, AL = 3 // CO, IN, GA, LA, KY = 2 // MS, NH, HI, SC, ME, AZ, IA, Wash-DC, and Germany each have 1 apiece. Thank you to all those who have sent a care package, letter, postcard, or donation to www.MissionAfghanistan.com our way. We truly appreciate you kindness. An update photo of our map board should be visible. California and Missouri are the two front runners in the contest. Las Vegas, Oklahoma City, and El Paso all have push-pins but they are hard to see because they are white. The East Coast is also hard to see because of the shadow but they are very well represented as a collective group.
Respecfully Yours for Fulfilling the
Great Commission in Our Generation,
Daniel J. Ward
---
10 Oct 2005
Dear Faithful Supporters of AnySoldier.com,
I'm back in Afghanistan after a fabulous Rest and Relaxation leave to El Paso, Texas and Grand Canyon, Arizona. My wife and daughter are doing great. It was terrific to get to spend a couple of weeks with them again. We celebrated my daughter's 7th birthday while I was there. She is getting growing up so fast.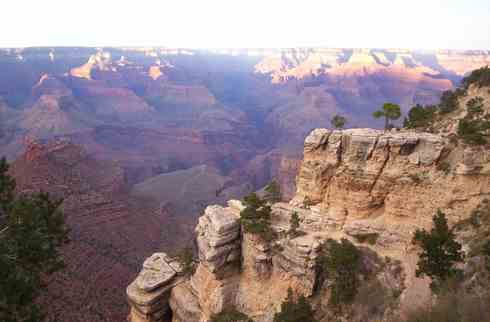 Piles of care packages and letter awaited my return as per my instructions so that I could make sure to get a "thank you" out to all of our generous supporters. I will say, in reference to our state competition, that some states may not have much representation but there are certain individuals out there who have adopted our unit and have been faithfully sending letters and care packages for almost 7 months now. They know who they are so I won't single any of them out but they have expressed frustration because their state's numbers have not gone up as fast as they would have wanted them to. Just remember that it's just a friendly competition that we put on to track all the different places that we got support from thanks to AnySoldier.com. The response has been tremendous. Even got a package from Louisiana after Hurricane Katrina hit and that just blew us away. People are amazing, aren't they? If you are trying to decide between us and the victims of Hurricane Katrina, please continue support the relief efforts there as we are in fine shape here with all the essentials covered down on thanks to the US Army and the Coalition. We did have a pretty major earthquake here in South Asia yesterday. It was 7.6 magnitude and the center was just 100 miles east of Kabul, Afghanistan in neighboring Pakistan near Islamabad. The damage has been extensive to Pakistan and I've heard reports of 3,000 to 18,000 dead. We felt the tremor for about 45 seconds here at Camp Eggers and my building swayed back and forth. Luckily, there has only been one reported dead in Afghanistan thus far.
State Competition update: CA = 21 // VA = 10 // PA = 9 // FL = 8 // TX, MI = 7 // NY = 6 // MA, WA, MO (yeah Mizzou), CT, and NC = 5 // NJ, DE, IL, and TN = 4 // MN, MD, OH, WI, OR, OK, and AL = 3 // CO, NV, IN, GA, LA, and KY = 2 // MS, NH, HI, SC, ME, Wash DC, AZ, and IA = 1 apiece.
Our first international package came in before the last update but I forgot to mention it so here is a shout our to Garmisch, Germany and the Building Bridges By Helping Others organization. Many thanks to all of our numerous supporters. We are amazed and forever grateful for your outpouring of encouragement and support.
Respecfully Yours for Fulfilling the Great Commission in Our Generation,
Daniel J. Ward
---
04 Sep 2005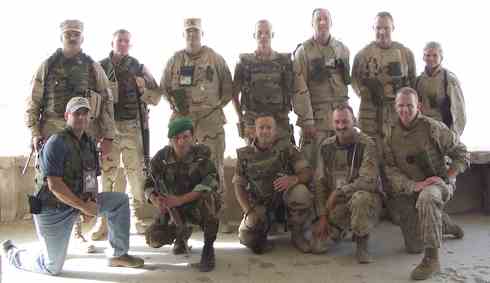 Dear AnySoldier.com supporters of the CJ5 Directorate at Camp Eggers, Afghanistan,
It's been awhile, hasn't it? As with so many things that happen while we are deployed, change is inevitable. I have recently taken over some additional responsibilities that have taken a large portion of my available time. It has been all I can do to get everyone a thank you and keep up with the Map Board. The map board has been a big success by the way. Everyone on the camp comes by our Directorate to look at the updates and the people who support us at AnySoldier.com have expressed interest in the State competition. I am trying to tie up all the loose ends that I've had on my "Things to get a grip on" list before I go on my R&R leave this coming week. I am so excited and anxious at the same time. It's been 7 months since I've been home. We have a great trip planned to visit the Grand Canyon and San Antonio. My daughter will turn 7 years old while I'm home so we'll be having her birthday party as well. As for us here in the CJ5 Directorate - we have a few Army guys who are here for a full year (like me) and the rest are either Marine, Air Force, Navy, or Coalition soldiers. So the turnover from the other services and countries is more frequent. The new guys coming in are always amazed as they see the AnySoldier mail and packages coming in. "For us?" they always ask - disbelieving........... especially the Coalition soldiers who would never expect the same things from their own countrymen. The Coalition soldiers learn a lot of geography as they see all the places where the mail comes from. Photo is about half of the CJ5 personnel from an outing last week.
Here is the latest tally from the state competition:
CA = 20 // VA = 10 // FL & PA = 8 // TX & MI = 7 // NY = 6 // MA, WA, & CT = 5 // NJ, DE, IL, TN, & NC = 4 // MN, MD, MO, OH, WI, OR, OK, & AL = 3 // CO, NV, IN, GA, & KY = 2 // MS, NH, HI, LA, SC, ME, Wash DC, AZ, and IA = 1 apiece. Still haven't heard from 14 states or Puerto Rico. We're waiting to hear from you. Thank you so much to the ones who have already supported us here at Camp Eggers or someone else deployed around the globe. God bless you for it.
Mission Afghanistan is still going strong. Camp Eggers has a group of 40+ personnel who go out EVERY Friday now. The response has been overwhelming. Thank you for your support of this great program as well. Here is a link that I found on Afghanistan's orphanages in order to give you some situational awareness into this countries kids. http://www.afghanorphans.org/ The kids are awesome but they need help.
I thought I should include our sympathy for the people in the Gulf Coast region of the United States. Hurricane Katrina's destruction was just devastating and as we watch the news and events unfold, our hearts and prayers go out for that region of the country. Please do what you can to help support these homeless, stranded people. We here overseas appreciate your support to no end BUT we are not in desperate conditions and are generally well taken care of with food, lodging, clothes, etc. These people in Louisiana, Mississippi, and Alabama don't even have the bare essentials right now. Please say a prayer for us and send your support to the American Red Cross and other relief organizations around the US. That's what we'll be doing! Thank you so much for your kindness and generosity.
Respecfully Yours for Fulfilling the
Great Commission in Our Generation,
Daniel J. Ward
---
02 Aug 2005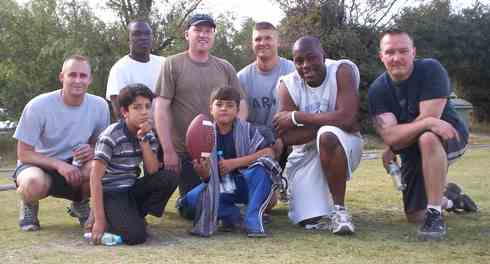 Greetings All,
It's been a while since the last state competition update so I thought I better get in gear and tally up the scores. The following are the states we have received packages or mail from and the number of DIFFERENT people from each state. We all know the rules by now..........each and every DIFFERENT person will get a push pin on our Any Soldier.com Map of the US. If we eventually get any correspondence or packages from other countries, we'll figure out what to do if that occurs. Drum roll please.......................CA on top with 17; VA = 8 // PA = 7 // TX, MI, and FL = 6 // NY, MA, and CT each have 5 // DE, IL, and TN have 4 // MD, WA, NJ, MO (Yeah!), OH, WI, NC, OK, and AL each have the hat trick (3) // NV and GA each have 2 // and represented by one push pin each is MN, CO, IN, MS, OR, NH, HI, LA, SC, ME, Wash-DC, AZ, and IA. This leaves (if my count is correct and we haven't added any more states to the Union since I left) 15 states unrepresented. Good luck moving your state up the leader board.
We are all still doing relatively well and the National Assembly and Provincial Council Elections are coming up next month (September). I get to go on R&R leave in mid-September so I'm counting the days anxiously. I plan on going to the Grand Canyon and San Antonio with my family. I can hardly wait!! I have enclosed a photo from last Friday - we were playing a football game and over 100 locals came out to watch us play. We invited two young boys who looked interested to play and they jumped at the chance. They had a great time as did the rest of us. It took them a while to learn to hold onto the ball and just run..........they are used to soccer. Hope you all are having a great summer and staying cool in the record heat. Until next time.........Thanks for all you do to support the troops!!
V/R
Daniel J. Ward
---
24 Jul 2005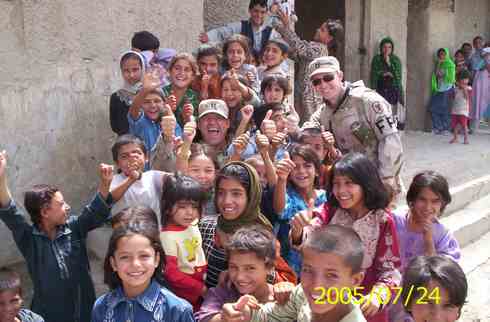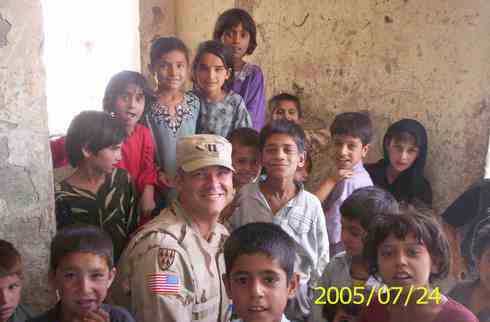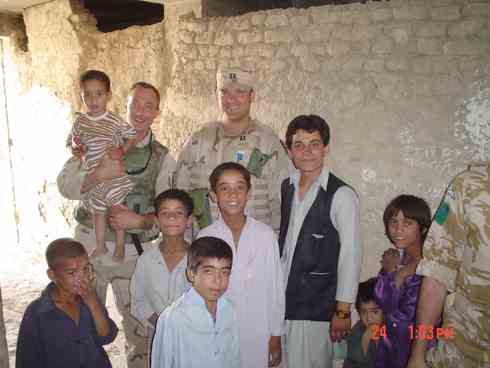 Just finished another community relations trip this afternoon - to a refugee displacement camp towards the outskirts of Kabul. 52 families and 300+ kids with little or no food to be found........it was in pretty bad shape. We brought 4 truck loads of clothes, food, school supplies and toys. The mullahs and elders gathered it all together for distribution at a later time because that is how it works and we think they know best. The interpreters that we brought with us were able to let them know the important things that were included in the delivery. A generous donation by one of the AnySoldier.com supporters provided over $400 worth of food to this humble camp and the smiles were everywhere as you can see from the photos enclosed. All of the personnel that went on today's mission were from my Directorate, the CJ5 shop except for the Chaplain and Garrison Sergeant-Major. I was so proud of them and they all kept saying "We are doing great things here in this country". I agree with them and it's all because of the generous donations of all of you at this website. We would like to thank you on behalf of all the citizens of Kabul that we are able to interact with on a regular basis. We are there to see the benefit and I just want you to know that joy as well - THANK YOU, THANK YOU, THANK YOU!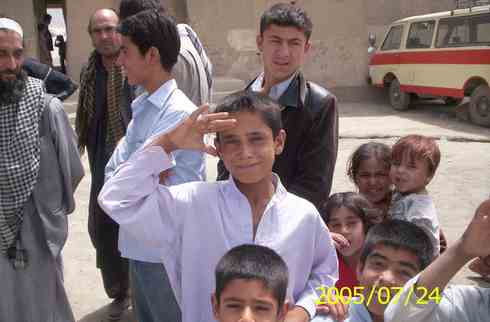 The grateful salute from the young boy speaks volumes in my mind and I hope it does in yours as well........until next time with a State Competition update........
Daniel J. Ward
---
06 Jul 2005
Greetings and Salutations,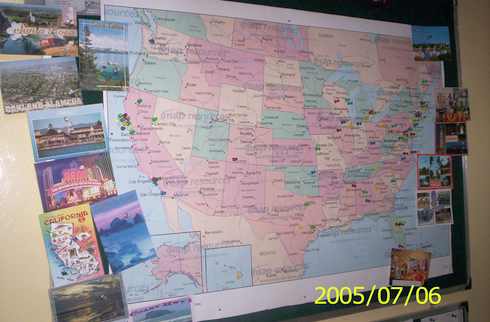 The photos I sent this time are of the United States map that we use to see where the letters and care packages are coming from. Some of our guys in the shop have more to brag about than the rest of us. My home state of Missouri, for instance, has only one push-pin but that one push-pin has been very generous to our Morale, Welfare, and Recreation (MWR) program here at Camp Eggers but come on Missouri. My adopted state of Texas is doing pretty good with 6 push-pins - God Bless Texas!! However - California is still the current leader with 17 push-pins led by the Santa Rosa area. The rest of the story: PA = 6 /// VA, MA, CT, and FL = 5 /// NY, MI, and IL = 4 /// MD, WA, NJ, DE, WI, TN, NC, and AL have a hat-trick (3) /// OH, NV, and OK each have 2 apiece /// Someone in MN, CO, IN, MS, GA, OR, NH, HI, LA, SC, and ME stepped up to the plate to get their states on the map with 1 push-pin each..........Still waiting on a few states to weigh-in. I'm here until February 2006 so I imagine that this map is going to get very crowded by the time I leave Afghanistan.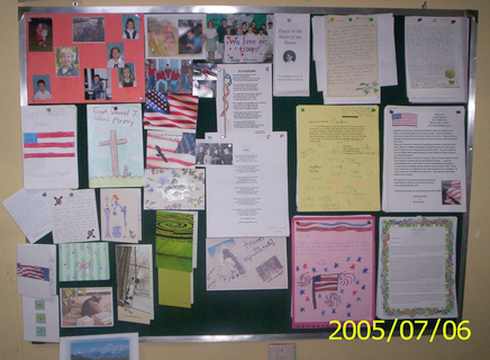 The other photo is another bulletin board that hangs directly below the map. It contains all the letters, cards, poems, and letters that have been written to us here in the CJ5 Directorate. Everyone gets a chance to read through them when there is a minute to spare but especially on days when you just need an "Atta Boy or Atta Girl"! Thanks for those pats on the back, America. The board may not look like much but your view is 2-dimensional. The letters on the bottom right are about 20 deep in each stack. The drawings by the kids are about 15 deep in each stack. The smaller letters in the upper right are roughly 15 deep in each stack. One particularly interesting piece is an Afghanistan Travel Guide made by a young grade school student and sent to us by her teacher. It is situated in the middle bottom.
Thanks to all who continue to generously support www.MissionAfghanistan.com and the community relations work that we do here in the Kabul surrounding area. Deliveries are made every Friday to various orphanages, hospitals, and schools to keep up with the constant inflow of clothes, shoes, toys, candy, and school supplies sent by you - the American people. These are examples of the types of things that are useful in support of Mission Afghanistan. You can just see the joy in the faces of some of these innocent children in some of the photos from previous posts if you scroll down.
Lastly - a note about us in the CJ5. We are now 27-persons strong with the same international flavor that we started with: US, British, French, and Canadian soldiers and civilians. We are not in need of anything but your moral support in the completion of our mission here in Afghanistan and Iraq. Let your Senators and House members know that you support the troops and what is best for them - Don't be so near-sighted to think that leaving now is the best course of action. Leaving Iraq and Afghanistan now will only heighten our burden to defend our American Freedom in years to come.
Wish (want not need) list items include: DVDs, Playstation 1 video games (someone donated a Playstation 1 to our MWR program), snacks, coffee, creamer, batteries. Many of us are here for a one-year tour and will be taking a mid-tour leave for about two weeks.......
We all appreciate all the support that we have received and are eternally grateful. God bless America and the people that call her home!!
Daniel J. Ward
---
23 Jun 2005
To all of our supporters,
First things first. I know some of you are very interested in the State Competition. Here is the national scoreboard: USA = 84 .......... All other nations = Zero
On to the state by state breakdown. California has demonstrated a grass roots effort that has generated huge results and a big lead for the Sunny seaside state. California has 15 as of this update. Other states will really have to get the word out to friends and relatives to make up some ground. Here are the latest results from the CJ5 Directorate at Camp Eggers, Afghanistan: TX and MA = 5.................VA, NY, CT, IL, and FL = 4..........MD, WA, DE, WI, TN, NC, and AL = 3...........NJ and OH = 2............and those who are at least on the board with ONE are MN, CO, MI, MO, IN, MS, GA, OR, NH, HI, OK, and LA.
We have recently received some very generous donations from several places and we want to thank all of you for your generosity and Good Will. Mission Afghanistan donations are really picking up and we are more than willing and able to support any and all donations you may have to this worthy community relations project.
A Song Playstation (original Playstation) was donated to the Camp Eggers Morale, Welfare, and Recreation (MWR) program with a few games. A laptop computer was also donated for our newly created Internet café. A blackjack card table layout and numerous decks of cards will also set-up nicely in our new recreational area. Thanks for these and all the other many contributions to make life here in Afghanistan a little more comfortable. If you have upgraded to the new Playstation or perhaps another high-tech gaming system and you have some old Playstation One games..........please consider donating them to us. We will put them to good use. Also - we have an MWR movie library that allows soldier to check-out DVDs to view in their spare time. The selection is limited and we are always looking to add new titles to the library. So DVDs are also a highly requested item if you are thinking to sending something but just can't decide what to send.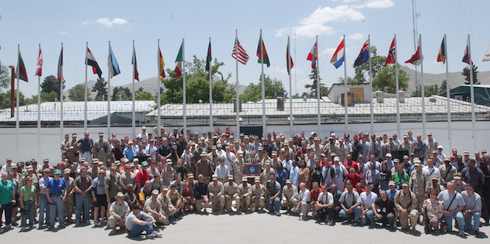 The photo is of the entire Camp Eggers, Afghanistan family (as of June 2005) during a farewell ceremony for US Ambassador Khalilzad. Ambassador Khalilzad has recently accepted President Bush's appointment to serve as the new US Ambassador to Iraq and has already begun working in that country.
Thank you for your prayers and God Bless the USA!
Daniel J. Ward
---
08 Jun 2005
Thanks for the tremendous support - California is making a bid to hold on to the top spot with a flurry of mail and packages this week.
Current standing as of 7 Jun 05: CA = 10 / TX and MA = 5 each / VA, NY, CT, and IL = 4 / WA and FL = 3 / MD, NJ, DE, OH, and TN = 2 / MN (wife's home state - Littlefork), CO, MI, MO (my home state - SHOW ME Missouri), NV, IN, MS, WI, GA, OR, NH, NC, HI, and OK each have 1
Daniel J. Ward, CPT, USA
---
05 Jun 2005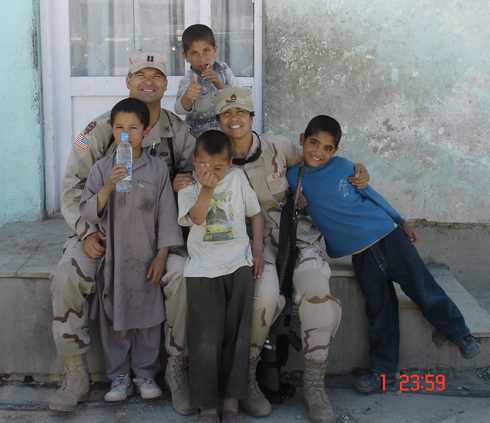 My fellow Americans and Coalition Partners Around the World,
I just wanted to send you the latest update from Camp Eggers, Afghanistan. First of all......thanks so much for your continued support. The tastes of back home come in on a regular basis and they always raise the spirits of everyone that I work with. It doesn't matter how bad the day may seem to be going, when the boxes come in around mail time..........they spring to life with renewed energy and vigor. Whenever our stash of goodies begins to run a little low, without fail another package will come in and replenish the stash. We really appreciate everyone's generosity and support.
A good news story with pictures: We visited another local orphanage on 3 Jun 05. The included photos are from that visit. There we 6 truckloads of clothing, shoes, toys, and candy to distribute to the hundreds of children at this facility. It was the first time I had been to this particular orphanage. The ISAF (NATO International Security Assistance Forces) soldiers has recently come in and painted the inside of the buildings to make it more hygienic. Still there was room after room of kids from probably 2-3 years old up through teenagers / boys separated from the girls with the older ones looking after the younger ones. After asking a few questions, I discovered that some of them are there simply because their parents can't afford to keep them. It was sad in a way but also a joyful experience to be able to see these kids hug a new Teddy Bear or race a Hot Wheels car around the floor. They all loved the candy. The clothes are put into a storage room where the workers will sort them all out by sizes so the correct size clothes will go to the right size kids. These kids are truly amazing and polite. We honestly don't know how well we have it in the US and other nations. I made a connection with a young boy named Kadeem. He is kind of a bully and is obviously one of the leaders of the younger boys. But just playing around with a soccer ball with him had amazing effects and I think I gained his trust. Hopefully the next time I visit - I can possibly be a bigger more positive influence on them. Kadeem is the boy on the motorcycle in the photo. I cannot thank you enough for the opportunity to spread some love around this country. Without your generous, selfless donations of clothes, shoes, toys, school supplies, etc........our community relation trips would not have the impact that they do today. We salute you!!
Daniel J. Ward
---
02 Jun 2005
Dear All,
Just a quick hitting update - it has been brought to my attention by some of the new guys that the PX does not sell Gillette Sensor razor replacement cartridges. They sell a more advanced Gillette razor package that includes the razor and a few razors. I have been asked to float this request out there: Gillette SENSOR razor cartridge replacements and shaving GEL. A more in-depth update will be forthcoming in another couple of days. We are heading out to an orphanage tomorrow to distribute the items that have been sent to Mission Afghanistan. I'll post some photos next update from that trip. Take Care and God Bless.
---
29 May 2005
Dear All,
First of all: Continued Thanks for all the Support for Us in the CJ5 Directorate at Camp Eggers and for those in need here in the greater Kabul community through Mission Afghanistan Mission Afghanistan! We are eternally grateful.
Second: I have received some interest in the "Competition Between the States" and I will attempt to update these numbers regularly. Please be aware that multiple letters and packages from the same person do NOT count more than once for that particular state. California is currently in the lead with Texas right behind. Here are the up to date numbers: CA = 6 / TX = 5 / VA and NY = 4 / MA, WA, CT, IL, FL each have 3 / MD, NJ, DE, and OH each have 2 / and those states that are represented once include MN, CO, MI, MO, NV, IN, MS, WI, TN, GA, and OR I would encourage those who want to get there state moved up on the list to "rally the troops" and make a push for the top spot.
Third: Numerous supplies have rolled in to accommodate the allergic soldier with the deodorant issue and he is squared away for the duration of his tour (= need met).........As we have come to learn: Ask and someone will provide. A collective "Thank you" from all of us here goes out to those who are supporting all of the troops around the world.
The photo is from 28 April 2005 during Afghanistan's Independence Day Parade in Kabul, the capital city of Afghanistan.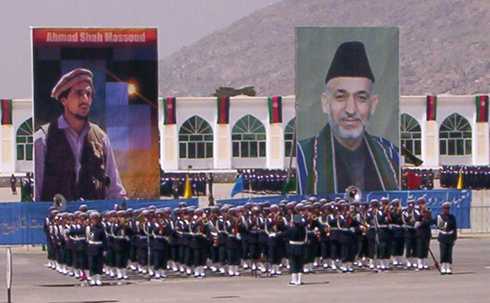 V/R
Daniel J. Ward
---
15 May 2005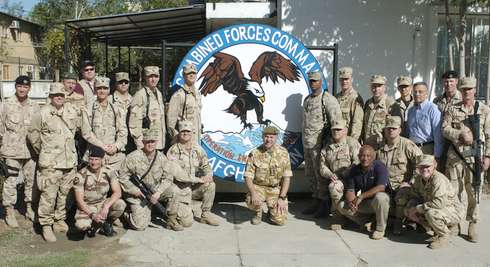 To All our Wonderful Supporters and To Those who will support us in the Future:
We continue to be amazed by the generosity of so many folks. The call has been answered again and again. Our map is filling up and I thought I would give out a list of hometowns who have taken such good care of the CJ5 Directorate at Camp Eggers: Arlington, VA; Marshall, VA; Bemidji, MN; Belmont, MA; Dallas, TX; Durango, CO; Jackson, MI; Fort Bliss, TX; Port Jefferson Station, NY; Joppa, MD; Galloway, NJ; College Place, WA; Wilmington, DE, Lee's Summit, MO (Go Missouri!!); Canton, OH; Virginia Beach, VA; Guttenberg, VA, Fairfield, CT; Oakland, CA; Terrace Park, OH; Las Vegas, NV; Auburn, CA; Redondo Beach, CA; Clyde Hill, WA; Glen Burnie, MD; Palos Heights, IL; Flushing, NY; Byron, IL; Mishawaka, IN; Sanibel, FL; Marietta, MS; San Diego, CA; Issaquah, WA; Valders, WI; Celina, TN; Rockledge, FL; Bay Shore, NY; Austin, TX; Fountain Valley, CA; Wayland, MA; Canton, MA; Santa Rosa, CA; Torrington, CT; Casselberry, FL; Avon, IL; and Boston, MA!!
What a tremendous list already...........Some states are filling up quickly while we are still waiting to hear from some states. I see that there is a battle between a few states for the most push pins in our map. CA = 6 // VA = 4 // MA = 4 // NY = 3 // FL = 3 // TX = 3 // IL = 3
Ask and you shall receive.............how true that is!! Many have answered the call for coffee. We have been overly blessed with coffee from numerous donors. In fact, Dunkin' Donuts sent us an entire case of their coffee so if you are out and about and in the mood for a donut and some coffee - see if you can't find a Dunkin' Donuts nearby. I also would like to personally thank www.themaninthemirror.org for their generous donation of Patrick Morley's book, "The Man in the Mirror". It will be a great addition to our Bible Study group. That is not to downplay the efforts of everyone else who has sent mail and packages - every single box and letter is received warmly and greatly appreciated. Thank you emails and letters are sent for every box or letter. It's the least we can do for the support that you continue to show to us here at Camp Eggers in the CJ5 Directorate, Combined Forces Command - Afghanistan. Please find a recent photograph of the CJ5 Directorate, CFC-A.
Sincerely,
Daniel J. Ward, CPT, USA
Combined Forces Command - Afghanistan
CJ5 Executive Officer
---
03 May 2005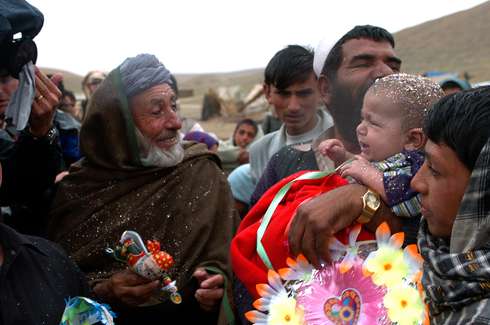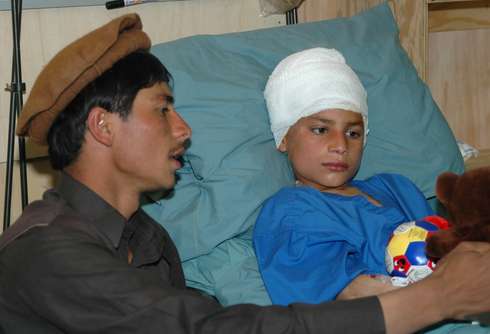 To All of Our Supporters,
Thank you so much for the outpouring of blessings that you have given to us. The letters and care packages have been a tremendous boost to morale. We have had to rearrange several times to accommodate all the letters, crayon drawings, newspaper clippings, and cards sent to remind us of the loyal support of our countrymen in America and abroad. Several answered the distress call about coffee and we are so thankful. A couple of guys just left for home but we received 3 new Navy officers who drink even more coffee than the previous guys. Perhaps it's stress but more than likely it's good coffee. I would still say that coffee is probably our #1 request if you are looking for something to send (along with the creamers that go with a cup of joe). I still don't drink coffee.......never have.....but it is early in my year tour and I might break down if the nights get any longer. Once some of the guys noticed that people really do pay attention to update letters (i.e. coffee was requested and coffee was sent), they have brought a couple of more individual request to my attention. If this fits your needs - here is the specific requests: Weight lifters would like Creatine and protein powder/weight training supplement products (I'm not much of an expert but I figure if you know what I'm talking about then you will send the stuff they want - they say it is a bare selection in our Post Exchange PX); Vitamins (Daily Multi-vitamins, calcium, beta-carotene - Vitamin A, etc) - limited supply in PX; Arm and Hammer Ultra-max UNSCENTED deodorant (yellow container / one guy is allergic to all the scented deodorant sold in PX - he brought 4 sticks of the unscented but is almost out). That ends the specific request section of this update. I really cannot stress enough the gratitude in our hearts for not only the ones who send cards and letters because we know that there are lots of soldiers. But we know that the portion that we receive is only a tiny fraction of the overall support from home........It is truly amazing. The latest photos are of some of the kids receiving toys that were sent to be delivered to local orphanages, schools, and hospitals. Just wanted you to see the joy in the eyes of these fortunate kids. There are many!! God Bless the USA (and the United Kingdom, Canada, and France)!!
v/r
Daniel J. Ward, CPT, USA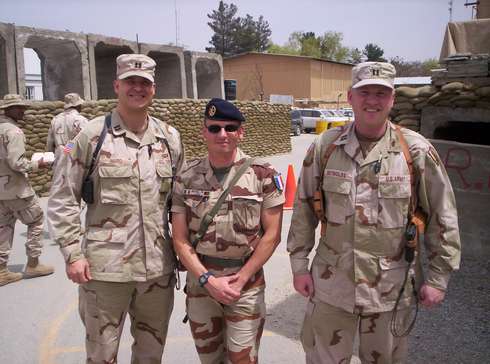 25 Apr 2005
Dear Citizens of the World,
The weather is improving and your support has been amazing. Letters and packages have been distributed and morale is high. We have a map of the North America and Europe that we have put push pins in that mark the cities that have sent us letters and care packages. It is incredible how exciting this is for all our soldiers - Especially when something comes in from a part of the world that they are from. We have received two items from my home state of Missouri and that was awesome. All the soldiers are pulling for their states to hit the map in the near future. Our coalition partners are hoping to keep pace with the Americans. Thank you for your support. The letters that we receive are all heartfelt and touching. We have our morale and pride uplifted daily from the Any Soldier program. Soldier's Angels have also been big supporters of us here at Camp Eggers. Afghanistan is getting ready for the historic National Assembly Elections and the corner is being turned here in this part of the world. It's really amazing to watch a people gain more and more hope everyday. I'm proud to be here and serve alongside these people as they make their stand for freedom and democracy. Thank you....thank you.....thank you for your generous support. Everyone will receive a personal response from us here in the Strategic Plans and Policy Directorate. God Bless!!
Daniel J. Ward, CPT, USA
---
18 Apr 2005
Dear Friends,
Thank you for the support not only from the United States of America but also from around the world. The belief in our just cause and expression of gratitude from freedom supporters globally has resonated loud and clear in our hearts and minds. The tide is turning in Afghanistan in no small part to the large Coalition and North Atlantic Treaty Organization troops. Your support has been a tremendous boost to morale and keeps our attitudes positive. Just as we have criminals, terrorists, and generally Bad people in our own countries that we wish to contain, the people of Afghanistan have those same problems with a relatively new government just elected last year. With the help of many countries, Afghanistan will continue to get stronger and stronger. The overwhelming majority of people value freedom and the rule of law however news reporting tends to only focus on the negative side of war. The countless successes go virtually unnoticed while a tragic helicopter crash is the news of the day. That's the way it is but continue to have hope. We do and so do the people of Afghanistan who see their lives and Country improving every single day. Thank you - people of the world who support Operation Enduring Freedom with your kind letters and care packages. They are greatly appreciated.
Sincerely,
Daniel J. Ward, CPT, USA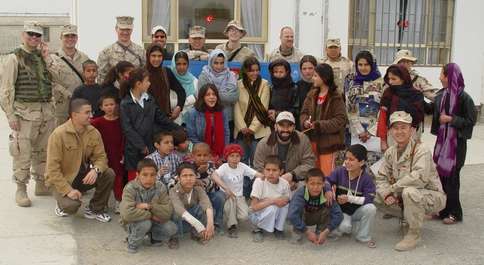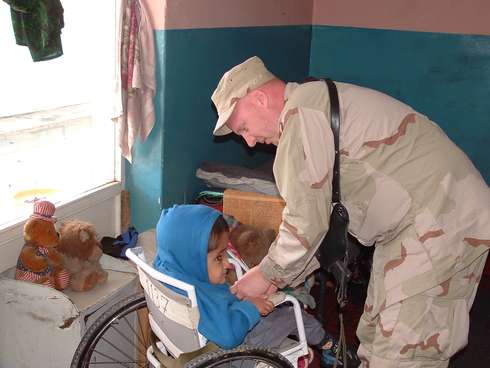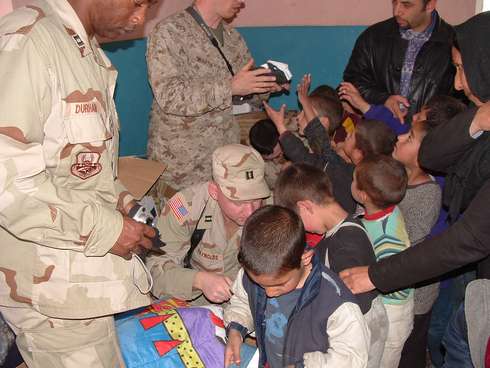 14 Apr 2005
Dear Loyal Supporters,
We are still in some shock over the loss of the crew and passengers of the Chinook helicopter crash here in Afghanistan. Again we have been reminded of the ultimate sacrifices made by men and women of our Armed Forces and those of our Coalition partners everyday here and in Iraq. Your prayers are appreciated more than you will ever know.
The deaths of these and countless others are not in vain. Afghanistan and Iraq will have a chance to be free and independent. Military and civilian personnel here in Kabul have joined together to help out those less fortunate among us. The website www.missionafghanistan.com details the mission of the Volunteer Community Relations program that engages in humanitarian operations in and around Kabul, Afghanistan. It serves to facilitate the comprehensive distribution of supplies to schools, orphanages, women's shelters, refugee camps, day care centers, etc. We, as military personnel and civilians volunteer to help organize and bring those donated supplies to these deserving facilities. I have recently found out that AnySoldier.com also helps out this quality community relations program. If this program interests you, please include a note in donation packages that directs it to Mission Afghanistan and we will make sure that it gets to the Community Relations team for distribution.
On a personal note, personnel in my directorate are heavy coffee drinkers. Leaded with lots of caffeine. The supply system has temporary hiccups here and currently there is a major shortage of coffee. Instead of the typical 9-5 job, personnel in my directorate work the flip-side of that........5am - 9pm. Coffee helps to keep the eyes open. A special request for coffee has been raised to my attention. If you are looking for something to send, Kabul needs coffee. Cheers and thank-you for all the support.
v/r
Daniel J. Ward, CPT, USA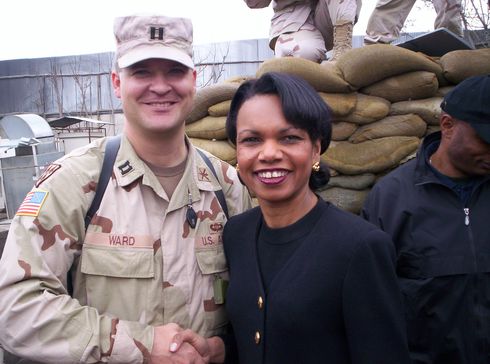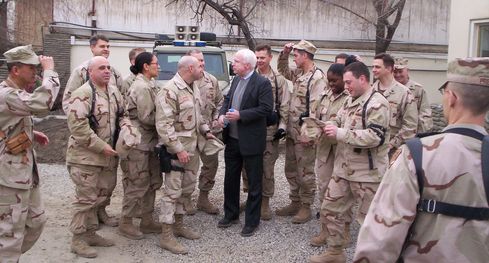 11 Apr 2005
Dear AnySoldier.com,
Thank you for your unique program. Thank you to all the wonderful people who send their support letters and packages. We send a personal reply to everyone we receive something from without fail. It is the least we can do. I have received several packages and letters and distributed the items and words of support to the soldiers in my Plans and Policy Directorate. It is always a joy to get mail and packages from people who care. It has been inspiring to our Soldiers, Airmen, Sailors, and Marines as well as the allied officers (British, French, and Canadian) who see the support from the United States first hand. Most of the coalition officers are here because of what they saw happen in the US on September 11th, 2001. They will attest to the pain that they and their countrymen felt as they watched the events unfold. They are here serving side by side with us in our fight to make Afghanistan's future a bright one. Your contribution should not be taken lightly. What seems to you as a small token of appreciation can seem so BIG on this side of the world. Thank you again. Your support and pride in us is what makes us proud to do what we do as Soldiers. Your contribution to the War on Terror cannot be under-stated.
We currently have 12 US Army soldiers, 4 US Marines, 2 US Navy Sailors, 3 US Air Force Airmen, 7 coalition officers and Non-Commissioned officers, and 3 civilian contractors in our shop. Every single one of us is extremely grateful for your generosity and thoughtfulness. I have personally seen eyes light up and smiles beam across their faces. Thanks to your efforts and those of AnySoldier.com, we are encouraged daily by citizens like you who take the time to share your patriotism and pride with us. We are eternally grateful.
Some items that would be useful follow:
Duct tape, sunglasses, Game Boys & games, Baseballs, footballs, gloves, Frisbees, and other sporting goods, Magazines, local papers, paperbacks, Puzzle, Word Game & Crossword books, Individual packets of Trail Mix, Beef Jerky, Slim Jims, peanuts, pretzels, cookies, Sunflower Seeds and canned nuts, Canned chips or potato sticks, T-shirts - Large, XL, XXL, Bug Spray, Band Aids, cough drops, dental floss, combs, chap stick, lip balm, q-tips, nail clippers, razors, shaving cream, toilet paper, Paper, pens, postcards, envelopes, Prepaid Phone Cards, headphones, computer jump drives, mp3 players, any type of board games, batteries, Packs of candy, gum, Twizzlers, tootsie rolls, Skittles, sweet tarts, DVD's, CD's, breath mints, cashews, pistachios, dryer sheets, hand towels, large towels, chocolate, any other items that people may think of as a neat thing to have.
This is a long list, but I tried to gather an all encompassing listing that would enable people to see some of the soldier's needs and wants. In my section, we have soldiers, airmen, and sailors from all parts of the USA. We have national Guardsmen as well as active duty and reserve soldiers. All your thoughts and your generosity deeply touch the hearts of all the soldiers serving on the ground, and while we would do this job even without the gratitude of American citizens, when we see the gratitude of our countrymen and women, it makes this job even that much better. Thank you and God Bless!!
Sincerely,
v/r
Daniel J. Ward, CPT, USA
---
25 Mar 2005
Our living conditions on Camp Eggers are not too bad. Most of us live in rented Safe Houses just outside of the Camp on in buildings on Camp Eggers. There are bunk beds and wall lockers. The most inefficient things are the electricity and hot water heaters. More often than not, there is no hot water for showers and personal hygiene. The electricity supply is 220 volts but we have converters that allow us to convert the 220 source to 110 volts if we have 110 electrical equipment or appliances. We do not need food but snacks are welcome and a reminder of home. We have access to microwaves but not stoves or kitchens. We do have a contract laundry service that provides for all of our laundry needs. I am representing a combined-joint planning cell that is approximately platoon size. We currently do not have any female soldiers assigned but we have had 2 in the past and could have more in the future. There are other females on Camp Eggers who we could easily distribute female specific items that could be sent to us as a part of this program provided that we still don't have any females assigned. Our section has service members from all 4 services (Army, Air Force, Navy, and Marines) and coalition officers to include British, Canadian, and French. It is a unique and extremely interesting working environment that helps us appreciate all of the US Armed Forces and our coalition partners. My "platoon" is not from any specific state and come from forts and bases from all over the world. I am from Fort Bliss, Texas - Home of the Air Defense Branch. Items that we could use include: Personal (toothpaste, tooth brushes, soap, shampoo, shaving cream, razors, athlete's foot medication, mouthwash, etc), multi-vitamins, playing cards, board games, movies (DVD/VHS), MP3/WMA players, portable DVD players, packaged food stuffs (coffee, microwave popcorn, hard candy, gum, beef jerkey, etc), books, magazines, batteries (AA and AAA), and SD Memory cards. Everything welcome!