Jonathan was with us before, his old page is HERE
22 Dec 2008:
IMMEDIATE RELEASE No. 1030-08
December 22, 2008

--------------------------------------------------------------

DoD Identifies Army Casualty
The Department of Defense announced today the death of a soldier who was supporting Operation Iraqi Freedom.

Staff Sgt. Jonathan W. Dean, 25, of Henagar, Ala., died Dec. 20, in Bayji, Iraq, of injuries suffered in a non-combat related incident in Tikrit, Iraq. He was assigned to the 561st Military Police Company, 716th Military Police Battalion, 101st Sustainment Brigade, 101st Airborne Division (Air Assault), Fort Campbell, Ky.

The circumstances surrounding the incident are under investigation.

For more information media may contact the Fort Campbell public affairs office at (270) 798-9966, or go to www.campbell.army.mil/eh/eaglehonors.htm.
---
Fort Campbell says Dean is survived by his wife, Staff Sgt. Anne M. Dore, currently deployed to Iraq; son, Forest T. Dean of Valley Head, Ala.; father, David W. Dean of Valley Head, Ala. and mother, Edith D. Dean of Henagar, Ala.
---
02 Nov 2008
Just wanted say thanks to all that continue to send us care packages. All of my soldier sure do appreciate the care packages that have been sent. We all are doing well. Continue to remember all of us in prayer. I will try to post some new pictures over the next few weeks.
---
05 Sep 2008
Just wanted to take the time out to say thanks to all those that have sent my squad things. Things are starting to get better here. We are getting a day or two a week to relax get rested back up before we are hard at work again. That is a big change over the first hundred days here. Maybe things will continue to improve. Things that the soldiers need are basic shampoo, soap, and basic personal hygiene products. We appreichate all of you that still support us and continue to remember us all in your prayers
SGT Jonathan Dean
---
17 Jul 2008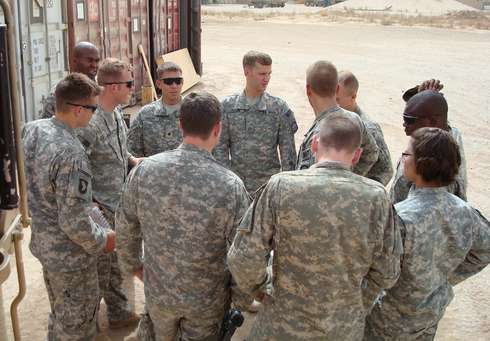 Just want to take the time to say thanks to all the ones that have sent care packages to my squad. When I get time I will take some more pictures of what we live in and stuff. Our living conditions are improving daily we continue to build and make things more confortable during our spare time. Once again thanks for all of you that support us and continue to remember us all in your prayers.
Thanks,
SGT Dean, Jonathan
---
04 Jun 2008
Our Soldiers go to an area for long periods of time that is dangerous, is very dirty, and has nothing to keep them busy for MWR while not doing mission. They only have latrines where feces must be burned daily to keep from contaminating the area with disease, and live with local nationals in their immediate area. They get to come back to the FOB every once in a while, but our PX here is always empty since we are in a remote area. Any contribution would be greatly appreciated. Some items on the Soldiers' request list include but are not limited to: Mach III Razor Blades, Baby Wipes, Beef jerky, Combs, Shaving Cream, Shampoo, Conditioner, Soap, Body Wash, Toothpaste, Mouthwash, Bungee Cords, Fly Paper, Bug Spray, Pillows, Fans, Toothbrushes, Army Green socks, Bagged/ Boxed/ Canned Snacks, Canned Air, Coffee, Coffee Filters, Hand Sanitizer, Desk Lamps, Light Bulbs, Fingernail Clippers, Foot Powder, Razors, Word Find Puzzles, Soduko Puzzles, Hunting Books, Dominoes, Cards, Games, Candy, Morale Items, Drink Powders, Air Freshener Spray and stick-Ups, Black Ink Pens, Printers, Printer Cartridges, Batteries (AA, AAA, D, 9v), and other hygiene, food, and morale items. THANK YOU AGAIN AND V/R,
SGT Jonathan Dean