Sun, 1 February 2004

Dozens killed in Iraq suicide bombings
BY TOM LASSETER
Knight Ridder Newspapers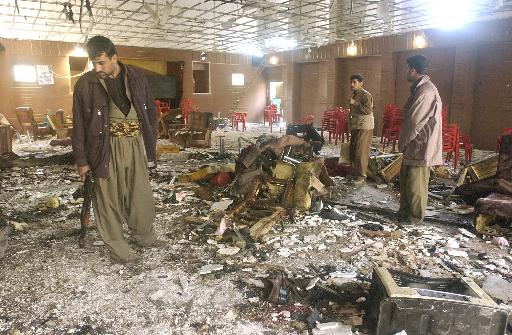 Peshmergas with the Kurdistan Democratic Party walk through the room inside the KDP headquarters in Irbil, Iraq, Monday Feb. 2, 2004, where a suicide bombing took place on Sunday during a meeting for the feast of Eid al Adha. The bombing was one of two near-simultaneous attacks against both Kurdish political parties in which 67 people were killed and 200 others injured.
(AP Photo/Julie Jacobson)

IRBIL, Iraq - In one of the deadliest suicide bombings of post-war Iraq, two men walked into Kurdish political offices Sunday morning with explosives strapped to their bodies and, a few minutes apart and on different sides of town, killed at least 60 people - and possibly more than 100 - and injured some 240, according to hospital and government officials.

Among the dead were the governor and vice governor of Irbil, according to a spokesman for the region's ministry of information. Sami Abdil Rahman, the region's deputy prime minister, and several other key Kurdish politicians died in the bombings.

Nearby hospitals were crammed with corpses and the screaming wounded. Men, women and children had been blown to pieces in this predominantly Kurdish town in northern Iraq.

The attacks threaten to inflame simmering ethnic tension among Arabs, Kurds and Turkmen in the north over how power will be divided in postwar Iraq and could strengthen separatist political sentiment.

Irbil is home to the Kurdish parliament, made up of the Kurdish Democratic Party and the Patriotic Union of Kurdistan, whose offices were destroyed in the blasts. The two factions oversee most of northern Iraq and are strong allies of the U.S.-led coalition.

L. Paul Bremer, the top U.S. civilian administrator in Iraq, released a statement expressing outrage over what he called "a cowardly attack on innocent human beings as well as on the very principle of democratic pluralism in Iraq."

Hamin Othman, a spokesman for the ministry of information, said that the official numbers as of late Sunday night were more than 60 dead and about 240 wounded. He said he expected those figures to increase substantially as more reports came in and workers continued removing bodies from the blast sites.

Akram Mohammad, an administrator at one of the city's biggest hospitals, said that he counted at least 45 dead and more than 150 wounded in his hospital alone. After speaking with other officials across Irbil, he said he thought there were easily more than 100 killed in all.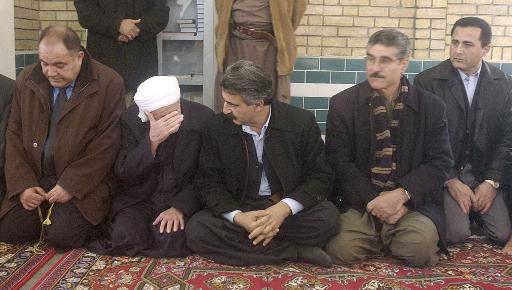 Members of both Kurdish political parties, the Kurdish Democratic Party (KDP) and the People's Union of Kurdistan (PUK), sit together during a wake Monday, Feb. 2, 2004 in Irbil, Iraq, for the 67 people who died in two near-simultaneous suicide bomb attacks against both Kurdish political parties Sunday.
(AP Photo/Julie Jacobson)

"One of the victims I spoke with said he was watching a little girl handing out candy, you know, little pieces of gum, and then everything exploded and there was blood all over," Mohammad said.

The blasts came on the Muslim calendar's most holy of days, Eid al Adha, the Feast of the Sacrifice, which commemorates Abraham's willingness to obey God by sacrificing his son.

The local TV news station reported that the two attackers dressed as Muslim clerics.

Video footage of the KDP and PUK offices showed drop ceilings ripped apart, a strand of prayer beads lying in blood, furniture crushed and mangled, and rubble lying where walls once stood.

Reporters were barred from the sites and from entering hospitals, but workers at the ministry of information showed video footage of the rows and rows of dead and wounded. The men and women in the dingy beds stared up at the ceiling, their faces bandaged and caked with blood.

Khalid Kareem stood outside one of the city's hospitals late Sunday night, looking dazed. His cousin was inside with severe head wounds and probably wouldn't make it to the morning, he said.

"The violence is everywhere," he said. "It's in the south of Iraq, the middle of Iraq and the north of Iraq. Whoever is doing this wants to destroy the country."

At least 700 Iraqis have been killed or wounded since late December in a continued campaign of bombings - whether by suicide car blasts or remote controlled roadside explosions. Military commanders have said recently that the bombings point to an increased activity by foreign fighters, including some working with the terrorist organization al-Qaida.

Also on Sunday, a U.S. soldier was killed and 12 others wounded in a rocket attack on a base in Balad, north of Baghdad, according to a news release.

Although no one claimed responsibility for the Irbil bombings, there was widespread suspicion that the motives were rooted in an ongoing feud about the future of Irbil and Kurdish territory. The wide swath of land is home to a large Kurdish population that was brutally suppressed under Saddam Hussein's rule and that has been long pressed for independence. The land also sits on top of billions of barrels in oil reserves.

Northern Iraq is home to fighters from Ansar al Islam, a radical Kurdish group with ties to the al-Qaida terrorist network.

The tactics represent a disturbing shift in suicide attacks in Iraq, which until Saturday had been confined to car bombs.

The men walked into the offices of the KDP and the PUK as hundreds stood around talking in a relaxed gathering to celebrate the Eid holiday.

Dignitaries and officials stood in the front of the two buildings, shaking hands and wishing people a happy holiday as the men walked in and detonated their devices.

The body count could turn out to surpass the previous high body count, set on Aug. 29 in the southern city of Najaf, in which a car bomb killed a top Muslim cleric and at least 125 worshippers.

Muhi al Khateeb, a spokesman for the U.S.-appointed Governing Council in Baghdad, said victims of the blast were martyrs for the freedom and democracy of a new Iraq.

"The terrorists prepared well, chose their targets well, and we have to be more careful in the future," he said in Baghdad.