In Iraq, fear is a constant companion


By Jon R. Anderson, Stars and Stripes
European edition, Sunday, October 19, 2003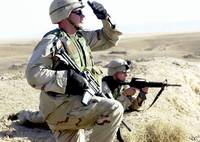 Jon R. Anderson / S&S
Two paratroops with the 173rd Airborne Brigade take up a position on a bluff overlooking the "Bridge of Death," where U.S. troops have been attacked and killed in Iraq.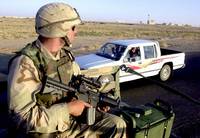 Jon R. Anderson / S&S
Friend or Foe? As the casualty count in Iraq continues to rise, attacks come without notice in convoy ambushes and mortar attacks and from lurking snipers.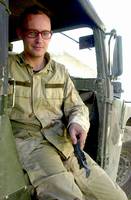 Jon R. Anderson / S&S
Capt. Ned Ritzmann holds a sharp slice of shrapnel that narrowly missed killing him after slicing into his Humvee recently.
Sgt. Jason Haynes never questioned things.
He never questioned going into Afghanistan in 2001. A paratrooper with the 75th Ranger Regiment, he was among the first combat troops on the ground.
He never questioned going into Iraq. Among the first ground combat troops in northern Iraq, Haynes parachuted in this time with the 173rd Airborne Brigade.
Haynes never questioned anything until Spc. Justin Hebert was killed on Aug. 1.
Hebert's patrol was caught in a midnight ambush as it crossed what has become known the "Bridge of Death." The bridge connects a lonely stretch of road that cuts down steeply from a desert ridgeline, crossing the Tigris River about 120 miles north of Baghdad.
A rocket-propelled grenade blast decimated the side of Hebert's 5-ton truck. He died four days after his 20th birthday and three months after President Bush declared the end of major combat operations in Iraq on May 1.
"I'm still very angry about his death," said Haynes, sitting in a riverside patrol site not far from where his buddy was killed. The slain soldier, a forward artillery observer assigned to 1st Battalion, 508th Infantry Regiment, had once served as Haynes' radioman.
As far as Haynes is concerned, the war here is over. Saddam's regime is gone. No weapons of mass destruction have been found.
"I'm sorry, but I just don't see what we're doing here that would justify losing someone like Hebert," said Haynes, struggling to keep his voice under control. "What are we still doing here?
"I don't usually get choked up, but it was hard during the memorial ceremony that we had for him. He was the type of guy that always had a smile on his face. And he was a good soldier. They don't come any better."
U.S. troops face roughly 15 attacks in Iraq every day.
"Fifty percent of those attacks were conducted at a long range," Lt. Gen. Ricardo Sanchez, the top ground commander in Iraq, told reporters on Sept. 4.
In those attacks, he said, "the enemy has made a decision to stay away and not engage us other than with improvised explosives that are being remotely controlled, or with mortars where they can escape readily."
The rest of the attacks, like the one that took Hebert's life, "are being conducted with a combination of small arms, rocket-propelled grenades and improvised explosives," Sanchez said.
"Seven [attacks] a day occur where we can engage the enemy and kill them in a near battle, and they last about a minute to two minutes," said Sanchez.
"Now tell me that I have a strategic or an operational or a tactical problem here in this country when I have got 160,000 troops on the ground. Absolutely not. There is no risk at any of those levels."
For the individual soldiers on the ground, however, the risk is very real.
More troops have been killed or wounded since the U.S. invasion of Iraq began than in any U.S. conflict since Vietnam.
The fear factor
With attacks coming as swiftly as they do randomly, fear can be a constant companion for many soldiers. But that fear, say some, can give them an edge.
"Every possible moment, you don't know what's out there," said Sgt. Jason Sauder, an artilleryman in northern Iraq. "We've learned to expect the enemy to hit us first. So how quickly you react is going to help determine your survival rate."
For a long time, Sauder said, he had a "Superman complex."
"I didn't believe I could get it. I guess it comes from our training, and knowing the odds are in my favor." But when his buddy got killed, "that kind of burst my bubble."
Still, the fear is real. Sauder, who is getting ready to head back to the States, says he won't ride in the lead Humvee in convoys anymore. "It's the one that tends to get hit in an ambush and I'm too short," he said, referring to his time left in Iraq.
"You can't see the bad guys coming," he said. "It's scary, especially when you hear about guys getting shot in the back of the head while getting a soda or guarding a hospital."
Army psychologist Capt. Marc Houck, who heads a Combat Stress Control Team with 4th Infantry Division in Tikrit, added that attacks from anywhere can add to soldiers' worries. "There is no front line here — you walk out the gate and you're in the front lines. Even inside the gates, we're getting mortared every day."
The frustration factor
Soldiers know that blood and death come with the job. But what is increasingly exasperating for many troops is they said they feel like they're taking a lot more licks than they're dishing out.
"Casualties do have a negative effect on morale," said Col. Michael Linnington, commander of 101st Airborne Division's 3rd Brigade.
Two of Linnington's soldiers — Sgt. Jason D. Jordan and Sgt. Justin W. Garvey — were killed in July when their patrol was ambushed in northern Iraq.
The casualties, said Linnington, "tend to make leaders at all levels angry at those we are attempting to help."
The key, he added, is to avoid getting baited into overreacting.
"The best thing to do is give yourself and your soldiers time alone to think about it and reinforce to them it is the few trying to get us to overreact to the many," said Linnington.
Dealing with anger — and suppressing the urge to lash out — is a constant struggle for many, said Houck.
"We see more anger and less anxiety and fear; it's frustration over figuring out who and where the enemy is," said Houck.
"They want to take the fight to the enemy," said Houck. "The MPs and infantry especially keep saying, 'Let us go after them.' Many feel like they're not doing that as much as they could or should."
Even when soldiers get a chance to go after the enemy, no one is there to count casualties.
Military officials say they don't know how many enemy troops have been killed or wounded in Iraq. "We don't track those numbers," said Army spokesman Lt. Col. George Krivo. "It's just impossible to know for sure."
Sgt. Brian Boldstad, however, knows how many enemy fighters he's killed.
"None," said the 4th Infantry Division Bradley Fighting Vehicle gunner at a Spartan camp dubbed Hellraiser. "Instead, we're RPG magnets — just waiting around to get shot at."
Payback
"If you're not scared, you're stupid," said Pfc. Eric Johnson, a member of Haynes' unit. But keeping that fear in check in order to accomplish their mission is what soldiers do.
One morning in August, Johnson shaves after grabbing a few hours sleep. He had spent most of the night hidden in the thick vegetation along the Tigris River with fellow soldiers waiting for enemy attackers trying to sneak up on his company's field site.
"It was a quiet night," he said. "Nothing like last night."
The night before, Johnson was among a group of soldiers who caught three fighters laden with RPGs sneaking in toward the company's position.
Unleashing a barrage of automatic weapons fire, Johnson and the rest of the soldiers killed one. They found blood trails in the morning indicating they wounded at least one more.
"Those guys would have blown the [expletive] out of us," said Johnson. "It felt pretty good to finally get one of them for a change."
Company commander Capt. Ned Ritzmann said the ambush was a turning point for his men.
"The biggest value of our ambush the other night was that it showed everyone that the bad guys are not invulnerable. That we can take the fight to the enemy."
Sgt. Haynes agrees.
"Killing that guy was a little bit of payback for Hebert's death," he said. "Just give me 500 more and I'll be happy."