We welcome SGT Andre Corbin back!!  Old page is HERE.

27 Feb 2013:


Address Has Changed

.

Click

HERE

to request the address.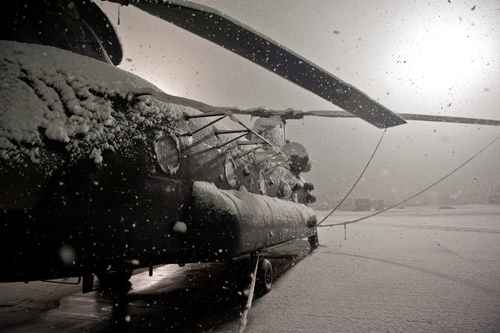 Around the end of January it began to warm up and we were fooled into thinking we were going to have an early spring but it has gone back to cold, sleety-snow with six inches falling last night and it is still going strong today.
Some of our unit has been fortunate enough to be selected to go home early but the majority of us are here for the full 9-months. Those of us staying are happy some of our comrades are going to see their family soon but it is tough to be completely overjoyed about watching them go while remaining here. With a 12-month (or more) deployment it was typical to go on two-weeks Rest and Relaxation (R&R) which meant, with travel time, time away of almost a month. Usually you would take R&R sometime in the middle of the deployment so there was a definitive break - before R&R and after - where you could catch your mental breath. There is no R&R on a 9-month deployment so after six months it is really beginning to be a struggle focusing on the light at the end of the tunnel. But it is there; every day here is one more closer to getting on a plane and not coming back. Well, until the next deployment.
Thank you to all who have been sending care packages, letters and cards; it means a lot and is greatly appreciated.
Stay warm and stay safe.
SGT Corbin
---
14 Jan 2013
It is beginning to look a bit like Christmas with more snow in our surrounding mountains and the arrival of many wonderful care packages and letters.
If you or your organization have sent something to me, I do my best to "shoutout" thanks and gratitude on my blog, corbinistan.com; I hope you do not mind me thanking you "publically".
All the packages I receive I distribute and share with the Soldiers here and aim to give the lion's share to Soldiers who have arduous duty such as gate guard, where they spend many hours outdoors in whatever the weather may be. Things like beef jerky, raw almonds/nuts, though, tend to stick to my greedy little hands.
What makes a great item to send now are the little orange packets of hand/foot warmers that provide "up to 8-10 hours of heat"; those are Really appreciated by the gate guards.
Some favorite snacks are: Pringles, peanut M&Ms, Peanutbutter/cheese crackers, Swedish Fish, Starburst, Slim Jims, Fruit/Vita C Gummis, Paydays, Heath Bars, and regular ol mix of typical chocolate candy.
Meal type stuff such as Hormel Compleats, Old El Paso Tortilla Stuffers, or other items which can be heated in a microwave without a dish or container are great.
Reading material such as People Magazine keeps us up to date on all the celebrity gossip.
Movie or TV series DVDs are great too and can be passed around or shown on "community" screens like at the USO.
We are doing pretty well on toiletries although shaving cream and Old Spice deodorant are in short supply.
Again, thank you all who support deployed Soldiers in any way; getting mail is wonderful even if it is a card or note saying your thoughts are with us.
---
23 Nov 2012
Today is Thanksgiving and I would like to say I am very thankful for the caring people who take the time to send letters, packages, thoughts and prayers to Soldiers and other Military deployed across the globe.

I am grateful the Presidential Election is over and hope every American will support our leaders by embracing all we share and seeking a path going forward; to work together for the common good instead of focusing on any differences we may have - real or perceived.

I am thankful for those with whom I serve and offer them my sincere thanks in volunteering, for whatever reason, to be in the military and protect the interests and freedoms of our country.

I am grateful for those who read my blog at corbinistan.com and hope they enjoy what I share about our adventures here.

Best wishes to all for a safe and enjoyable Thanksgiving.

Best regards,

SGT Corbin
---
11 Oct 2012
The weather is definitely starting to turn a bit with our mornings showing a hint of the high-altitude cold yet to come.

We have received some geat care packages and are very grateful for the time, energy and resources expended in supporting Soldiers. Whenever I get a package I divide it up and deliver to large group of Soldiers so each box goes a long way.

Favorite snacks include beef jerky (can't get enough!), Met-RX Colossal 100 toasted almond/crispy apple pie/rocky road/raw almonds/nuts/healthy trail mix, slim jims, fruit juice gummis, M&Ms (particularly peanut), peanutbutter/cheese cracker snacks, Pringles(!), Swedish Fish and any kind of assorted Hween type of candy as well as chewing gum.

Corbinistan is the blog where you can see posts and pictures of our adventures here.

As always, we are very grateful for those who take the time to send packages; nothing makes a Soldier's day more than getting mail.
---
07 Sep 2012
We have new requests for Met-Rx Colossal 100 Meal Replacement Bars (Apple Cinnamon = yumm!) as well as Gillette Fusion razors and blades. Popular culture magazines such as Entertainment Weekly, Us, and People would be greatly appreciated.

As always, thanks and gratitude to all who support the troops.
---
26 Aug 2012
We have great living quarters with electricity and water but little access to healthy snacks such as raw almonds/nuts, beef jerky, etc any support is appreciated, thank you.