27 Sep 2013:
IMMEDIATE RELEASE No. 689-13
September 27, 2013
________________________________________
DOD Identifies Army Casualty
The Department of Defense announced today the death a soldier who was supporting Operation Enduring Freedom.

Staff Sgt. Thomas A. Baysore, Jr., 31, of Milton, Pa., died Sept. 26, in Paktya Province, Afghanistan, from wounds suffered when enemy forces attacked his unit with small arms fire during combat operations.

He was assigned to 1st Battalion, 506th Infantry Regiment, 4th Brigade Combat Team, 101st Airborne Division, Fort Campbell, Ky.

(Support Team Note: This is REALLY sad!! Not only to lose Staff Sergeant Baysore, but he is our 100th lost contact!!
See also http://www.kpbs.org/news/2013/sep/27/soldier-killed-afghan-inside-attack-thomas-baysore/
---
18 Sep 2013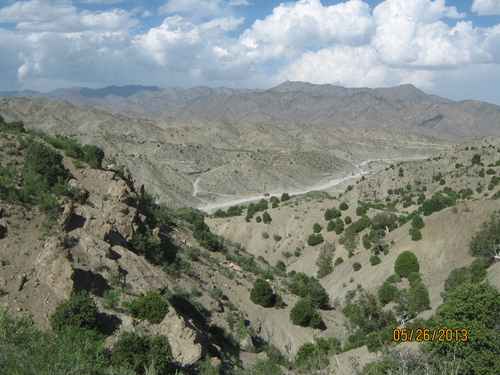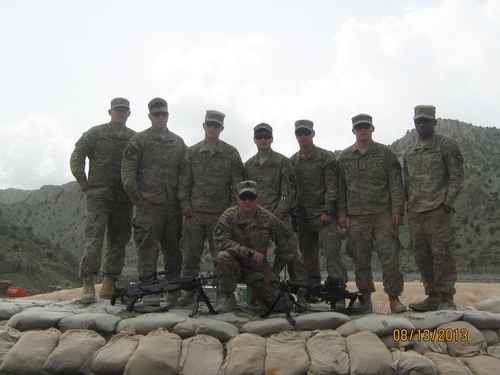 On behalf of Weapon's Squad, 1st Platoon, I would like to personally thank each one of our supporters for bringing us a little piece of home to help get us through this deployment. Each of you has made a tremendous impact on the Soldiers of Weapon's Squad. For the majority of them, this is their first deployment. Your support and encouraging words have made this deployment that much more bearable.
I also wanted to mention that since we have had so many supporters request our address, that I have pass on care packages to some of the Soldiers within 1st Platoon, Gunfighter Company, that do not receive many packages. So, to our great supporters you are now supporting an entire Infantry Platoon! Without your efforts we would not be able to maintain proper hygiene or have good snacks that remind us of home.
I have encouraged each of the Soldiers to send emails and pictures to each of our supporters. We have received numerous cards and letters that we are able to start pen pals with each person. I have personally received emails from 20 different supporters thanks to "Jolene". People have contacted us from around the world, and have started new friendships that will hopefully last a long time.
For many of the people that have heard about the events of the 1st of August, I still have not heard any news on Marjanna. I hope that she does return, because it would be an incredible reunion. All I can do is wait until that day, and pray that she is doing well. If you have no idea what I am talking about, well I guess you have to send me a letter or card with your email address to find out. Trust me you would enjoy hearing about little Marjanna.
Well, as far as the things will still need, here is our list.
Baby wipes
Ramen noodles (chicken flavor)
Laundry detergent pods
Tuna packets (single serving)
Ritz Crackers
Peanut Butter
Drink mixes (single serving packets)
Popcorn
Chef Boyardee (any canned type will do)
Potato chips, And any other junk food that makes us remember home!!!

Again I ask that if you send a package, letter, or card please include your email address so we can thank you much quicker than snail mail.

Thanks for supporting us! God Bless!

Sincerely,

SSG Thomas Baysore
---
23 Jul 2013
I just got word that our zip code has changed on our address. You've been a huge help, again thank you so much.
Sincerely,
SSG Baysore
Address Has Changed
.
Click
HERE
to request the address.
---
22 Jul 2013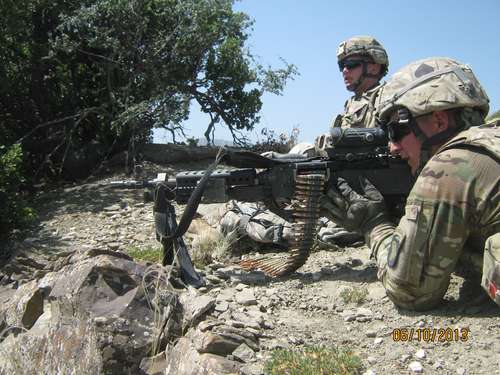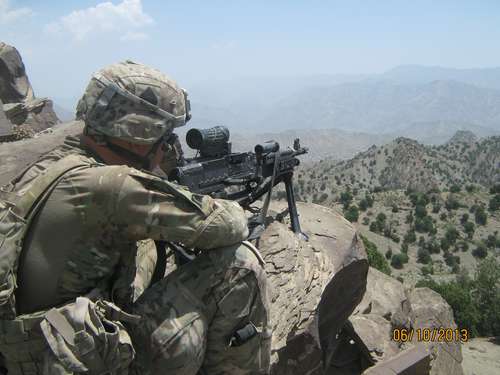 I would sincerely like to apologize for not updating my profile sooner. My Squad has received numerous packages and has made contact with several supporters. My only request to the outstanding people that have decided to support my squad, I would ask that in any letter or package that you would include an email address. I only reason that I ask of this, is because the outgoing mail does not get sent regularly. The letter mail only gets sent maybe once a month. So, if you would include an email address that would ensure a quick response from me or my Soldiers. I am attaching 2 photos of a couple of my Soldiers out in the mountains of Afghanistan doing their jobs. I am also planning on taking a Squad photo so the great supporters can get a good picture of the Soldiers they are supporting.
As far as the things we need and could use. We still continue to have no means of purchasing items at a PX or store. So, your packages are extremely helpful. We also like to pass on some of the items to the locals that may be in need. My Squad would like to get to know the people that have taken the time to put together items for complete strangers. I encourage all my Soldiers to write or email letters to every person that contacts us. This allows the Soldier to be able to receive encouraging words from our supporters when times get tough. As well as shed a little light on what the war means to the Soldiers on the front lines.
Here are a few things my Soldiers have requested.
Hygiene Products (tooth paste, body wash, bar soap, tooth brush, deodorant, etc.) Ramen noodles Tuna packets (single serving) Ritz Crackers Peanut Butter Drink mixes (single serving packets) Protein bars or protein mixes ( chocolate or vanilla) Vitamin C caplets (hard to get our daily vitamins here) Popcorn Chef Borardee (any canned type will do) Baby wipes Potato chips And any other junk food that makes us remember home!!!
Again thanks for supporting us! God Bless!
---
11 May 2013
First off, I would like to say thank you for continuous support our troops. I used this organization on my last deployment to Afghanistan from 2010-2011, and the Soldiers greatly appreciated the thought and care that went into each package. We loved to read the letters that people wrote to us, and even made some friendships with some of the people back in the states. To see that this organization is still up and running reminds us of how many people still care about what we sacrificing to be over here defending someone else's country and way of life.
Our living conditions consist of bunk beds and approx 15 men to a room. We do have 110 electricity in our buildings which is convenient to power our electrical equipment and computers; as well as a laundry room so we can wash our uniforms. We have several refrigerators and a microwave to cook of heat up certain foods.
Since, we do not have a PX (store) anywhere near our facility it makes it difficult to get some of basic personal hygiene items like: hand soaps, body wash, razors, tooth brush and tooth paste, laundry detergents, deodorant. Some of the other items that can be difficult to come by are white over the ankle socks, black "Fox River" socks, calling cards, and batteries (sizes AA & AAA).
I am personally representing my Infantry Squad and will personally ensure that any items that would be donated to our squad make it to the individual Soldiers in need.
Sincerely,
SSG Thomas Baysore