05 Oct 2005:
No. 1007-05
IMMEDIATE RELEASE October 5, 2005
--------------------------------------------------------------
DoD Identifies Army Casualty
The Department of Defense announced today the death of a soldier who was supporting Operation Iraqi Freedom.
Sgt. Sean B. Berry, 26, of Mansfield, Texas, died in Taqaddum, Iraq, on Oct. 3 of non-combat related injuries. Berry was assigned to the Army National Guard's 2nd Battalion, 112th Armor, 56th Brigade Combat Team, Fort Worth, Texas.
For further information related to this release, contact Army Public Affairs at (703) 692-2000.
---
10/05/2005
Associated Press
Family members on Wednesday remembered a 26-year-old Army reservist from Terrell as a competitive but good-natured person who enjoyed soccer and cared deeply for his fellow soldiers.
Sgt. Sean B. Berry died Monday from non-combat related injuries in Taqaddum, Iraq, the Pentagon said. An investigation was under way, said his father, John Berry.
John Berry said an e-mail he received Monday, the same day he got word of the death, showed just how much his son cared for others.
"It said he had volunteered to extend his time to next summer cause there was some unit up north that was really taking it hard," John Berry said. "The bottom line is for Brady (Sean's middle name), what he was in there for was for the other guys."
During his most recent visit home in July, John Berry recalled that his son was "really fidgety and nervous because he was worried about what would happen to his guys."
As a child, Berry enjoyed sports, particularly soccer.
His love of the game carried over into his job as a sniper in Iraq, where he had been deployed since January with the Army National Guard's 2nd Battalion, 112th Armor Regiment, 56th Brigade Combat Team out of Fort Worth, Texas.
While stationed in Iraq, he arranged to have 1,000 soccer balls shipped from Texas to Iraqi children, his father said.
"He really liked kids a lot and he really liked helping," John Berry said.
Sean Berry graduated from Terrell High School in 1998, after which he planned to study sports medicine at Dallas Baptist University.
He decided to enlist less than a year into his studies.
"I was in it for 10 years he told me because I came home in a uniform all the time, he wanted to do that, too," the elder Berry said.
Berry is survived by his father, his mother, Jenny, and a younger brother, Blake. Funeral arrangements were pending.
---
22 Sep 2005
(From his alternate):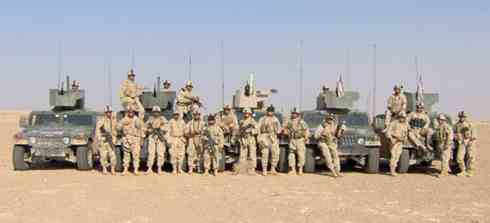 We are getting closer to coming home. We should be flying from here back to Kuwait in about 2 months and from there back to the USA. We are ready. That has been one long 'vacation.'
I have included a group picture of the guys from our platoon while on a mission. I have made my own web page www.boxcar7.com which has many more pictures on it.
Please note that no packages should be sent after the first of November because of our return date. Thank you so much for your service. It is really nice to have groups who care and put time into supporting us while we are here.
Thanks and God Bless,
Josh
---
02 Aug 2005
I first apologize for taking so long to update. I have been gone for the last 2 to 3 weeks on leave and totally forgot about updating. As far as the section goes the guys are good. Apparently they got to go to Baghdad while I was on leave so I missed out on that trip. They guys have been doing a good job and found several roadside bombs before they went off. We have started to work pretty closely with some marine dog-handlers. Although I still live with HQ section I have been transfered to Bravo section as the new squad leader. They actually made my old driver my gunner in my new vehicle and now I have a new driver that came from another base. As far as things we need: letters for moral, tuna fish, relish, gatorade mix, copenhagen long cut, and if somebody has an old microwave they wouldnt mind sending we would greatly appreciate it. On behalf of the guys thank you to all of you thank you all so very much.

SGT Berry, Sean Brady
---
12 Jun 2005
My name is Sgt Berry and i am representing my section of soldiers who are from the state of Texas. At this point and time we have no microwave but we do have a laundry service. We live in tents for now, but we keep getting told we will be in shacks here before too long. Our elctric outlets are 220 so we have power strips and cords running everywhere. most of the guys in my section are single and old enough that there parents arent sending them packages. So a friend told me about this and i figured I could help my guys out. Things they would like are as follows: potted meats, krackers, any chips ahoy product, gatorade powder, tuna fish, trail mix, pens, and any letters of encouagement. Thank you somuch for your help and support.