01 Nov 2005:
IMMEDIATE RELEASE November 1, 2005
--------------------------------------------------------------
DoD Identifies Army Casualties
The Department of Defense announced today the death of two soldiers who were supporting Operation Iraqi Freedom. They died in Baghdad, Iraq, on Oct. 29, when an improvised explosive device detonated near their HMMWV during patrol operations. Both Soldiers were assigned to the Army National Guard's 1st Battalion, 184th Infantry Regiment, Modesto, Calif.
Killed were:
Capt. Raymond D. Hill II 39, of Turlock, Calif.
Sgt. Shaker T. Guy, 23, of Pomona, Calif.
For further information related to this release, contact Army Public Affairs at (703) 692-2000.
---
Funeral for Captain Hill was Thursday, November 10, at 1:00 p.m. at Monte Vista Chapel, 1619 E Monte Vista Ave., Turlock, CA 95382-9184, phone: (209) 634-4935.
---
From "365 and a Wake Up" by Danjel Bout, HERE.
October 31, 2005
Heros
"Good men must die, but death can not kill their names."
- Anonymous Proverb
Our battalion suffered terrible blows this past week, leaving me vainly grasping for words to describe the magnitude of our loss. In a handful of days we lost four great men, COL William Wood, CPT Michael Mackinnon, CPT Ray Hill, and SPC Shakere Guy. When I chronicle the ebb and flow of our days here in Iraq the words usually tumble out on their own accord, flowing from some burbling spring buried deep in my heart. But that spring lies dormant, and the words that do appear seem little more then an echo of the clear, and perfect memory I have of these great and noble men. I will never be able to express the cauldron of fire we pass through each and every day, and because I can't even give real insight into our reality I fear that anything I might say about our fallen heroes will be an injustice to their memory. I will do my best to snatch my thoughts from the ether, but I know I will fail. To understand just how deep our loss really is you would have to know these beautiful, noble men yourself. And that won't happen in this lifetime.
COL Wood was the commander of the Nightstalkers. He was a man who's stern features seemed chiseled out of granite, but his strength and conviction eclipsed even that adamantine material. He was a man who led from the front, never asking his soldiers to carry out an action he wasn't willing to perform himself. His steady hand and firm conviction guided the battalion, and his wisdom and far sight were unparalleled.
CPT Michael Mackinnon was my company commander, and my dear friend. Mike was a man of enormous talent - he could have done anything he wanted to in this world. But Mike didn't seek money or fame. He wanted to serve his nation with valor, courage and distinction... and he did that better then any man I have known. Mike was our leader, and his legacy will live on in the hearts of every soldier in his command. I was honored to serve as his deputy, and blessed to be able to call him my friend.
CPT Ray Hill was an artilleryman by trade, looking back it seems almost ironic that a man with such an enormous love for his fellow man was responsible for the largest cannons in the battalion. I have known Ray for over five years, and I can't remember ever seeing him without a broad grin on his face. The Iraqi people couldn't have hoped to find a truer friend then CPT Hill. He believed in the intrinsic worth of the individual and deeply cared about the welfare of the Iraqis. He never ventured outside the wire without a bevy of presents and candy for the local children.
SPC Shakere Guy didn't have to come on this deployment – he volunteered to deploy with our battalion because he had the heart of a lion. SPC Guy was a Jamaican immigrant, but he personified all that is great about America. He was a M1 Abrams crewman, but he willingly gave up his beloved tank in order to deploy with our battalion. His heart never strayed from those armored giants and he spoke of them often, but he was as able an infantryman as you could ever hope to meet. SPC Guy had a ferocious appetite for learning, and his razor sharp mind and natural ability ensured he mastered whatever skill he set his mind to.
In the face of so stunning a loss it is natural for the soul to grow weary, and for the mind to wail for that which has been so violently ripped away. It would be the easiest of things to let my heart turn as cold as death and let it pump my veins with frigid and poisonous ice. But that would dishonor the memory of our fallen, and would be an unfitting tribute to men who had given the last full measure of devotion. Instead I will do something far more difficult; I will continue onward and complete our unfinished work. There will come a day when I will weep bitter tears for my fallen comrades and friends, but right now there is much to be done. And it is up to those of us who knew these wonderful men to see it through to the end.
---
21 Sep 2005
Thank you everyone that has sent things for me to hand out to children. I have given it all out to children that we meet on the street. It was all well received by the children and their parents.
I have about 4 more months here in Iraq, then back to my family where I really need to be. I have two daughters, 10 and 13 that really need a dad at home during this part of their lives.
I do not regret joining the military and serving my country. I have served proudly and would go where ever my countery asked me. I know what we are doing here in Iraq is a good thing. It was a good thing to come here and free a country of the opression thay have endured for 50 years. Nearly 2000 Americans have lost their lives here. I am sad for each one of them. Is the lives of these 1800 Americans worth the lives of people we dont know? I say yes. It it wasnt me, then who, if it wasnt now, then when? Our forefathers in WWI and WWII died for the freedom of many Europeans. Was their sacrifice in vain? I think not. What makes the Iraqis lives any less important? Is it because they don't share a similar religion as us, or don't have similar culture?
We are over here doing an important mission, we can not waiver from it. Once this country is on its own, that is when we should leave.
May God bless America, and the Soldiers, Sailors, Marines and Airmen.
CPT Ray Hill
---
18 Jul 2005
Hello,
Things are going were here in the Baghdad area. I got to enjoy 2 weeks at home on my R&R leave.
I really appreciate all the boxes of beanie babies that was sent from the US. I am slowly passing them out to children, and I will send pictures of the children recieving these items to all the supporters. All the items I have recieved for soldier care have been shared among the soldiers that come into my office, as well as a few Iraqi interpreters that work for me. It is all appreciated.
My 13 year old daughter (oldest of the 2) with the help of my 10 year old daughter has collected over 500 pairs of shoes from schools, churches and just people dropping them of in collection boxes placed in grocery stores. Their next step is to box up the shoes and mail them (after they get the postage donated as it will be much more than we can afford alone). I will coordinate to pass these shoes out to children in the area that we work in.
Thank you for your support.
CPT Ray Hill
---
10 May 2005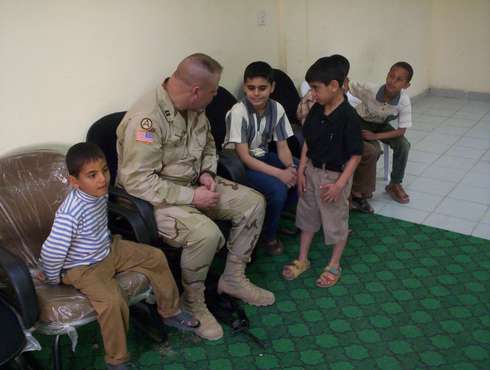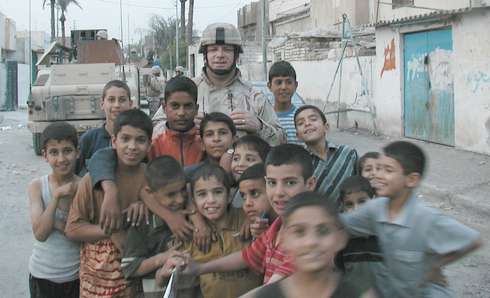 Im just south of the main part of Baghdad, Iraq. Beside the things you see on TV, the fighting, more of the things we do include finding out what the concerns of the local populations, to see what we can do. It is great getting to work with the people, especially the children. Most of the candy we recieve here, we hand out to the children, They really enjoy it. "Beanie Babies" is a common thing to give to the children. If anyone is willing to get donations and send them here it would be greatly appreciate it. It is a great way to build good will with the children and American soldier, Iraqs next generation, the ones that are going to fix this country.
I know this is mainly to support the American soldier, not Iraqi children, and it seems that sending toys and hard candy would not really be support for the soldiers. But actually it would be alot of support to the soldiers and our just cause over here helping the Iraqis rid their country of terrorists. Often times when local Iraqis want to tell you about some criminal activity, they are concerned to say it because all the local kids that stand around. They are concerned that one of the children will over hear and might tell their family what they hear. What we will do is have one soldier be the "pied piper" and take the candy and toys in the opposite direction and hand it out while another soldier is talking to the adult. All the children will follow the candy and toys. Any beanie baby donations would be greatly appreciated. I will send an email back showing pics of the donations, if anyone wishes to get them back.
One thing my 13 yo daughter is doing as a 4-H member is collect shoes for children. She is doing this in Central California. The shoes she collects she will be sending here for me to give to children. Please do not send shoes, as she has a very big program already going. She has school children, churches, highschools and stores donating shoes. A local storage place is donating a storage locker. She will be collecting donations for postage to send it all over here. She will be giving out the information thru local radio and newspapers in the Modesto, California area.
Thank you all again for your support to the American Soldier, and the help you give us to enable us to show kindness and do the honerable thing here in Iraq, giving these people there freedom from opression.
CPT Ray Hill
1-184 IN California Army National Guard
Effects Coordinator, Information Operaions Officer, and Public Affairs Officer
---
17 Mar 2005
I am the Detachment commander of a fire support detachment, assigned to an Infantry Battalion. We are an Army National Guard unit from California headquartered in central California. We are attached to the 4th BDE of the 3ID. Our living conditions are not too bad, we live in buildings with 240v elect but most have transformers to convert to 110v. We have laundry service provided, no washers and dryers are available to use for our selves. We have access to microwaves and fridges, but no access to stoves or ovens.
Small snack items like chips, cookies, hard candy (i.e. jolly ranchers, lifesavers, etc), jerky, gum etc would be greatly appreciated. Nuts, raisins, other dried fruit, snack packs, trail mix and similar items would be good too. Additionally used DVD's or CD's are prized, as television is usually limited to a news station. Many soldiers do have laptops or TV/DVD players in their rooms or in common areas. Hand sanitizer would be useful, as the water in the taps isn't cleared for consumption. We drink only bottled water.
We have some things available here, but the lines to get to the PX can be long, not to count the distance we have to walk to get to it. But even once you get there, there is no guarantee that they are not out of these high demand items. Other items would be appreciated, but I cant list everything soldiers would like.
Thank you for your support
CPT Raymond Hill