Note: CW3 James B. Wilke was dropped from this list on 09 Sep 2008 due to 60 days of no contact.
11 Jul 2008:
Hello everyone I would like to thank everyone who has sent packages to the soldiers over here, they really do appreciate it and I have a blast handing them out. Everything is going good and everyone is in their routine now. It has been heating up so some of the troops have started laying out to get that golden tan before going on mid tour leave, so some have asked for tanning oil, for some reason the BX does not sell it. I too will be taking my leave soon; time has never moved so slow, waiting for the day to arrive. I don't have big plans, I am really just planning on catching up on all the NASCAR news and I am really excited to watch speed channel all day long. I hope the DuPont team can get a few wins this season, and while I am on leave would be perfect. I have a picture taken in victory lane April 2007. The races come on pretty late over here like 3 A.M. normally, so it is hit or miss weather we are off that day pulling shift.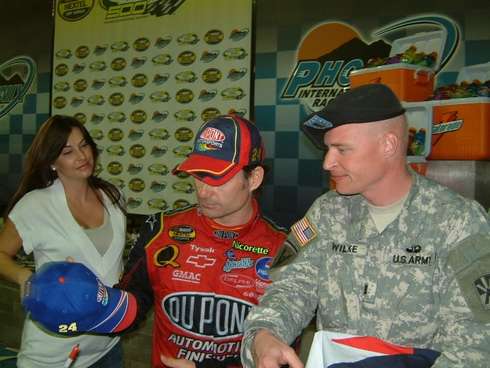 We are almost half way done with out deployment and the troops are really motivated still and learning a lot. We stay pretty busy so the days go by fairly quick, just not fast enough when you are waiting to see family and friends.
The items you all have been sending have been perfect for everyone. Water flavoring powders have been awesome, water alone gets old after your 12th bottle of the day. Beef jerky is always great for long shifts when you need a pick me up snack.
Again thank you to all who have sent items and thank you in advance for those who are going to send packages
CHIEF
---
17 Jun 2008
Hello all,
Sorry I have not been updating you as often as I would like but work has kept me pretty busy. Things have been going well over here but the weather has been nasty lately, there has been a lot of wind and that mixed with sand is horrible. The folks here are in good spirits, I think because R&R has started and people are getting rejuvenated.
The support you give us is incredible and very much appreciated, the wet wipes are an invaluable asset considering the weather, the beef jerky is a little slice of heaven, and the personal hygiene items make a world of difference. Talking with the soldiers it seems that these items are right on target. A couple of soldiers have requested potato chips, I asked what flavor and the consensus seems to be chili cheese corn chips, funyuns and cheetos. I probably misspelled the last 2 but I think the point will get across.
Other than working and watching movies there is not a lot to do. Six months in and everyone is going strong. Thank you again for your continued support and I hope to write again soon.
CHIEF
---
28 Apr 2008
Well we are a few months in and things have been going good, it is starting to get really HOT. We notice that water gets very old fast so little packets to flavor the water I know would be appreciated. The sheets went over very well. Thank you to all who sent Girl Scout cookies, the whole base had cookies to eat. As far as what I can tell the soldiers are always happy to receive "baby wipes", snack types foods e.g.; chips, candies, beef jerky, and items like that. Several of the troops here have been going to the gym and since they with the new body they have been laying out in the "baking sun" to surprise their ones back home so I reckon some sun screen or tanning lotion would be used. All types of mixed music cd's have been a hit, as keeping up with new bands is hard to do. Thank you all who has sent items, I think I have responded to every one who has sent items except one because I burned the address slip prior to writing it down so thank you Emprino family. Hope every one has a great spring.

CHIEF
---
09 Mar 2008
I just wanted to send an update and say thank you to all of you for supporting the site. The heat is rising and morale has been great. With each box that is received days of enjoyment follow. The hygiene items have been greatly appreciated. A few soldiers have been asking for bed sheets for single size mattresses. The ones we get from supply are, well you can imagine. We are a couple months into our tour and we have gotten into our rhythm . Thank you again for everything and I hope to take some pictures soon. Chief
---
12 Feb 2008
Greetings my name is James Wilke I am a Warrant Officer in an air defense unit from Ft. Bliss Texas serving in Qatar. I have been in the Army for 16 years and married for 12 of them and over-seas for 8 and a half of them. I returned from a year tour in Korea Dec. 2006 and left again in Jan 2008. This is my third time deploying to the south-west region. I know people have it worse but it is still tough to get into a routine when you're back and fourth so much. Well enough about that, enclosed is a quick run down of our situation and request's, whatever you send will be greatly appreciated.
We live in trailers in 10x10 foot rooms with 2 soldiers per room.
We use 220 volts 50 hertz with the capability to convert to 110 volts with the use of transformers.
We use a laundry service, which is kind of nice so that we can utilize our "off time" for more constructive things, other than doing laundry.
We do not have the means to cook.
I am representing a Battery and any extra items will go to a hut called Jacks. Soldiers can go to Jacks and pick up items that others have dropped off from care packages at no charge.
I feel the unit can use snack type items like sun flower seeds, chips, gum, jerky, mints and general personal hygiene products like soaps, shampoos, and germ killing items.
Soldiers love reading the latest gossip about the stars and other magazines with cars, fitness, and novels too.
Items like DVD's and music CD's would help pass the time.
clothing such as white socks, without logo's and black/green wool or cotton socks would definitely help out. The heat over here seems to break down the materials quicker than normal, not to mention we are in the normal uniform for 10 to 12 hours a day. Then we change into our physical fitness uniform, no civilian cloths (civies) over here.
Thank you, in advance for you support of this program, it really means a lot to us.
Sincerely, Chief Warrant Officer 3 James Wilke (CHIEF)