Note: SPC Thalia S. Ramirez was dropped from this list on 07 Aug 2005 due to 60 days of no contact.
10 Sep 2012:
IMMEDIATE RELEASE No. 738-12
September 09, 2012
________________________________________
DOD Identifies Army Casualties
The Department of Defense announced today the death of two soldiers who were supporting Operation Enduring Freedom.
They died Sept. 5, in Logar Province, Afghanistan, of injuries suffered when their aircraft crashed. They were assigned to the 1st Squadron, 17th Cavalry Regiment, 82nd Combat Aviation Brigade, 82nd Airborne Division, Fort Bragg, N.C.
Killed were:
Chief Warrant Officer 2 Jose L. Montenegro Jr., 31, of Houston, Texas, and
Chief Warrant Officer 2 Thalia S. Ramirez, 28, of San Antonio, Texas.
---
08 Jun 2005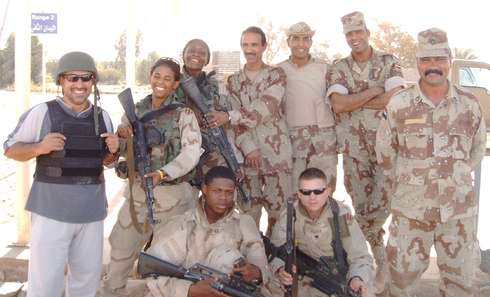 well its been interesting out here we had a sandstorm that lasted about 4 days ill post them up pretty soon. it was not to bad though you had about a 100m visibility so you could still see abit anyways hope all our supporters are doing well especially ms Davis' class hope you have a good summer this pictureas i am posting are from when we went to a ak47 range(my oldpltsg rains the iraq ING so we had a chance to go and shoot some rounds of lots of fun. after we were done my plat SGt asked us if we could help with thier traiing by driving throiugh a mock check point to see if the IRaqi National Guard soldiers could have some hands on training som,ething of a reverse role so we get to the area where the mock check point isat and we are told to go through i was driving and i started driving erratically and with speed the ING's were so scared but they eventually got us to stop but then SPc harder tok of running, it was soo funny cos you have all these ?INGs running after him anyways they tried it again and got it down pack the second time. it was a good experiance on both sides needless to say we had fun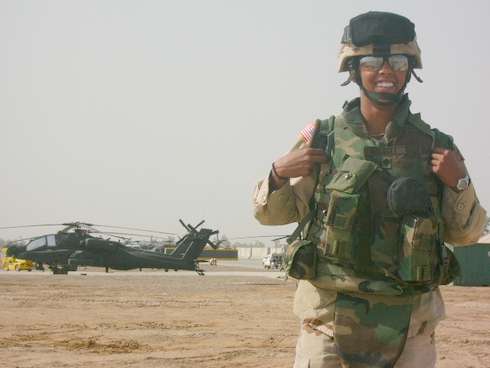 i have decided that since i am in Iraq i might as well see it! so on my day off i FLy around to the different posts its lots of fun!!! plus it also sedates my need to Fly(i am currently working on a Warrant Officer packet for the MOS 153A which is the Aviation sector!!!!
wish me luck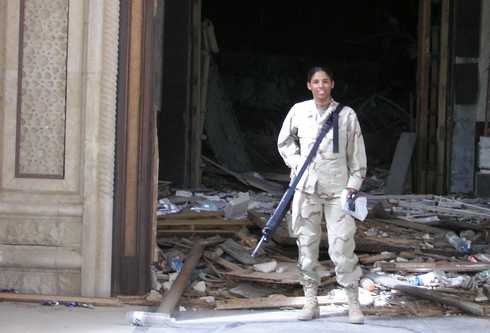 27 May 2005
first of all i would like to thank every one for thier support you may not realise that you make Soldiers smile EVERY time a package is sent from the youngets PVT to the Battalion CSM they all stand in line to wait for thier turn to pick out what they need, every day it never fails for at least one soldier to ask me "Ramirez did you get a box today!" even soldiers that dont work in our section i always make sure that everyone gets something out of the packages. i know that i am the person that get s to see the fruit of your labour so i just want to let you all know that it means alot to us Soldiers to have people care.
once again i would to thank every one for thier support we greatly appreciate it. i guess i should update the items that we need out here umm for females this is somewhat of a priority FDS feminine deodorant spray please please send that! shampoo, conditioner deodorant lady speed stick, dove, red spice ankle socks(white) emm hair products gel, hair oils someone asked for profective products but im sure anythng would do, foot powder bug spray major one sunblock! it is getting hot now and that sun is merciless!!!!! microwavable product s easy mac, noodles any type of dry food that envoles adding water to it =) dried fruit was a request as well, gatorade packets or something along those lines would be good, it seems as though we have some major coffe feinds because that usually disappears first hahaha and to think every one was going on about how healthy they were going to be so much for that! items such as gum sugarless, candy nutri grain bars, slim jims, doritos, chips and dip, gum sugarless, magazines male and female, books, anything to keep us occupied and time flying would be fantastic items like that are hard to get and usually the first to go.
i have added a picture of me i took this at Camp Honor this place has marble floors and crystal chandeliers; another one of Sadams projects. i do enjoy my job though its exciting if you like that type of thing i get to see Iraq and its a beautifull country with beautiful people that are not all out to get us. i also get to see sadamms different hang out spots and its sad to see gold and marble toilets in every bathroom when his people were starving.
anyways Thanks again for you support i know i had originally asked for boxes for the soldiers in my platoon but since we are the S-1 for the battalion we have people coming through here all the time and they usually grab someting for themselves. i still make sure that the soldiers that need it the most get to open the box and get 'first dibs' then the rest is up for grabs
ROCK OF THE MARNE
---
12 May 2005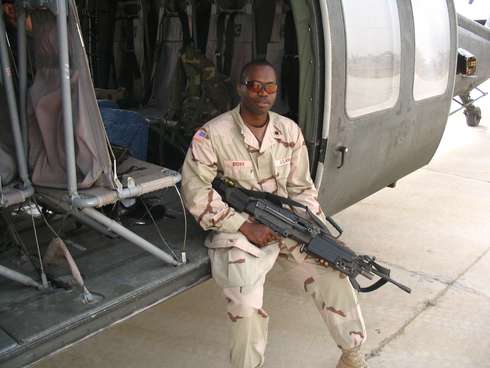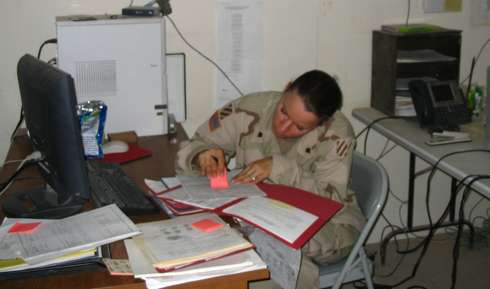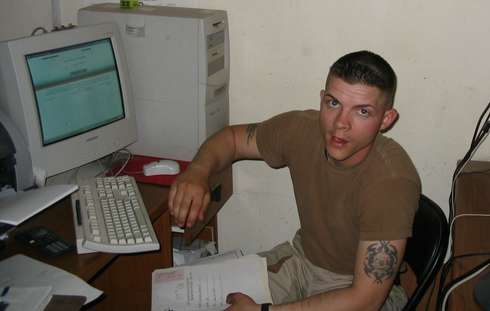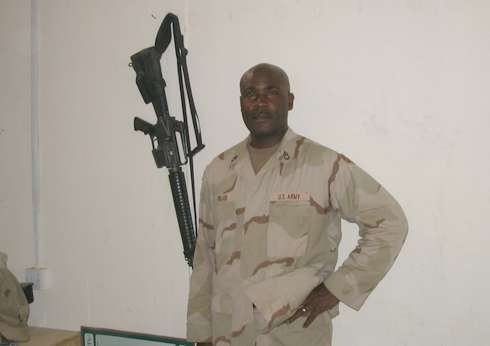 sorry about the delay but we have been really busy here are some of the pictures that i had promised i am trying to get some more and will soon update this page With regards Specialist Ramirez
"ROCK OF THE MARNE"
---
21 Mar 2005
First we would like to thank everyone that has sent us letters they really do make our day to know that people do know that we are over here, we greatly apprecite it. we are trying to get some pictures ogether but everyone has different shifts so whta we will have to do is take a lots of different photos we have soldiers from PA, Chicago, TX, Jamaica, Maiami, Ga to name a few and we all appreciate your support , we have some requests for little debby Snacks we have a soldier wiliams who has a craving for them but the dont sell them at the PX, also things like Air fresheners and laundry detergent(powder would be grreatly appreciated
Thanks for you Support
SPC Ramirez 87th CSB S-1
---
06 Mar 2005
we live in trailers with elctricity wich is 220v, we have a laundry service wich has a turn around of 3 days minimum and we can can send in our laundry with soap if we had it. we have coffe makers and most of us like hot cocoa it gets cold at night, so we usethe coffe maker to heat up the water, some people are caffine addicts and like thier coffe, but most prefer hot cocoa.
we have a fridge in our office where we can store the milk cartoons from the DFAC( dinning facility) and some of us would like to have some cereal boxes special k berries cocoa puffs,and so on. miniture ones for when we pull commo watch or go out on convoys, thier great snacks to munch on, plus the DFAC shuts down for days on end when thier is a security issue. GAtorade mixes are also good to have,Soap and tooth paste is good to and for the females sanitary products are also nice, we have a special request for palmers cocoa butter from a female soldier from New York.also storage containers are very hard to find out here and the military does issue you alot of equipment and it would be nice to have it organized. writing paper and envelopes are also good to have.we also have acess to microwaves so microwavable items are great. we are the headquaters of 87th corp suport battalion and we are stationed in fort stewrat GA we have been here for 2 months so far and we are SUPPOSED to leave in july of 2006.we are a small lillte family with a group of xxxx soldiers we are the s-1 for the battalion so we make sure that everyones paperwork in the battalion is in order we also pick up mail for the battalion and its disheartening because most of us are yet to recive mail we were told about this program by the battalion that we replaced, from the 87th CSB s-1 we thank you for supporting us troops!