11 Jul 2007:
IMMEDIATE RELEASE No. 865-07
July 11, 2007
--------------------------------------------------------------

DoD Identifies Air Force Casualty

The Department of Defense announced today the death of an airman deployed in support of Operation Enduring Freedom.

Master Sgt. Randy J. Gillespie, 44, of Coaldale, Colo., died July 9, in Herat, Afghanistan, of wounds suffered during small arms fire outside of Camp Stone. He was assigned to the 56th Logistics Readiness Squadron, Luke Air Force Base, Ariz.
---
A heart for service
Coloradan killed in Afghanistan remembered for his compassion for others
By Justin Coons, Rocky Mountain News
July 12, 2007
PUEBLO - Master Sgt. Randy Gillespie always looked out for others, his brother Roger Gillespie said Wednesday.
When the church bus broke down, he rebuilt the engine block. When a comrade felt uneasy about taking on a task, Gillespie would volunteer to take his place.
Gillespie also adopted a 6-year-old girl who was abused by her biological father.
"He always said he wanted to meet her father, just so he could tell him how much he loves her," Roger Gillespie said.
Roger Gillespie will fly to Vermont today to greet his brother one last time. From Vermont, Roger Gillespie will accompany Randy Gillespie's casket to Colorado.
Randy Gillespie, 44, of Coaldale, was killed Monday in Herat, Afghanistan, 75 miles from the Iranian border.
He and an interpreter reportedly were shot by a small group, believed to be Iranian militants, a few hundred feet outside the walls of the U.S. military base there.
He had served 16 tours of duty in his 24-year Air Force career, traveling twice to Iraq and twice to Afghanistan. He was about eight months from retirement at the time of his death, Roger Gillespie said.
Randy Gillespie, an avid outdoorsman who loved Colorado's wildlife and hiking areas, had planned to return home to the area with his wife, Lisa, and four children.
"He supported the Air Force and the military whole-heartedly," Roger Gillespie said. "He knew that if we kept the war over there, it would never cross our borders.
"Randy knew what he was doing, and he always said that somebody has got to pay a price for freedom."
Randy Gillespie was a mechanic, and working close to jet engines had left him deaf in one ear, but his brother said that he handled it with good humor.
"He laughed about it all the time," Roger Gillespie said. "He would always have to turn to hear what you said."
Gillespie was good-humored about a lot of things, his brother said. He could laugh at just about anything, and almost nothing cracked his cool demeanor.
He also had a knack for helping others. In Afghanistan, Gillespie made deep connections with the locals.
"He always said they were decent people who couldn't fight for themselves," Roger Gillespie said. "They were wonderful people who wanted something a lot better."
There, he met a young Afghani boy who walked around town barefoot.
When Gillespie offered to have his family send him a pair of shoes, the boy vehemently refused, because, he was afraid he would be killed by militants if they saw him wearing the shoes.
Determined to help in any way possible, Gillespie instead snuck the boy chocolate bars.
"He was the type of guy who would give you the shirt off his back," Roger Gillespie said.
Gillespie is survived by his mother, JoAnn; his father, Edwin; his wife, Lisa; four children; and three brothers.
Service dates have not been set, but the family says it plans to hold memorials in Pueblo and Phoenix, where he was stationed.
---
25 May 2007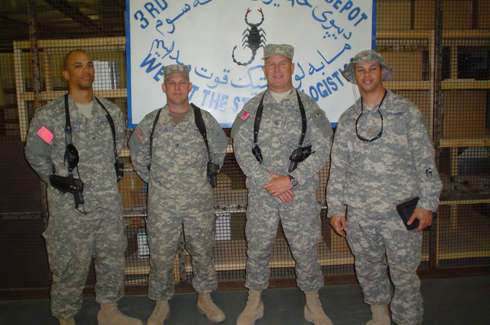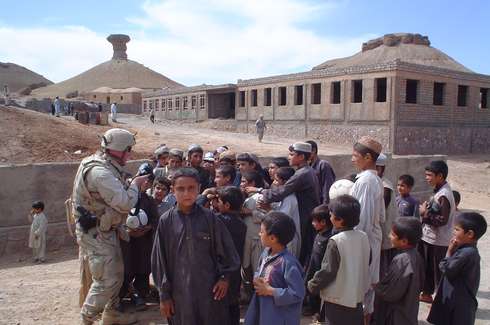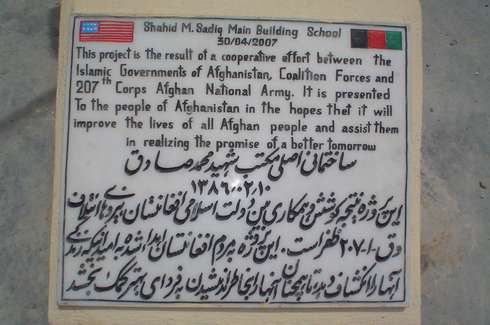 I want to thank everybody that has sent us items for the children of Afghanistan. I've been overwhelmed with toys, candy & clothing for our local village children. I've received packages from coast to coast and then some! We have enough of those things to last our tour here. I have enjoyed reading your letters and if you have an e-mail address I'll gladly write back. I'd like to switch gears now and start collecting notebooks, pens, pencils and basic school supplies to assist in stocking the schools that we are building here in Afghanistan. Your contributions are making a big difference in the lives of these kids. The attached photo is of my Embedded Training Team. I'm the good-looking one :). Thanks again for all you do to support us.

Randy J. Gillespie, MSgt, USAF
---
30 Apr 2007
First of all, thanks so much for your kindness! My troops and I are grateful for your generosity. We are fairly well stocked for our tour of duty but would like to provide the families and children in surrounding villiages with clothing and shoes. Individually wrapped candy and small toys are also popular with the local children. In exchange for small gifts the villiagers keep a watchful eye for trouble outside the wire. Again, thank-you for your contributions.