29 Jul 2005:
No. 772-05
IMMEDIATE RELEASE July 29, 2005
--------------------------------------------------------------
DoD Identifies Army Casualty
The Department of Defense announced today the death of a soldier who was supporting Operation Iraqi Freedom.
Capt. Benjamin D. Jansky, 28, of Oshkosh, Wis., died July 27 in Al Taqaddum, Iraq, where his HMMWV was accidentally struck by another military vehicle. Janksy was assigned to the Army Reserve's 983rd Engineer Battalion, Monclova, Ohio.
For further information related to this release, contact Army Public Affairs at (703) 692-2000.
---
Capt. Benjamin D. Jansky, 28, of Oshkosh, died Wednesday in Al Taqaddum, Iraq, after his vehicle was accidentally struck by another military vehicle, the Pentagon said. Jansky was assigned to the Army Reserve's 983rd Engineer Battalion in Monclova, Ohio.
Jansky, married and the father of two daughters, was mobilized in October and deployed to Iraq in December, said Master Sgt. Janet Jones, a spokesman for the Army Reserves' 88th Regional Readiness Command in Minneapolis.
In a statement issued by Jones, Jansky's wife, Kate, said her husband would have volunteered for duty if he hadn't been activated. "He was a man who loved the Lord and other people deeply," she said. "He was always asking, 'How can I serve?' and he was honored to be serving over there."
Jansky wrote in a recent e-mail from Iraq that he missed his family but "I have joy and peace knowing I am serving," Kate Jansky said in her statement.
Jansky, who grew up in Waukegan, Ill., was a stay-at-home dad while his wife taught special education at a middle school, Jones said. The couple met while both attended the University of Wisconsin-Oshkosh. They were married in 1998.
The family said Jansky was a devoted Chicago Cubs fan who loved baseball and reading. He was a commander of an Army Reserve unit in Milwaukee before his transfer to the Ohio battalion, Jones said.
Jones had no other details about the accident that killed Jansky, who was riding in a Humvee. Jansky was manager of a motor pool of mechanics in Iraq, she said.
---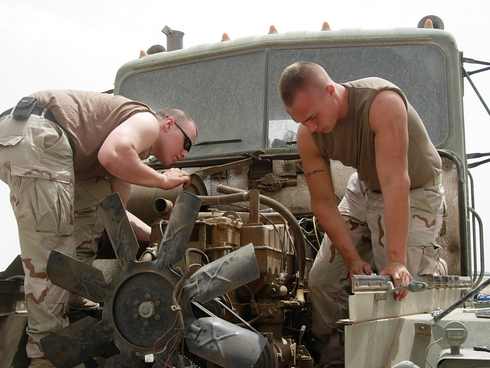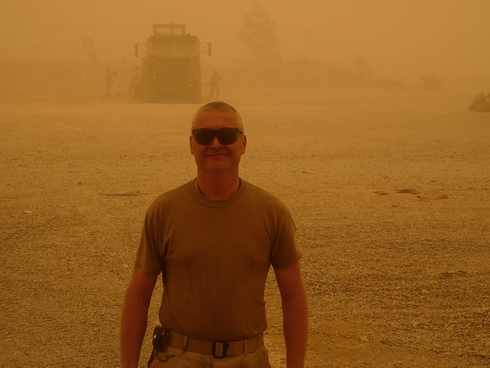 28 Jun 2005
Dear AnySoldier.com,
I queried my folks on things that they would want. They came up with this updated list:
-Beef jerky (it's a staple food! One of the food groups in Iraq)
-Motorcycle and Corvette magazines (my guys are gearheads)
-Mike n Ikes candy
-pretzels/ unperishable snacks
-Pop Tarts/ cereal bars
-Flavored Coffee
-Packaged Microwaved Meals
-Magazines for a single young female (ie VOGUE, Glamour, Cosmo, etc.)
-DVD's and CD's (they love to spend their off time watching and listening)
Specifically, Season 2 of "Las Vegas" , "Chappelle Show", and Season 3 of "the Shield"
Attached are a couple pic's of the guys. Thanks for your continued support, Regards,
CPT Ben Jansky
---
02 May 2005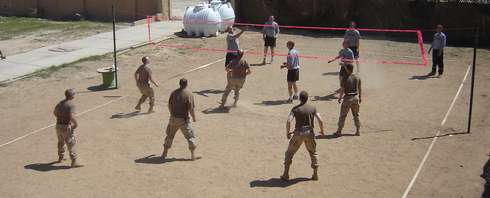 Thanks for the overwhelming and humbling amount of stuff we have gotten so far. It's truly been a blessing. There's guys who just love the DVD's and music someone decided to send. The treats have been great, too. I feel a little like Santa Claus when we first got here. When I get back, I think I'll be a part of this service. Thanks
I wanted to let you know that we're moving within Iraq and our address has changed so we can still receive some great packages you folks have blessed us with. Here it is:
c/o Lt Ben Jansky (MT Platoon)
(Shown Above)
Enclosed also is a picture of us taking some time and stress relief to play a little volleyball. Thanks again,
respectfully,
Lt Jansky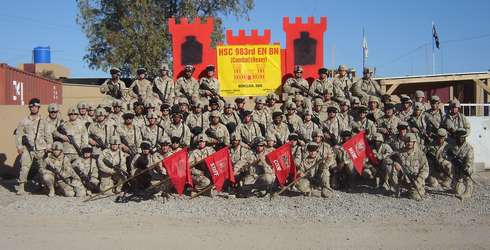 28 Mar 2005
I still want to be on the list. Our needs haven't changed so whatever the Any Soldier, Inc can bless us with would be great. Enclosed is a company photo we took a couple weeks ago. Thanks for your continued support.
respectfully,
Lt Jansky
---
06 Feb 2005
I represent a platoon size element in my company. We live in tents and unimproved houses so far. We should be moving. We need:
- Power converters for 220 outlets. Most of us don't have microwaves, or some convertable, safe item for cooking,
-international phone cards
-real utensils
-mechanic's specialty tools
-music of all genre's
-non-perishble foods like:
-SNACKS
-CEREAL BARS/ GRANOLA BARS
-COFFEE
-DVD's