Replaced by MSgt William Eberle

04 Aug 2004:
The squadron continues to work hard as we anxiously approach the day when we get to come home and see our families and friends again. The missions we fly in support of Operation Enduring Freedom have become even more significant as we play a key role in the upcoming Afghan elections. The insurgents seem committed to doing whatever it takes to disrupt this important process as we are committed to ensuring the success of this
historic event.

The packages and letters are still coming, but at a slower rate than before. This is OK because I am handing my duties as the squadron's "anysoldier.us" representative to one of my assistants, Master Sergeant Eberly. I can't tell you how much I, as well as all of our Marines, appreciate the support we have received in the form of letters and packages over the past 5 months. It was my pleasure to share in the joy and happiness brought on by the generosity of so many fine Americans from just about every state in the U.S. I must leave soon to return home in order to prepare for retirement after 22 years of Marine Corps service. Being a part of this global war on terror, in support of Operation Enduring Freedom, was a fitting end to a great career. As a unit contact for the "anysoldier.us" program, the last 5 months were even more rewarding.

The future sees our unit being replaced by another Marine Corps squadron with the same type of aircraft and capabilities. Our mission to sustain front-line troops through re-supply and heavy lift transportation will continue until we are told we are no longer needed. Please continue to support our unit throughout our remaining time here and the next unit when they arrive in country. I want to ensure that they are able to experience the same great outpouring of support that we did and still are.

Thanks so much and Semper Fidelis,
CWO3 Ed Jimenez
HMH-769, USMC

P.S. Other than the items for our troops, you are still encouraged to send toys, pens, pencils, beanie-babies, hygiene-kits (like small toothpaste with brush for kids), decent shoes (preferably running shoes for kids/young adults) and warm clothes for the upcoming. In order to distinguish between the types of items received, please label the box as either "Any
Soldier" or "Any Local Afghan".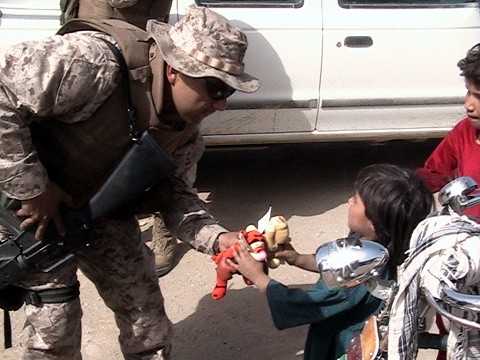 08 Jul 2004
Update: The wind and dust are really kicking up here in Afghanistan, and when it's not windy...it's hot. Appreciate all we have received over the 3 months that we have been in country. I have documented over 150 packages that have come through my hands, not to mention countless letters and cards.
We really make an effort to write back to everyone when we have the time. As I mentioned before, our conditions here are good and there are some things we need (or would like), but many that we don't. We are fortunate enough to have access to many things at our local Armed Forces Exchange on our camp.
They have even opened up a second store and a Burger King (trailer) to boot.
Please look to send most of your support to other soldiers and Marines deployed at the forward operating bases or those living in tents and eating MRE's. Don't get me wrong...we still do like to receive mail and packages, just want to make sure those that need it more are getting their fair share.
Since I'm on the subject, I want to make it easier and less expensive for those who want to send something to our Marines. Currently, due to the awesome outpouring of packages and gifts, some items are no longer needed.
Here is a quick breakdown (I will try and be more specific in my next update):
Toiletries - We are generally good on in this area;
(Don't send) items such as toothpaste, brushes, Band-Aids, medicines, shampoos, foot powder, chap
stick, sun screen, Q-tips, tissues, etc.
(Do Send) bar soap, hair gel, and good razors (for men & women).
Snacks/Foods - Another area we are pretty good with;
(Don't send) candies, chocolate, fatty chips, Pop Tarts, gum, sausage sticks, canned fruit, canned veggies, etc.
(Do send) power bars or similar protein bars, tuna cans or pouches, plain crackers, powdered drinks like Gatorade, Koolaid, or tea, coffee, canned jalapenos, breakfast or cereal bars, soy sauce, assorted hot sauces...just keep in mind that most of us are trying to stay in shape and need to stay away from the bad stuff.
Miscellaneous - Some items are readily available here and some are not;
(Don't send) playing cards, puzzle books, paperbacks, paper, envelopes, diaper wipes, etc.
(it's better to send) sunglasses, phone cards, pens, markers, underwear, military t-shirts (green), dvd's, video games, air fresheners (Glade Plug-ins, Stick-Ups, etc.), cigarettes/cigars, current magazines (Time, Muscle & Fitness, Stuff, etc.), canned air for computers, etc.
Beanie Babies - These are still OK to send.
Previously, I thought we had all we could use, but our Humanitarian Events Coordinator said that he can still use more, as they are easy to toss from vehicles to children as they pass through the towns.
I want to send a big thank you to the following people/groups:
- The D.C. Ramblers for their great poster card that they created with over 250 signatures gathered during a motorcycle rally over the Memorial Day weekend.
- Tracy Sorenson and the Anderson Family for sending us a basketball rim, net, and ball. Our Marines are having a great time now that we have activities to do, other than work. Pictures to follow.
- Briar and Bean Tobacco Shop in Clarksville, Tenn for the box of 250 cigars they sent our way.
- AdminaStar Federal of Louisville, KY for sending a total of 19 packages to us over the past week.
You don't have to send a large box with every possible item you can think of...just keep it simple and light. A card or letter with a phone card enclosed gives just as much enjoyment as a big box. Letters with pictures are great, as they give our Marines an opportunity to see the great people they are writing to. As a side note, a story was posted on CNN Online that described one of the real missions we were involved with. It has a great
ending because a life was saved. We played the part of the medivac helos that made it to the scene, where other aircraft were turned away by bad weather. Go to this link to learn more:
http://www.cnn.com/2004/WORLD/asiapcf/06/22/chilcote/index.html
Until next update,
Semper Fidelis,
CWO3 Edward Jimenez
---
26 Jun 2004
1. As you already know, Marines can only wear green t-shirts. Duo-Fold and UnderArmour shirts are good in loose fitting sizes. A majority of our guys and gals would wear LARGE, a few MEDIUMS, and a few XLARGE.
2. Black Cotton Crew Socks are preferred. Boot socks are good, but calf high socks are OK too. I bought mine at TARGET before I left the U.S., and after 3+ months, they're still working great.
3. Standard White Cotton Crew Socks are good for PT. Nothing special...Haynes has good socks.
4. Beleive it or not, someone sent us underwear for men and women. I didn't think many would need them, but they emptied the box I put out. Standard underwear are good as well as boxers. Ladies cotton underwear are preferred as well. Normal sizes for the men range from 30 to 36 waist, with a few bigger and a few smaller. Not sure on the sizes for women.
Thanks to all who have sent the toys and Beanie Babies for the children outside our camp. The response was much better than expected. We have stockpiled several loads for future humanitarian trips...so for now, we don't need anymore Beanie Babies. Still looking for a basketball rim (only), basketball, and net...as well as used baseball gloves and balls to play catch. To someone who sent cigarettes, cigars, and Copenhagen Snuff, they were a big hit for our hard working Marines. Powdered drinks and power bars (or similar) are in demand to stay hydrated and nourished during the long work days. Also, as a side note, there are many other soldiers and Marines who live in worse areas and endure austere conditions at forward operating bases, so please ensure you consider sending you support to them first.
Nevertheless, the Roadhogs of HMH-769 are greatful for all the awesome packages and letters that have come our way from some great Americans.
Semper Fidelis,
CWO3 Ed Jimenez
Marine Heavy Helicopter Squadron 769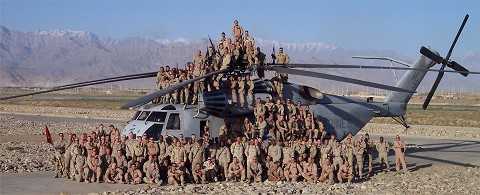 16 Jun 2004
Life has been pretty hectic here in Afghanistan with the Marines of HMH-769 as we continue to support Operation Enduring Freedom (Part 5). Our normal missions call for us to assist in the resupply and/or movement of soldiers and Marines at any of several operating areas. The CH-53E helicopter is the aircraft of choice due to its considerable lift capabilities and capacity to carry many troops their cargo. The past few weeks have seen us very busy flying additional missions in direct support of troops at forward operating bases (FOB's) who have sporadic contact with enemy forces (Al-Queda and Taliban). With a heavier flight schedule, our aircraft maintenance department is doing its best to keep up with operations by working 24/7 divided into 12-hour shifts. Throw in the heat, dust, and wind, and you can imagine what these "hard chargers" are going through. Through it all, they maintain focus and motivation because they know their efforts are crucial to the success of our mission. Needless to say, any support they receive, in the form of a package or letter just reinforces their belief that their job is important and that many back home appreciate what their doing. Since I'm on the subject, packages and letters have been coming to us at a steady pace. We have noticed no problems so far with empty boxes or missing items.
As I stated in my first update, we are fortunate enough to have access to a post exchange that has many of the basic necessities and more. The requests I usually get from our Marines are for items that are either non-existent or just hard to come by. For example, although it is unhealthy and a bad habit, several of our troops have asked for tobacco in the form of "snuff" (Copenhagen or Skoal) and cigars (all types) in order to unwind after a grueling day of work. There is also an urgent request for a regulation basketball rim with accompanying hardware, a net to go with it, and a basketball. We realize that shipping a portable setup with a base and pole would be impractical and very expensive...so maybe just a rim would work, since we can make our own backboard and pole. Some used baseball gloves and rubber league balls would be enjoyed as well. The snacks we've been getting are good; just keep in mind that the packages are subjected to extreme temperatures during shipping and storage prior to making its way to us here.
The Koolaid and Gatorade powders are great to mix with our water...also powdered Iced Tea would be excellent as well. Thanks to all who have sent items or letters. A special "thank you" to Thomas and Melinda Devereaux of Claymont Delaware for their exceptional generosity, and Fournier Family of Johnston Rhode Island for donating a whole box of Beenie Babies to distribute to children. We are still amazed at the thoughtfulness and overwhelming gestures of kindness that have come our way. Thanks again.
Sincerely,
CWO3 Ed Jimenez
HMH-769 "Road Hogs"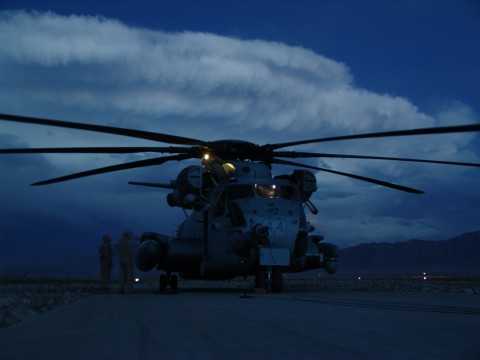 29 May 2004
Most letters from our supporters ask what they can do to help... so here are the latest requests straight from our Marines. Seems as though Beenie Babies come in handy since we are doing more and more umanitarian work out in the ville. Easy to carry and the children apparently like them. Pens and pencils are another item that local people seem to be asking for as well. The hot months (90+ degrees F) are upon us, so comfort and safety on the job is more important. Under Armor HeatGear T-Shirts (Green) are in demand since they work great in this environment but are hard to find. Also, sun-screen and aloe-vera are a hot commodity for those of us who burn easily. Of course, sun glasses with black or metal frames for the bright Afghani sun. Other than that, the items that I've listed in earlier messages are still good...other than the cold medicines (seems like it's starting to subside). Snack foods, to include canned oysters and sardines, tuna, nuts, beef jerky, etc. are fine. Powders, band-aids, coffee, eye-drops, and assorted toiletries are always good to have. DVD's, magazines, posters, calling cards, batteries (AA and AAA) are always requested as well. Thanks again for the letters and packages already sent. It's always great to hear how things are back in the states and around the world, in addition to your kind words
of encouragement.
Sincerely,
CWO3 Ed Jimenez
HMH-769