05 Jun 2007:
"Adam Cann's Memorial Day, 2006."
---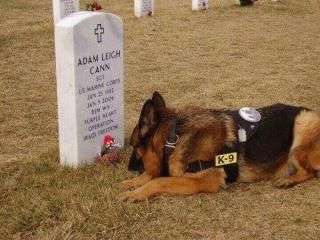 ---
IMMEDIATE RELEASE No. 019-06
January 9, 2006
--------------------------------------------------------------
DoD Identifies Marine Casualties
The Department of Defense announced today the death of three Marines who were supporting Operation Iraqi Freedom.
Sgt. Adam L. Cann, 23, of Davie, Fla.
Cpl. Albert P. Gettings, 27, of New Castle, Pa.
Lance Cpl. Ryan S. McCurdy, 20, of baton Rouge, La.
Cann was killed in action Jan. 5 by a suicide bomb attack on an Iraqi police recruitment center in Ar Ramadi, Iraq. He was assigned to Security Battalion, Marine Corps Base Camp Pendleton, Calif. During Operation Iraqi Freedom, his unit was attached to 2nd Marine Division, II Marine Expeditionary Force (Forward).
Gettings and McCurdy died Jan. 5 from wounds received as a result of enemy small-arms fire while conducting combat operations against enemy forces in Fallujah, Iraq. Gettings was assigned to 2nd Battalion, 6th Marine Regiment, 2nd Marine Division, II Marine Expeditionary Force, Camp Lejeune, N.C. McCurdy was assigned to Headquarters Company, 2nd Marine Division, II Marine Expeditionary Force, Camp Lejeune, N.C.
Media with questions about Cann can call the Camp Pendleton Public Affairs Office at (760) 720-5044. Media with questions about Gettings and McCurdy can call the 2nd Marine Division Public Affairs Office at (910) 451-9033.
---
There is a guestbook for Sergeant Cann HERE.
---
Marine dog handlers in Iraq mourn death of colleague
Sgt. Adam L. Cann killed in suicide blast in Ramadi
By Monte Morin, Stars and Stripes
Mideast edition, Monday, January 9, 2006

"He loved it out here," said fellow Marine dog handler Cpl. Allen Swartwoudt, 27, of Austin, Texas. "He was looking forward to coming back immediately."
Cann, a native of Davie, Fla., died Thursday as he was helping to control crowds outside of an Iraqi police recruitment and screening center at the sprawling Ramadi Glass Factory. He was attached to the 2nd Military Police Battalion, 2nd Force Services Support Group, the Marine Corps said.
A disturbance had broken out among hundreds of police volunteers late Thursday morning after warning shots were fired at an approaching vehicle. Cann, Bruno and two other dog handlers and their hounds had just helped to restore order before a suicide bomber detonated an explosives vest, killing Cann, Army Lt. Col. Michael E. McLaughlin, 27 Iraqi police volunteers and two Iraqi army soldiers.
The blast also injured the two other dog handlers and their dogs.
Bruno suffered injuries as well. He will be flown back to the U.S. for treatment and returned to service if he fully recovers.
On Sunday, friends described Cann as a dedicated and knowledgeable dog handler who could never sit for very long inside camp. He was happiest when he and his dog were outside the wire, hard at work, they said.
"He did it for the guy next to him," said Cpl. Brian Treille, 22, another dog handler from Hardin, Texas. "He was always about being out there with the fellas. He didn't have to come out here. He could have been a trainer back home."
While military dog handlers back in the U.S. usually place their dogs in kennels for the evening, handlers in Iraq live with their animals full time. "They're kind of like house pets — they sleep on your bed, you feed them beef jerky," Swartwoudt said.
In Cann's case, his relationship was even closer. He had worked with Bruno for five or six years, including a tour in Afghanistan. "He'd been with Bruno for quite a while," Treille said.
Military dog handlers in Iraq are a small but close-knit group, and word of Cann's death left them stunned. Their mission is to assist in crowd control and raids and to sniff out explosives.
Cann's friends said that up until recently, their tours had been without serious injury or death. This deployment, though, has been different. In addition to Cann's death, another dog handler was shot by a sniper two months ago. He survived.
"Because there are only a few of us, it seems improbable or unlikely this would happen to any of us," Swartwoudt said. "It seems like we do our job and go home."
Treille and Swartwoudt were planning a memorial service for Jan. 14. On a laptop computer, they clicked through photos of Cann and Bruno on missions and playing around.
Cann told them that when he finished with the Marines, he was considered moving back to Florida to open up a restaurant with his brother — a bar and grill.
Up until a few days ago, though, Cann's retirement from K-9 operations seemed a long way off.
"He loved dog training," Trielle said. "He took it very seriously. I've never met a better Marine doing what he did."
---
20 Dec 2005
I just wanted to thank everyone who has gone out of their way for the dog handlers and, of course, the dogs. The dogs are extremely grateful for their chew toys, bones, biscuits, and tug toys….. maybe now they'll stop chewing on all our gear!! Obviously we are all dog lovers here, so anything having to do with dogs is good for us, including posters, calendars, etc. We finally decided to buy a ps2 so if anyone has games they don't use anymore, I'm sure they'll keep us occupied. Thank you all so much for your support and we are trying our best to send at least a thank you card to everyone. If you have an email address, please include it in your letters so one of the Marines or I can thank you over email. Take care.
---
12 Dec 2005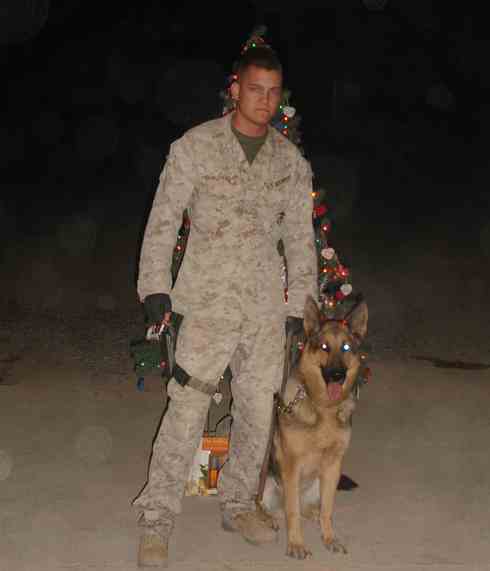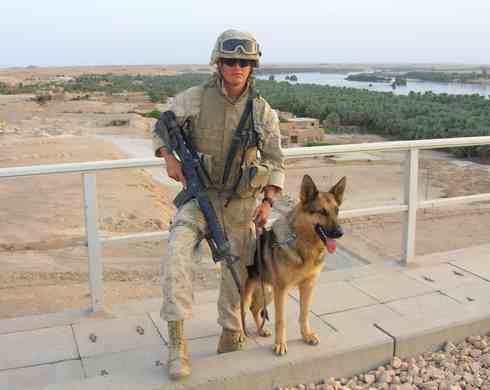 ---
11 Dec 2005
My name is Sgt Adam Cann. I'm a K-9 Handler and Trainer from Marine Coprs Base Camp Pendleton, CA, and currently serving in Ramadi, Iraq. I grew up in South Florida, but have family all over the southeast. As K-9 handlers out here, we're kind of like orphans, just jumping on different operations with different units. Though we have war dogs at just about every base out here, we have only a handful here at my location. My dog's name is Bruno, and this is our second tour together in Iraq. I was also in Afghanistan 3 years ago with my last dog (Basco), who stayed in Okinawa, Japan when I changed stations to Camp Pendleton. The dogs are doing really well out here, especially now that it's cooling off for wintertime, but we stay busy every day of the week. Of course, we do have down time, and the majority of that time is just spending quality time with our dogs or going to the gym. The living conditions here are not too bad, at least compared to some of the other bases I've been stuck at. We dont have stoves or microwaves, but the chow hall isnt too bad, so we arent complaining. The electrical outlets are all 220, but we have a 110 converter that works most of the time. The Marines are hoping to get DVDs, CDs, workout supplements, different games (i.e. board games, darts, etc), and toys for the dogs are always nice also. We dont have a ps2 or anything like that, but we do have a tv and a dvd player that works when it wants to. Other that that, just knowing people care and support us means a lot to us (and the pups). Hopefully we get to meet some great people out of this and maybe even get to shake some hands one day. I think its great that people back home are willing to go out of their way to help Marines overseas that they've never even met. We love doing our job out here, regardless of what the news and other media might tell you. This is what we train for and we take pride in what we do. We hope to hear from you soon.
Ramadi Dogs of War