29 Dec 2005:
IMMEDIATE RELEASE No. 1399-05
December 29, 2005
--------------------------------------------------------------
DoD Identifies Army Casulaty
The Department of Defense announced today the death of a soldier, who was supporting Operation Enduring Freedom.
1st Sgt. Tobias C. Meister, 30, of Jenks, Okla., died south of Asadabad, Afghanistan on Dec. 28, when an improvised explosive device detonated near his HMMWV during combat patrol operations. Meister was assigned to the Army Reserve's 321st Civil Affairs Brigade, San Antonio, Texas.
For further information related to this release, contact Army Public Affairs at (703) 692-2000.
---
First Sergeant Meister was assigned to the Army Reserve's 321st Civil Affairs Brigade out of San Antonio, Texas. He led a Cat-A Team, assigned to assess the village in Afghanistan in order to gauge its basic needs such as transportation, water, and electricity.
The 30-year-old joined the Army Guard when he was just 17, two years before he graduated from Remsen Union High School.
In 2002, Meister was named the United States Army Reserve Drill Sergeant of the Year. He also served with the Texas Army National Guard before joining the 95th division that is headquartered in Oklahoma City.
Meister is a former Middleweight Golden gloves Champion in Dallas, and had an undefeated career in kickboxing.
He leaves behind a wife, Alicia, and a one-year-old son named Will.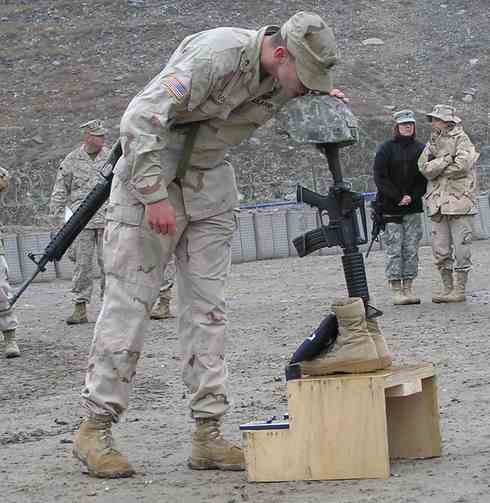 SSG Scott Cole
paying respects to 1SG Meister.
---
There is a guestbook for First Sergeant Meister HERE.
1SG Meister Memorial video, author is SSG Scott D. Cole.
---
29 Dec 2005
[Note: The update below was written by Toby on Dec 24th, but for reasons unknown, was not received at Any Soldier for several days. --Support Team]
Hope all is well. It's been a bit since I last updated. Pushing hard to get as much done before winter really sets in. Things normally die down after the end of fall, but have not this year for us. The enemy is actively continuing their operations in the **** Valley, which is the main route between two of the fire bases in the province we operate. You may have heard me discuss the **** Valley in other emails… **** isn't quite that bad (yet), but its not good. We've had some real trouble with this strip of land over the last few months.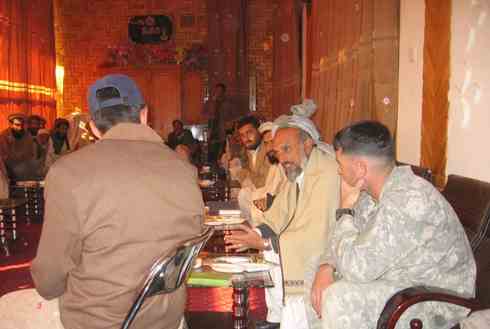 Pushed the troops out with Marines to assist with their kinetic ops over the last month. Also conducted many of our own missions through out the area, trying to maximize the time left in the year and minimize the threat level by ensuring if we get in a fight while out surveying proposed sites or reconstruction projects we hand the enemy their ass. We already pose a soft target just by the nature in which we operate; small team activities, dealing in some remote areas and engaging the local populace. One of the most recent events to take place was an interesting one. A small number of bad guys tried to infiltrate a leadership engagement we, the PRT, were trying to have with the village elders of the **** Valley and the provincial governor. Through our intel team we found out who they were. The meeting went on, discussing the best site for a bridge we were going to build in the valley. The meeting was conducted to gain the insight of the elders and decide which place best suited the entire group. The project site selection had become a hot topic with the three different tribes that occupied the valley. The bad guys made their best attempt to influence the site location, which would benefit their operations in the valley. At the end of the day, the project site stood where it was originally agreed and all the tribes were happy now that they wheeled and dealed with one another. The non-benefiting tribes received some type of compensation from the benefiting tribe. And the best part, we provided the information for the Afghan Government to snag up the two bad guys and turn them over to us (always use the Afghan Government or Security Forces… train, mentor and assist). Wish you could have seen how big their eyes got when they were picked out. The day couldn't have gone better. Apparently it really chapped the bad guys. That night we got rocketed pretty good, once at midnight, and then again at 0330. Luckily no one was hurt.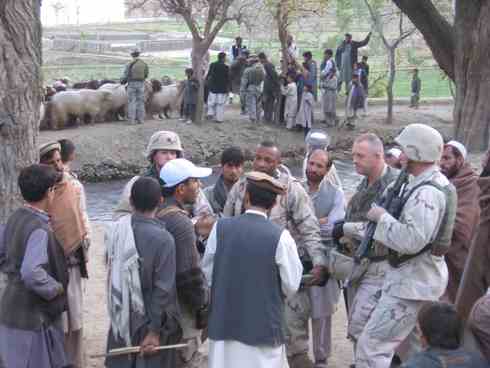 Lots of good things are taking place around Kunar. Many of the reconstruction projects are coming to fruition. For example, we had nominated 11 locations throughout the province for micro-hydro plants. All were approved. As of last week, all eleven sites are operating providing electricity for the first time to homes all along the valley floor, and some high in the mountains where development is often far behind. We also set in motion the Marawara water project. Here was another tribal issue where we had one giant spring that fed one tribe and its farm land. There was plenty of water to be used by them and the lower valley floor, but their perception was that there was not. We originally planned to run a pipe scheme to all the villages of the central district region, but just the planning phase and surveying caused serious tribal rifts to surface. Shura after Shura, and leader engagement after engagement wasn't solving the problem. Last week we patrolled to the district that butts up against Pakistan to engage the leaders one last time and figure out a plan. What resulted was the agreement to build a down-scaled pipe scheme for the upper valley tribe and the lower valley tribe had century old underground irrigation streams that needed some work. We will be rebuilding the underwater canals that feed the only subsurface shower I've seen in this country. It's the darndest thing I've even seen. The village dug a cave like structure fifty feet down to the underwater canal and fixed it up to create a bathing area. Pretty ingeneous work. With the fixing of the five canals and also rebuilding the central well for the community, we will make both groups happy and the end result still the same. Fresh water will be distributed for drinking and irrigation.
One of the larger successes we've had lately is right next door to our base. Y***** is a little village that's been a trouble spot for trying to win over. Every time we try to do a small project there, something happens to delay it or cancel it. We have distributed a great deal of HA items, such as the blankets, jackets, hats, gloves, school supplies, etc that everyone has donated. That has helped a great deal and done wonders, especially for the kids. Recently we had a local engineer survey the village for a pipe scheme to provide fresh water to each home. You can only imagine how much clean water will greatly increase the health of the local populace. The one problem we ran into is that the project needed to be self sustaining. The well the water was going to come from was located below the village and the reservoirs were above the village, thus a generator would be required to pump the water up hill. Generators require gas, and the village couldn't afford to provide that. With a little ingenuity, we figured out that the present stream they are drinking, washing and bathing in can be manipulated to provide enough drop to support a micro-hydro plant. Not only will this support the pipe scheme's generator, but also provide electricity for the village. The village is elated.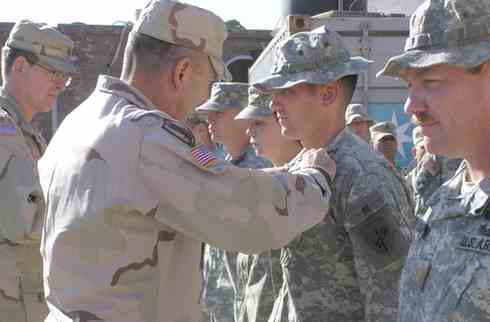 The troops received a visit from CFC-A, the commander of forces in Afghanistan. He awarded seven of our troops the combat action badge for their action in the **** Valley back in July. He also awarded SSG Cole the Combat Medic Badge for his performance at that same TIC (troops in contact). The Lieutenant General said some nice words, shook some hands and handed out a few coins. He seemed quite sincere in his appreciation of the troops for their work out here in Konar. I still think the best Christmas present and morale booster you could give troops is one crisp cold beer. Not sure how it came about that we (troops) can be responsible enough to take on the stress and pressure of combat, but not responsible enough to have a beer to unwind a little when your back at the fire base. Not my job to make the rules, just enforce them. I'm sure there is some logic in there somewhere.
Received many nice things in the mail lately. Everyone's support and generosity is greatly appreciated. On behalf of Hafiz and Hasan, thank you for the care packages to them. Both are composing thank you letters I will scan and send later on. We will also be sending out the flags sent over a few weeks ago. It took a little time, but we finally got them out on a couple good missions and will send a memorandum explaining their travel.
On Christmas the troops have put together an interesting day of activities. We will be doing the half pike challenge in the morning. The half pike is climbing the mountains to both our Ops. It's a 4.5 km, 2800 ft climb that takes about three hours. Later someone had the Christmas story sent over from the states, so they're setting up movie and popcorn for that. Last is everyone meeting in the MWR for a gift drawing. Over the past month I've received numerous wrapped gifts and from one company, stuffed stockings. I've received so many that I figure there is nearly enough to go around to each Soldier, Sailor, Airmen and Marine. So, for those that participate, and I expect it to be all, will drop their name in an ammo can and we'll draw them out one at a time until all the gifts and stockings have been distributed. Of course, the best part of the day will be the end of it, which will be Christmas morning for y'all back home. Calling home for 20 minutes to listen as your family open their gifts. My son should be old enough this year to really tear into the wrapping… should yield lots of squeaks and an occasional 'ooh-ooh'. Sure wish I could be there, as do the rest of my troops wish they could be with their families. Soon enough, we all hope.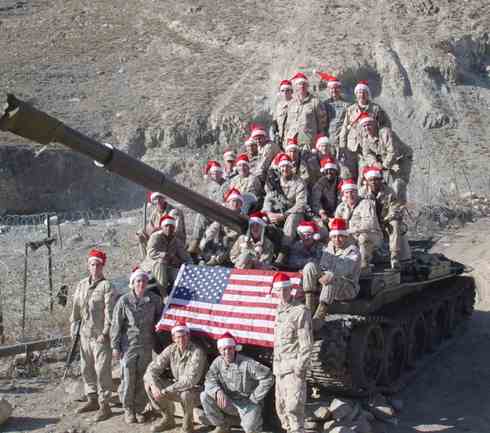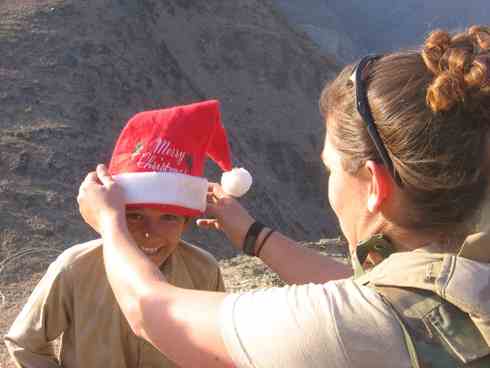 Christmas is only a day away. Every one of my troops is thinking of home. Not a single one hasn't expressed their wish to be home with family or friends. But, it is also expressed that if they have to be away from their loved ones, this is a great place to be. Over my many years I've been in many units, but none like this. It is a rare day that the troops don't get along. Seldom have I had to reprimand anyone for misconduct. Never have I had a Soldier not put mission first, and personal interest last. We have all branches of service here, with all levels of experience and expertise. Most of the troops are non-commissioned officers, and with such, reinforce the strengths and shore up the weaknesses by looking out for one another and teaching each other tricks of the trade. Our Air Force RTO's are teaching the Army Soldiers about the PSC-5 Radio. The Army S.O. medic teaches the Marines advanced trauma care. The Marines teach the Air Force troops how to effectively use crew served weapons. Our Navy Sea Bee teaches our Army CAT-A how to QA/QC projects more effectively. And so on and so forth. Even with the rockets, IEDs and occasional ambush, I couldn't imagine a greater deployment than with the group I am currently serving in this very place. I enjoy their company, the humor, the camaraderie. They are truly a representation of what is great about America.
On behalf of the troops here at FOB Wright, we wish you all a Merry Christmas.
Very Respectfully,
Toby
PS: I accidentally mailed the wrong letters in the wrong envelopes. If anyone has a contact for Middle Brook School, please forward me the address or email information. The kids there sent me a bunch of letters with different questions that I did my best to answer. I must have sent them the wrong letter too. Just want to make things right.
---
08 Dec 2005
Hello Everyone,
Every once in a while something out of the ordinary happens here at Abad that lifts the spirits of the troops a whole notch. Today was one of those rare days. WWE showed up for two hours to meet with the troops. Vince McMahon, HHH, The Big Show, Coach, Candice and Ashley made there way to our FOB via chopper to meet with fans and provide our local workers with a bit of shock and awe. I'm not sure if it was The Big Show's 7'1", 483 pound frame or Candice and Ashley that made the local workers all stare and talk amongst themselves so quietly… they barely blinked. We told them that this was the new PRT Commander and his staff… lol.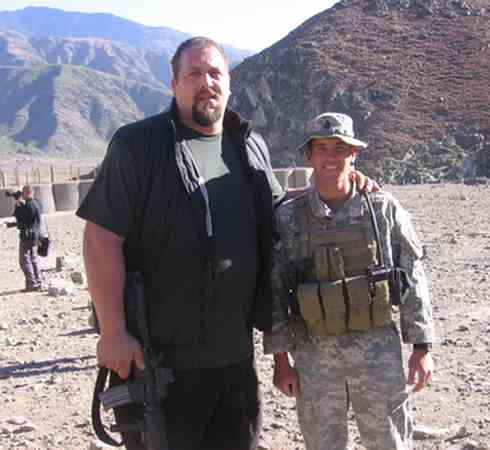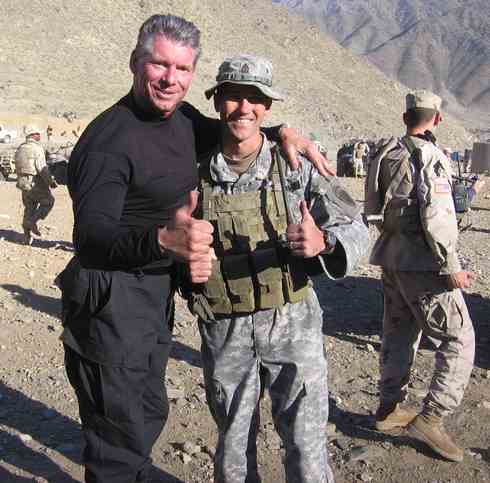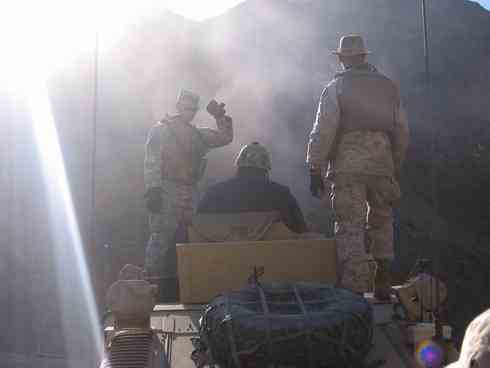 The VIPs met with the Arty guys, then the Marines and finally with the PRT and ODA out on the range. They fired up our M2, MK19, M240B and the girls fired the Deshkah. I think they enjoyed it. We sure got a kick out of it. I know SSG Banda will never forget helping the Big Show fire the Ma Deuce into the Afghan mountain side. He, The Big Show, filled the whole turret. As you can see by the picture, I look like a little kid next to the guy. I must say, as big a guy as he is, his heart is just as big for taking the time to come out here and meet with us. It was obvious they were all fighting jet lag something terrible; that comment about heart can be spread to all of them.
You never really know someone until WWE wrestlers show up on your door step. Grown men turned into little kids. Young men turned into gentlemen in an instant when the girls spoke to them. This was one of those rare occasions where your troops surprise you in many different ways. The troops represented themselves well. I was very proud of their professionalism.
We also received mail today. Really topped off the day. Received packages from Jack McHugh and Blue Star Moms, as well as others. The mini Christmas trees and light sets were put up in the MWR room and have already received numerous attempts at being stolen. Seems everyone wants one for themselves. One of the troops started a sign out roster for them, to ensure equal access. Will be fun to see how long that lasts. Could turn into another prank like Halloween did, where the same door decorations were stolen and held hostage for weeks (ransom-one package of double stuff oreos).
Got a lot of great stuff today… hand warmers, Little Debbie Cookies (one of my favorites), soup, coffee, instant oatmeal, etc. Can't remember who is sending the white socks, but those are a hot commodity too. The troops fight for them like they're a plane ticket home. Also got some DVDs. We appreciate every thing sent.
Although I don't care much for doing this, I understand that many of you want me to be specific. So, here it goes again: Smell good candles… keeps the funk down. Little cans of soda. Can of jalapeno's… or any kind of seasoning to throw in our pots of soup. Little Debbie Crème Pies. Cigars. Pipe tobacco, any flavor. Batteries. DVDs… comedies seem to be the big hit these days. Magazines… any kind… variety of interests.
Again, thank you for all of your support. Thoroughly enjoy getting mail. Although there was no letters this time, I enjoy those as much as anything else. I apologize for not being able to respond to every letter and email sent, it just gets very overwhelming at times and then before I know it two weeks have passed and I'm headed off on another mission… I know, excuses… Again, my apologies and my thanks.
Sincerely,
Toby
---
29 Nov 2005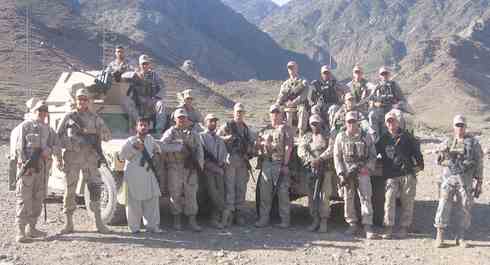 Hello everyone,
It's been a while since I last updated, again. The optempo just doesn't seem to slow down around here. Actually, I've been extremely ill for the past five days. Caught some nasty bug. Up until this point I hadn't had the stomach problems that seems to be a common thing for troops overseas. In fact, I was pretty proud of my stomach of iron. I love the local food and eat it when ever I get the chance. Sanitation isn't all its cracked up to be here, and dish soap is unheard of, but none of that has ever bothered me… until now.
Thanksgiving went over well. Our chow hall does an outstanding job. The turkey was moist, the stuffing outstanding. Even had three different kinds of pie. I got to admit, our Staff Sergeant does a better job than any other chow hall I've ate at. Now that is something to be said for where we are.
Last entry I spoke of how our Interpreters were taking the donations sent by you all, out to the local schools and communities. This has been a great thing (for the lack of a better word). The donations are getting out more rapidly, especially now that winter has set in. School supplies are getting to the teachers and kids quicker as well. It has been great watching through the pictures they bring back. You can see the kids looking at their own people with awe. Its good to see them see their own as role models. This is another stepping stone of building the Afghan people up, after so many years of being torn down. I thank you all again for your donations. The coats, the shoes, the blankets, gloves, mittens, toys, books, paper, pens… everything. Thank you.
I received an email requesting that I be specific with the needs of the troops. The only thing we've fallen short as of late is laundry detergent (powder form). We started helping out some of our local workers with hygiene and have depleted our resources quite rapidly. If anyone sees a sale on some cheap detergent, that would be great. Thanks. We got mail a few days ago, and we received many great things. Got lots of coffee mugs. We appreciate them. They've been great for warming up soup when my stomach would handle it. Got some homemade salsa and beans from my folks back home. That was a huge hit with the troops. Mom's salsa can't be beat. [Supporters: Please DO NOT send homemade food yourselves... soldiers don't eat it if they don't personally know the sender--Support Team] Still think the best thing I got was a photo of my wife and son holding up the birthday card they made for me. Seems the Army lost the card for now (I'm sure it'll show up… sometime in December)… Got to love the pictures from home!
The following paragraphs were being written just before I fell sick, and after you read them you may notice a little difference in my tone of writing, or maybe just toward the end. I thought about deleting it, but then thought that would be an injustice to paint a pretty picture on top of something that isn't. I still stand by my words, just usually reserve them for the individuals that need to hear them. Certainly not intended to offend all, just those it applies to… so, please feel free to pass this on to those that need to hear it… from another troop on the front… (just so there is no mistake in which paragraphs I refer to, I put an astric at the front of each)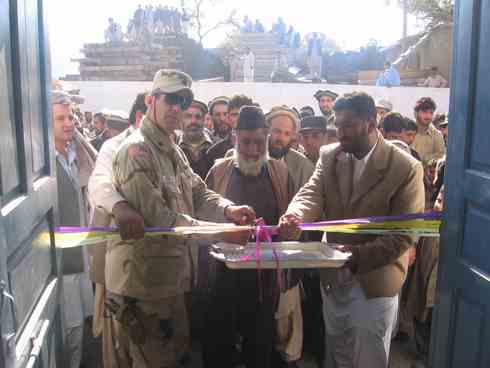 Friday was the opening of the Fatima Girls School. This project has been a pain since I got here, but finally we have it completed and will be opening it soon. This is one of those projects started by the previous team about a year ago and dropped on me with little direction. The problems transcended the norm, you know…'where the contractor says it will take so long, and then it takes twice as long'. The contract and monies used for funding were screwed up, but Uncle Sam found a way to make things right, and did.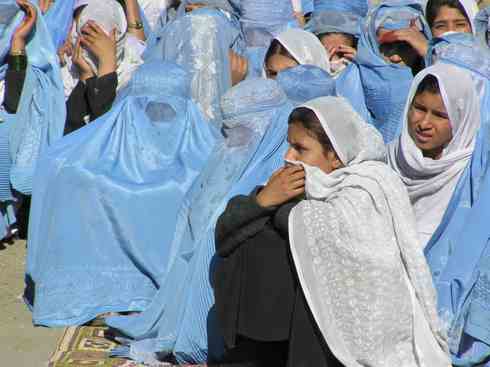 We opened the Girls School, the first secondary school in the province for girls. There was probably 300 to 400 people at the grand opening, ranging from the Deputy Governor to District Leaders to Elders to War Lords (ex) to Teachers. But the best part was the 100 to 200 school girls that attended. At first they sat to the side of the chairs some 50 feet from the ceremony, facing toward the stage with their face showing. By the time the masses arrived for the event, they were all turned away and their faces covered. Surprisingly, during the ceremony, two different times, a small group of girls came up to the podium and sang an Afghan song. If I can get SSG Johnson to figure out how to record the sound off the video clip I'll send it out to all. I won't say it was pretty, but it was like what you'd see on discovery channel or in a movie, almost eerily ethnic. That's a terrible description, but I can't think of a better way to describe it.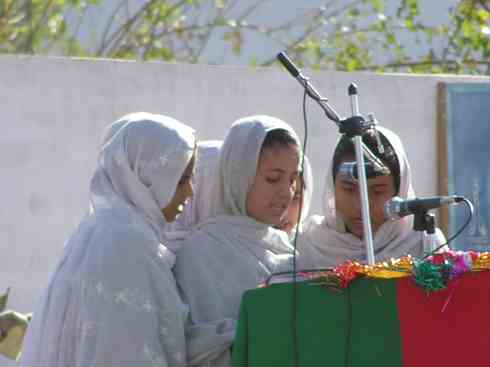 There was also two highschool girls that spoke. Both's hands shook as they read from the speech they wrote out. One girl, poor thing, her whole body shook as she spoke. They were scared to death, not really of speaking, but, to me, what might happen to them for speaking. I was sitting on stage next to Rubie, our CAT-2 (American Citizen) Terp. She told me what the girls were saying. One of them asked that her brothers not take away the gift (the school) given to her, that they not beat her for wanting to learn, that they not keep her ignorant anymore. The other girl recited a poem she wrote. I'll probably get it wrong, but it went something like the following. "We are coming out of a dark winter. The school is my spring. Here we will plant flowers and grow." Then she mentioned something about her hands being bloodied since as long as she has known, but now the coalition brought her a cloth to wash her hands with, and then she asked that her brothers help her wash the blood from them.
There are those things you never forget. This is one.
I wasn't going to speak at the engagement, because up until that moment I'd become a tad bitter from all the problems of the Afghan people being thrown on my shoulders, day in and day out. During the ceremony, I actually had two people walk up on stage to slip me a note, in pashtu, asking for a job, and another for a radio. Couldn't believe how brash these individuals were. I certainly do not mean to discredit any one individual's needs, but it is the frustration of trying endlessly to get the masses, not the few, to take ownership of their government, their solutions, their abilities untapped. I digress. So I spoke, with the help of our interpreter, Shahi. My sixty seconds of fame was just telling them that I appreciate the many thanks (there really were many this day) and that it was my turn to thank them. I said that "the PRT works hard, but there are so many needs that it feels like running up a giant mountain, and I am running short of breath. Today I am inspired (addressing the girls to the side) by your strength. I thank you for filling my lungs with a new breath of air."
Didn't get much of a warm reception from the crowd. I think they were pretty chapped that I addressed the women, and spoke right to them. Didn't matter. Those few girls that were brave enough to stand… I can't explain how brave they were. I can barely imagine the repression, and I have eyes on every day. It brought perspective back and gave me a good jolt of well needed energy to keep on keeping on.
There is no way we will make a full 180 on equality/women's rights here in Afghanistan in the near future, and certainly not under my watch. We won't pave a path, or make a trail. What we can do is make scratches in the earth, and hope someone else comes along and does the same. Eventually, over time, the change will occur. Today we made scratches; good ones.
*Over the last few weeks I've received emails and had a conversation with a 'civilian' in regards to the fighting, the bombing, etc. One of the questions posed was, why we're still conducting such activities, instead of focusing our efforts on reconstruction… After all, 'winning hearts and minds' is the solution for the long term war. Please forgive my shortness, but we will never win the hearts and minds of everyone. That is not opinion, that is logic/fact/obvious. There are many here that still hate us as much as they did on 9-11. When the 'American' reporter asked our CAT-2 Terp if she was disgusted by having to work with American troops doing such 'terrible things' to 'her' country, she replied shortly, "Are you kidding?".
*The things that must be done are done, but make no mistake, we follow a code of conduct, a values system deeply embraced, and the laws of war. Some of what is done is fighting. Some of it reconstruction. Only through a mix of both will we win the whole war; that's the fight today and the fight tomorrow. Please forgive my irritation, but I am beginning to lose my patience with all the 'touchy feely/politically correct/sensitive types' speaking ill about what we do, how we do it, the reason behind it, and what they would have done. There are only two options, win or lose. Most people understand what must happen to win. Most people understand what losing means. 9/11 plays out in my head every day I get our intel brief, and I'll be damned if I stand by passively hoping the bad guys will have a change of heart because I'm building the country a bridge, school, power plant, etc. That's just asinine. We're (the non-kinetic types) not here to win the hearts and minds of the bad guys. We're here to help a beaten down group of people come out from under a regime of repression and give them a fighting chance. If the bad guys do have a change of heart, great. It just better be before we reach their doorstep.
*Certainly don't mean to punish all with this ranting, just because a few people out there are exercising the right to free speech. Just wish some would exercise some common sense and grit.
With all of the excitement here, there has been an equal amount back home for one of my Soldiers. Big Mac (SGT McClaws) is the proud father of a new baby boy. That's his fourth kid! He wouldn't have admitted it without being asked, but he says he's not too thrilled about being back. I imagine after I take leave, I won't be too thrilled about leaving my wife and son again, either. If its this hard with one, I can only imagine leaving four little ones behind.
I turned 30 the other day. Wow do I feel old. I'm sure some of you are knodding your head in agreement, and others knodding your head in disgust. Its all a matter of perspective though. As one of my former coworkers put it, it beats the alternative. This is true.
Got more pictures of my son via email. I must say, I think these are my favorite ones, him eating spaghetti. What a mess.
I best close, I don't mean to make these entries so long. After a while, I'm not sure if I'm posting these for posterity's sake or for therapy. (that was meant to be funny) Either way, until the next entry…
Toby
---
04 Nov 2005
Hello All,
I have received numerous emails from our regular supporters in the last few days that say I am making things too difficult on them by not being specific enough on the things we need or want out here at Abad. Okay, here goes our best shot.
For the Troops
Cigars – Received a box of Romeo and Juliettes from my Father. Took them uptop Bull Run (our observation tower on top a mountain) and smoked a few. Sure taste good. Any brand is appreciated.
Coffee Cups – Doing well with coffee grounds and filters now. The only problem I have is my troops raiding my coffee pot. If any of you have coffee cups with your business logo or alma matar, that would be great. Nothing fancy, but something with a handle would be great. The troops use mine to warm up soup and hot chocolate in the microwave.
Scented Candles – Our rooms stink. Not sure why, but they do. Candles, air spray, febreeze all work wonders in keeping them smelling decent.
Soda – The Afghan/foreign version of soda isn't that great. An occasional 20oz Mountain Dew, Pepsi or Coke would be great.
DVD's – We've received some great DVD's lately. We received the 3rd Season of Everybody Loves Raymond. That is by far my favorite TV show. So true to life…. The only request I have is for the movie Dune. Apparently I am the only one in the unit that is over the age of 25 that hasn't seen this movie. Comedies are great, too.
Music – We've received many CD's compiled with great mp3 music. We've really enjoyed listening to what others find to be their favorite music.
Snacks – Favorites include reeses peanut butter cups, snickers, almond joy, mounds, crackers, cheese (got sent a block of cheddar… it tasted so good. No real cheese out here.), nutella, Danish cookies, nuts, donut sticks, cinabuns.
That's all we came up with.
For the Afghans, we came up with the following items.
Blankets for winter
Jackets for all sizes
Kids clothing
The few items we don't need at this time are toys. We have had a generous amount of toys donated over the last few months and are having a hard time giving them all out. This is a good problem to have!
Hope that this helps some. We have been very fortunate with all the support we have received state side. We greatly appreciate it all. Thank you.
Toby