AN/PVS-10, NIGHT VISION SNIPER SCOPE
The Night Vision Sniper scope is an integrated day/night sight for the M24 Sniper Rifle. The Sniper scope provides the sniper the capability to acquire and engage targets during low and high ambient light conditions. For nighttime operation, the Sniper scope utilizes third generation image intensification technology. For day use, the Sniper scope is a direct view system. The system mounts to the existing rail of the M24 and uses the same mil-dot reticle as the existing Leupold day scope. The magnification for day and night operation is 8.5X. The system's maximum weight is 4.90 pounds. It includes a day/night selector switch, and adjustments for output brightness and reticle illumination.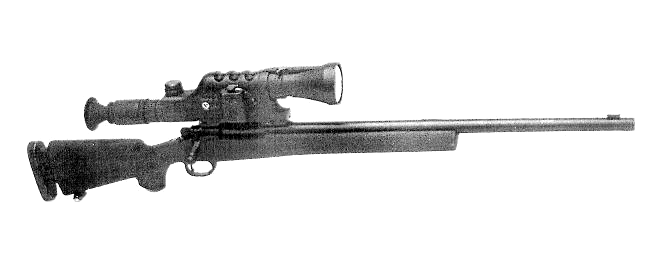 TRANSPORTATION CHARACTERISTICS / LIMITATIONS: Shipping/storage case including contents: 16" x 10" x 6", 7 lbs. No special transportation requirements.
Type Number: AN/PVS-10
Item Name: SNIPER NIGHT SIGHT
LIN: S90433
Part of: END ITEM
IMPC: 3E
FIACD: GP1SX
Category of Supply: 7G
Unit of Issue: EA
Unit Price: $ 9,546.00
NSN: 5855014108979

Analyst Code: 61A2V
Technical Manuals

Publication Number: TM 11-5855-303-12&P
Publication Date: 1-Jan-98
Publication Status: Active.
Last Change:
LIN:
NSN: 5855014108979
No. of Pages: 182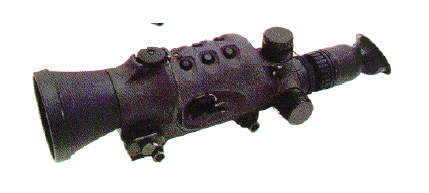 XM107 Rail Quick Release System • The XM107 Long Range Sniper Rifle (LRSR) candidate weapon was DA
approved for Urgent Requirement procurement (without night sight
capability) in October 2001. The night sight capability for the XM107 LRSR
was TBD. With an armorer- level modification, the Rail Quick Release
System would allow the AN/ PVS- 10 Sniper Day/ Night sight currently used
with the M24 Sniper Weapon System to be used with the XM107 LSRS.
• Cost: $1,180 per set
• BOIP: One Sniper Team Set: Weapon base (2); Scope Rings/ base (2); PVS- 10 base (1) per XM 107 LRSR / M24 SWS