Paratroopers remember the jump into Iraq
Story by Spc. Adrian Schulte, SETAF Public Affairs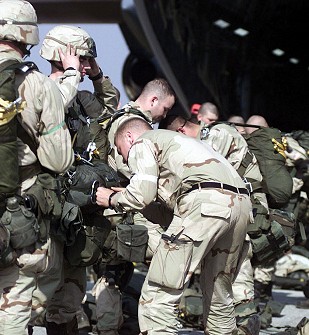 Photo by Spc. C. Terrell Turner
Last minute checks are accomplished before paratroopers board the plane bound for Iraq to participate in the historic jump.
VICENZA, Italy -- It has almost been a year since about one thousand paratroopers of the 173rd Airborne Brigade parachuted into war, opening up the northern front in the effort to liberate Iraq. The March 26, 2003 jump was recently classified as a combat jump and the paratroopers who participated in it will now be able to stick their chests out with pride showing off the gold star, or "mustard stain," that crowns their parachutist wings.
So what is it like to jump into war? Those troops, young and old, went through an extraordinary experience, one that many paratroopers can only dream of. Many of the Soldiers had been jumping for years, but for others, this would be their first jump after airborne school.
"I knew it was real when they gave us live ammo at the airfield. I knew then that there was no turning back," recalled Pfc. Jerry Allen, Chosen Co. 2nd Battalion, 503rd Infantry (Airborne). "I've never seen so many planes in my life," he said referring to the Air Force C-17 Globemasters waiting to take them to war.
Before loading up on the C-17's, the paratroopers were briefed on the conditions of the drop zone. The Kurdish controlled area was expected to be friendly and little resistance was anticipated. The weather called for a pitch-black night, with no moon or stars and there was going to be fresh mud on the drop zone from the heavy storms in the prior weeks.
Once the troopers were rigged with their chutes and rucksacks, which weighed nearly as much as many of the Soldiers, they loaded up onto the lumbering jets lining the Aviano Air Base runway. The Air Force gave each Soldier a boxed lunch for the five-hour flight.
"Nobody really ate them," remembered Spc. Christopher Holbrook, Chosen Co., 2-503rd Inf (Abn), "but we were stuffing snacks into our DCU's to take with us."
After the aircraft took off, the paratroopers had ample time to prepare for what lay ahead.
"The mood in the plane was really serious. It looked like everybody had their head in the game," Allen said. "I was concentrating on what I was supposed to do once I got on the ground."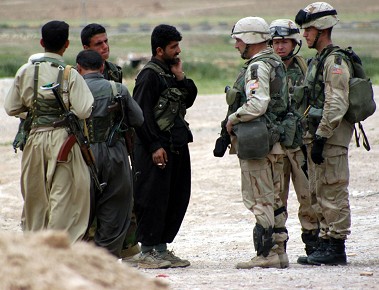 Photo by Spc. Brandon Aird
173rd Airborne Brigade paratroopers meet up with Kurdish soldiers in Northern Iraq.
"I was more worried about how long it would take to get there and how long I was going to be sitting there in anticipation," recalled Pfc. David Deaconson, Chosen Co., 2-503rd Inf (Abn).
"Regardless of how long you are on the plane, it gives you a lot of time to think about what your commander has told you, about what conditions to expect. It sounded like a pretty friendly drop zone, but there was speculation that there was going to be resistance. And that little quip alone got people thinking they were going to be dropped into Normandy with tracers flying."
The time for the paratroopers to make their leap into war came quickly. About 30 minutes from the drop zone, the white lights that had been illuminating the cabin were cut off and replaced by red ones, signaling "show time" was close at hand.
"I wasn't nervous until they started going through the jump commands about 20 minutes before the jump," Allen said. "When they turned the white lights off and put those red ones on, it was a rush."
"Each little event after the red lights came on made your heart beat a little bit faster, regardless of what you do or don't know," Deaconson said. "By the time we stood up to wait for the green light, my stomach was doing somersaults. I thought for a second I might throw up and had to put my head on the parachute of the guy in front of me to get my bearings."
"We stood up and our rucksacks were heavy as hell, so we were leaning on everything and trying not to stand up straight because it was horrendous," Holbrook said.
The Air Force loadmasters then opened the doors of the aircraft. Wind, dust and anticipation tore through the cabin. The paratroopers hooked up their static lines and did their final checks. Because they were in hostile air and because the drop zone was nestled in a valley, the giant C-17's had to go into an intense, steep dive from 30,000 feet to 600 feet.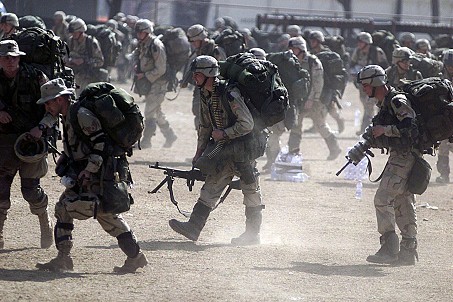 Photo by Spc. C. Terrell Turner
Paratroopers kick up dust as they move out to the loading area.
"We were already standing and hooked up when they went into this crazy dive," Allen said. "When they started to pull out of it, I couldn't stand up with all the weight I had on. All I wanted to do was get out of the bird."
The Air Force had a narrow window of time to get the paratroopers into the air, so after pulling out of the dive, the red light by the open door was quickly replaced by a green one and paratroopers started pouring out into the night sky.
"Finally the green light goes on and everybody is screaming to get out the door because nobody wants to get left behind," explained Holbrook. "So it was a horrible exit. I pretty much fell out of the door."
"That is when all fear left me and I just wanted to get out of the plane," Deaconson said. "You get a one-track mind once you see that green light. It's like being at a basketball game with everybody screaming, except everybody is cheering for you to get out of the door."
Sixty seconds later, the Globemasters, empty of their cargo, were climbing out of the valley and the Iraqi army had a thousand more American Soldiers to deal with.
It didn't take the troopers long to fall the few hundred feet to the ground below.
"When I first hit, it wasn't a normal landing at all because it was so muddy," recalled Deaconson. "We expected mud but we didn't expect it to be as deep as it was. A lot of people got stuck waist deep when they hit and didn't get to do a proper parachute landing fall."
The landing zone was dark and quiet as the Soldiers maintained noise discipline and collected their wits.
"It was almost dead quiet once you hit the ground, you couldn't hear a thing," Deaconson said. "It was good, but eerie in a way. It gave you time to get your bearings. I felt drained just from stressing out so much on the plane."
The Soldiers donned their night vision goggles and looked for their Phoenix beacon, a flashing beacon used for guidance visible through the night vision goggles. They then started trudging through the mud trying to locate their units and assembly areas.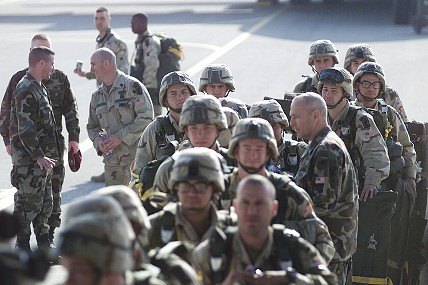 Photo by Spc. C. Terrell Turner
U.S. Army Southern European Task Force Commander, Maj. Gen. Thomas Turner speaks with paratroopers of the 173rd Airborne Brigade as they board the airplane.
The mud. They all talk about the mud.
"It was the type of mud where you keep getting taller as you walk," joked Holbrook. "They had us digging with our entrenching tools and you couldn't do it because every time you took a scoop, it would stick to your shovel so you would have to scrape it off. It was a horribly laborious process."
"It took us all night to move maybe eight kilometers," Allen said.
"We were scattered everywhere. They told us the flight strip was going to be this big dark thing through your night vision goggles. We jumped into plowed farm country and there were dark strips of land everywhere! We would walk to one dark strip and step on it, say 'dang that's not it', and walk to another dark strip. The mud was so bad, my team leader and I were pulling each other in and out of it. He lost a boot in it and ended up walking half of the way barefoot.
"It was cold and wet. My weapon was a big chunk of mud. The barrel was clogged and I couldn't get to the trigger. It was all over my uniform, my skin and my hair. Everything was mud. I spent the rest of the night pulling people out of it. It was crazy."
Muslim prayers echoed through the valley as the day broke and the Soldiers of the 173rd got their first look at the surroundings.
"When light came and I saw the country, it was nothing like I thought Iraq was going to be; it was beautiful," Allen said.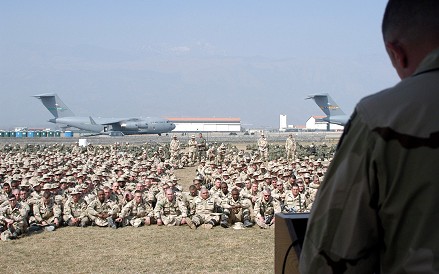 File Photo
Colonel William Mayville, 173rd Airborne Brigade Commander, speaks to his paratroopers before they prepare for their jump.
"All you see on T.V. is the dry desolate forsaken places with traffic everywhere," Deaconson said. "When day broke, everything was green, it was cold, and there were mountains everywhere. I remember feeling like this wasn't a war zone that we were jumping into."
As light poured across the land, men wielding AK-47's greeted many of the brigade Soldiers.
"Morning comes and the Peshmerga (Kurdish) guys were not 300 meters away," Holbrook said. "They were there the whole time and we didn't even know it."
The Kurdish soldiers would prove themselves to be friendly allies.
"The Peshmerga guys brought us firewood, rice in an old oil pan, bread and cheese, and some mystery meat," Holbrook said. "We didn't care what it was; we were hungry."
"I was impressed by their generosity," Deaconson added. "They had nothing to give, but what little they did have, they would always share. I mean, here they are bringing us bags of bread and tea when we started running low on water and MRE's."
The paratroopers of the 173rd made history that day and for the better part of the next year, they would work hard to help secure, stabilize and rebuild their area of responsibility.
"Every time I see pictures of it or hear someone talking about it, I just keep thinking, 'what a day!'" exclaimed Allen.


Photo by Spc. C. Terrell Turner
Paratroopers of the 173rd Airborne Brigade begin boarding the C-17's that will transport them to their historic jump into Iraq.