Thu, November 20, 2003

'This was his calling'
Father salutes his fallen son, 'an American soldier'

By KEITH GRANT
Herald Online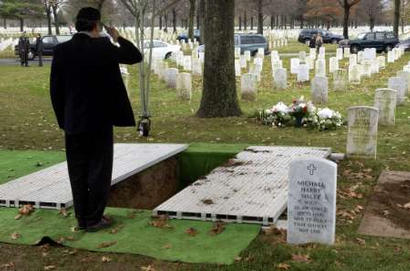 Marlowe Fletcher salutes the grave of his son, Army Private First Class Jacob Fletcher on November 19, 2003, at the Long Island National Cemetery in Pinelawn, New York.
Sgt. 1st Class Todd Oliver
Pride and grief battled within Marlowe Fletcher as he spoke of his son. The photo he kept in front of him showed a young man, strong, confident, determined. The eyes showed no signs of fear. The red beret indicated an elite soldier.
By the time the photo was taken, Pfc. Jacob S. Fletcher had endured some of the most difficult training in the Army, parachuted into a war, and exchanged fire with the enemy. All within his first two years as a soldier. He was tough, he was proud, and yet he was compassionate. From the moment he landed hard feet-first on Iraqi soil and was greeted with smiles and bread by Kurds, Fletcher liked what he was fighting for. He believed in his fellow soldiers, and he believed in their cause.
Fletcher gave his life in the name of that cause. He was killed last Friday, Nov. 14, in one of the only ways insurgents were likely to get a soldier like Fletcher: with a weapon he couldn't shoot back at. A land mine took his life as he traveled on a bus in a convoy north of Baghdad. Fletcher was on his way back to his unit from leave in Qatar. He would have turned 29 next Tuesday.
"This kid was on the fast track," Marlowe Fletcher said. A longtime Long Beach resident now living in Island Park, Fletcher spoke of his son with nothing but praise. A Vietnam veteran himself, he knew that in just two years, his son, who grew up in Babylon with his mother, Dorine Kenney, had accomplished more than most soldiers do in a lifetime. Marlowe knew all about the intensive training his son had been put through, the proud history of the unit he was with, and the future the Army could have held for him. Fletcher was in line for promotion and was constantly being asked by his superiors to return to the elite Army Rangers school, which he had left in the months before the war so that he could "get to the action."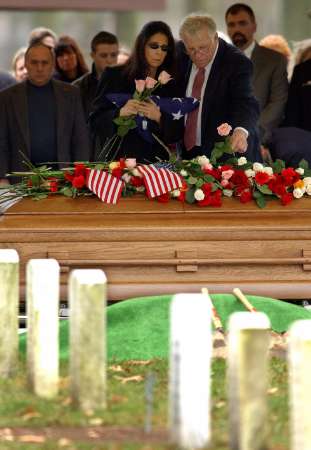 Dorine and Ray Kenney, mother and stepfather, stand over the casket at of Army Private First Class Jacob Fletcher on November 19, 2003, at the Long Island National Cemetery in Pinelawn, New York.
Sgt. 1st Class Todd Oliver

"He was antsy," Marlowe said. "He wanted to do what he was trained to do."
That training rated among the best a soldier can get. After the intense atmospheres of infantry, airborne and what he had experienced of Ranger school, Fletcher got to the 173rd Airborne Brigade, based in Italy, to find most of the training there being done by U.S. Army Special Forces soldiers. The 173rd is a small, recently reorganized quick-reactionary force of about 2,000 soldiers, in contrast to the famed 82nd Airborne Division, more than 10,000 strong, back in the States.
"He was definitely hard-core," his father said. His unit was Company C -- or "Chosen Company" as its members preferred -- Second Battalion, 503rd Infantry, 173rd Airborne. Fletcher was no kid by the time he got there. It had taken him until later in life than most new recruits to find his way into the Army, but it wasn't for lack of trying. He tried the Marines first, but unfortunately he was only 8 at the time. He tried the Army about 15 years later, but was hampered by a knee injury. He finally made his way into the service in the months following Sept. 11, 2001.
"He felt it was something he had to do," his father said.
Fletcher reported to Basic Training and Infantry School at Fort Benning, Ga. Most of the family was there as he graduated months later, except for his father. Marlowe Fletcher told his son he'd come down to Georgia only after Jacob had graduated from airborne school as well. "You get through that," he told his son, "I'll be there." On Aug. 16, 2002, at the end of the "jump school" graduation ceremony, Marlowe came down out of the stands and pinned the airborne wings on his son's chest.
Last March, when war broke out, Marlowe wasn't the only local with the soldier on his mind. His second son, Josh Goldfeder, is in fifth grade at East School. Josh's classmates at first didn't believe he had a brother fighting in the war, but he soon backed up his prideful claim with a quick search on the Internet.
Meanwhile, thousands of miles away, Pfc. Fletcher and his fellow paratroopers were landing in northern Iraq, greeted by waiting Kurds. With plenty of smiles and warm bread to go around, according to Marlowe, the Kurds went so far as to offer to wipe the mud off the dirty GIs' uniforms. For these people, Fletcher knew he had arrived as a liberator.
"In his words," his father said, "he said he would do anything for them, to help these people."
Fletcher and his unit were supposed to leave Iraq last June, but their tour was extended. Two weeks ago, he finally escaped the country temporarily on leave. On Sunday, Nov. 9, Fletcher called his father from Qatar, explaining his decision to stay in the region for his leave rather than come home and lose his focus on the work he faced in Iraq. Two days later, Marlowe came home from Veterans Day ceremonies at Kennedy Plaza and a trip to his father's burial place at Long Island National Cemetery with Josh, and got another long-distance call from his oldest son.
Three days after that, a call came from Marlowe's ex-wife's home -- from an Army captain, who informed him of his son's death.
Services for Pfc. Fletcher were held this week at IJ Morris Funeral Home in Dix Hills, and a burial with full military honors followed at Long Island National Cemetery in Pinelawn.
At East School, Josh's classmates held a moment of silence.
Though he grieves, nothing take wash away Marlowe's pride in his son. "He was just a good kid," he said. "He turned his life around 180 degrees."
The Army seemed the perfect fit for the former high school wrestler, the son, stepson and grandson of veterans. "It takes a special person to go up 1,200 feet and step out of a perfectly good airplane," Marlowe said. "This was his calling. He felt it was the right thing to do.
"He was an American soldier, airborne. He was my beloved son .... my hero."