Mon, November 17, 2003

Tragic End to Long Island Soldier's Dream


By Martin C. Evans
Staff Writer, Newsday, Inc.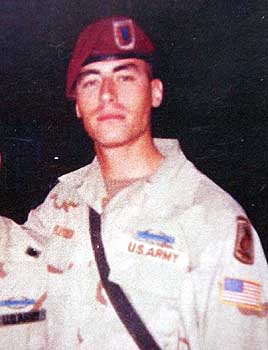 Pfc. Jacob Fletcher of Bay Shore was a paratrooper with the Army's 173rd Airborne. He was killed when explosives struck a bus in which he was riding in the Iraqi town of Samara.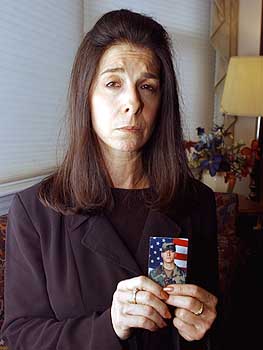 Dorine Kenney Holds Photo Of Her Son

The war in Iraq has struck Bay Shore again, this time claiming the life of Army Pfc. Jacob S. Fletcher, a 1994 graduate of Babylon High School who had dreamed of being in the armed forces since his childhood.

Fletcher, 28, was killed Thursday -- 12 days shy of his 29th birthday -- when explosives struck a bus in which he was riding in the Iraqi town of Samara.

He had been one of the first Americans to land in Iraq, parachuting into the darkness north of Baghdad during the first week of the war.

"Jacob has always been a soldier," his mother, Dorine Kenney, of Bay Shore, said Monday.

Fletcher was a member of Company C, 2nd Battalion (Airborne), 503rd Infantry Regiment, 173rd Airborne Brigade, based in Camp Ederle, Italy.

He was killed in an area north of Baghdad, where continued anti-American sentiment has resulted in almost constant attacks on U.S. troops since President George W. Bush said major combat had ended on May 1.

Fletcher's entry into the military built on a family tradition. His father, Marlowe Fletcher, of Island Park, served in the Air Force during the Vietnam War. His stepfather, Raymond Kenney, is an Army Vietnam veteran. A favorite cousin, Jason McLaughlin, is chief petty officer on the USS Kearsarge, based in Virginia. Marlowe Fletcher could not be reached for comment last night.

From a young age, Fletcher dreamed of following in their footsteps.

When he was only 8, his mother got a call from an Army recruiter who inquired about the whereabouts of her son. Young Fletcher had penned an application and mailed it off, hopeful that he would soon be wearing a uniform.

"I told him to call back in 10 years," Kenney recalled saying to the recruiter.

Kenney said her son enlisted after the Sept. 11, 2001, terror attack on the World Trade Center claimed the life of a family friend. "I think after the World Trade Center, he felt he had to step up to the plate," she said.

A wiry former high school wrestler, he had a fondness for tattoos -- including a blue Star of David he wore on his right shoulder -- and doted on his cat, a Russian Blue with a luminous coat.

Friends and family said he displayed talent as an artist and a poet, and had a sensitive spirit.

His mother said he wrote extensively from Iraq, describing a world of vast need, and a people yearning for freedom.

"He said 'I would die for them,'" his mother said. "He wrote that in a letter."

Even though Fletcher was enamored with the military and had a strong sense of patriotic duty, he did not join the service right away. After high school, he took odd jobs working as a house painter and operating a pressure washer.

He tried to enlist in the Army six years ago, but he injured his knee just before he was to be inducted, and failed his physical.

Kenney said the blast that killed her son occurred while he and several other soldiers were returning from a three-day leave in the Persian Gulf state of Qatar. Another soldier, Sgt. Joseph Minucci II, 23, of Richeyville, Pa., was killed in the attack. Three soldiers were wounded.

Kenney said her son originally had been scheduled to return from Iraq June 14, but had received orders extending his stay.

He told friends that when his tour of duty ended he wanted to build a log cabin in the Pocono Mountains of Pennsylvania, near his stepsister, Tara Kenney. He hoped to be a state trooper there.

His death left friends expressing ambivalent feelings about his military service.

All seem proud that he was willing to serve. But some expressed anger that he died far away, for a cause they said was vague and uncertain.

Shannon Leigh, a high school friend who lives in Bloomington, N.Y., said Fletcher spoke of the anxiety of war when he called her from Qatar two days before he was killed.

"He told me on the phone he was stressed out and he wait to come home," Leigh said. "This country is lucky to have people like Jacob."

Carrie Pisano, a Babylon resident who had known him since childhood, said, "It stinks, because he was very young and didn't get to fulfill his dreams. It shouldn't have been him. Honestly, it shouldn't have been anyone."

Fletcher is the second Long Islander to be killed in the war in Iraq. Raheen Heighter, also of Bay Shore, was killed when a bomb exploded under his vehicle July 24.

A funeral for Fletcher is scheduled for 10:15 a.m. Wednesday at the I.J. Morris Funeral Home, in Dix Hills. He will be buried at Long Island National Cemetery, Pinelawn.

In mourning, his mother is reflecting on his dream. "He believed in his mission in life," she said. "He wanted to make a difference. And he did."