Sat, November 15, 2003

Washington County, PA soldier killed in Iraq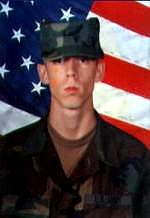 Joseph Minucci II

Sgt. Joseph Minucci II, age 23 of Richeyville, PA died Friday November 14, 2003 in Iraq as a result of hostile action.

Sgt. Minucci was born December 19, 1979 in Washington, PA a son Terrence and Marcella Sargent Minucci of Richeyville who survive. He was a 1998 graduate of Beth-Center High School and was co-captain of the high school soccer team. Sgt. Minucci enlisted in the Pennsylvania Army National Guard on July 24, 1997 and served with Company C, 1/10th Mechanized Infantry in Waynesburg, PA. until his honorable discharge on July 13, 1999. He then enlisted in the Active Army on July 14, 1999 and served in Rifle Company C, 3rd Battalion, 187th Infantry, 101st Airborne Division at Fort Campbell, Ky. until February 19, 2003. On February 20, 2003 he was transferred to C Company, 2nd Battalion, 503rd Infantry Regiment, 173rd Airborne Brigade of Camp Ederle, Italy.

At the time of his death Sgt. Minucci was in Samara, Iraq on Highway 1 guarding a busload of soldiers heading for R&R when it was hit by a improvised explosive device. Sgt Minucci had served in Italy, Afghanistan, Kuwait, and Iraq. for his service he has received the Army Service Ribbon, Good Conduct Medal, National Defense Service Medal, Combat Infantry Badge, Parachute Badge, Expert Marksman Badge, and will receive several posthumous awards.

Surviving in addition to his parents are; Sister - Mrs. Thomas (Shannon Lynn) Grande of Cliffwood, NJ; Brother - Terrence Lee Minucci of Richeyville; Maternal Grandmother - Marcella Sargent of Richeyville; Paternal Grandparents - Joseph and Patricia Minucci of Glendona, CA; Several Aunts and Uncles. Deceased is his maternal grandfather - Herschel H. Sargent.

Friends will be received 2 to 4 & 6 to 9 pm Thursday and Friday in the John B. Greenlee Funeral Home, 2830 Main St. Beallsville, PA (Phone: 724-632-5454) where services will be held at 11:00am on Saturday November 22, 2003 with Dr. Allen B. Lee officiating. Interment will be in the Beallsville Cemetery. Full Military Honors will be conducted by the U.S.Army. The Hancock - McCune - Horne American Legion Post #705 of Centerville, Pa. will conduct services at 7:00pm on Friday in the funeral home.