Tue, November 11, 2003

Recess is over!
Iraqi children hit the books with help of Brigade Soldiers

Story and photo
By Sgt. 1st Class Todd Oliver
173d Abn Bde Public Affairs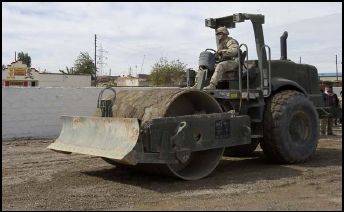 Spc. Mathew Getz drives a roller outside the school in a small Arab town outside Kirkuk. Soldiers of the 173d have been working on renovating a number of local schools in and around the city of Kirkuk.

Although school has started for many Iraqi children, the kids of Alma Asharbi, a small village outside Kirkuk, will have to wait a few more days.

But if the Soldiers of the 173d have anything to do with it, the wait will be worthwhile.

1st Sgt. John Bagby, Headquarters and Headquarters Company, 2d Battalion, 503d Infantry (Airborne), and the Soldiers of the 173d Airborne Brigade, Combat Support Company, have been working with the school and the school's teachers for the past month getting the school ready for the students.

"The school was like most of the buildings here," Bagby said describing the school's condition when the project first began. "It was the normal stuff - a lot of trash, the wiring had been ripped out, dilapidated desks were every where, and the latrines were badly damaged. It was just a mess. I don't know how they ever held classes there. But, maybe it wasn't like that before the war and all the damage was done by looters. As a matter of fact, they even found ammunition inside."

"When we first came out here there was trash all over the playground," said Sgt. Jeffrey Bradford, 173d Abn Bde CSC. "We hauled off about three dump trucks of trash from outside the school and then got some fill dirt to bring the field up to the level of the sidewalk, where there had been a three foot drop."

Outside the school, the parking lot received some care as well. The engineers leveled it off and added a fresh coat of gravel. When they discovered they had more gravel then they needed, they used it to improve the town's main road, taking a muddy, sewage-filled dirt track and turning it into a cleaner, safer road.

"We put the gravel all the way down this road," said Bradford. "It helps the people who live here. Now, when the kids come to school, they don't have to walk through mud."

"Kids are kids. They come out here every day we work," he said pointing to one of many small groups of children who crowded curiously around them. "They've even helped out by sweeping and things. They know it's for their school, so they've given us a hand." Some local adults got into the act, too.

"Some of the grown ups have shown up with shovels to help us clean around the walls and in the gutters," said Sgt. 1st Class Don Finley. "Helping out the community around the school is also important. So we usually spend some of the time each day helping them, picking up trash, fixing roads, whatever is needed."

Projects like this - to anyone who's seen destroyed or looted buildings in Iraq or elsewhere - not only seem monumental, but in fact, are monumental. Just deciding where to start and what to start on can be a problem of epic proportions.

"The first thing you have to do is make sure the contractors can come in and put in bids," Bagby explained. "We had to have contractors look at everything - from painting to ceiling fans to fixing bathrooms."

Bagby's involvement actually started with his company's executive officer, 1st Lt. Robert Curtis. He was handed the project after the brigade's Battle Company completed a school renovation on the other end of Kirkuk.

"When they opened up that school it was in a predominantly Kurdish neighborhood," Bagby said.

Like most things in Kirkuk there is an ethnic aspect this as well. The other school was located in a neighborhood with mostly Kurdish citizens, it was decided that a school that served mainly Arab children should be looked at for renovation. "We try make sure we do a little something for everyone," Bagby said. "We're even looking at an Assyrian school to renovate after this."

The decision to renovate this school, in this particular neighborhood happened because of - or perhaps in spite of - the fact that the area is anything but friendly.

"This school was a good choice because it was a chance for us to work with the community, not just to drive through on patrol or conduct raids," Bagby said. "We still have problems though, just a few weeks ago they were upset because they wanted to paint Arabic writing on the Iraqi flag in front of the school and we said no, that's something that Saddam's regime did and we're not going to allow you to do that."

Bagby said that was the first time, in a long time, that they had rocks thrown at their vehicles as they left.

But the villagers and the soldiers were able to work it out. When the village leaders discovered that they soldiers weren't going to back down and had, in fact, stopped working on the school for two straight days, they apologized and work continued. Fortunately, getting the people of the town involved is a much simpler, more peaceful, affair.

"I took the headmistress and headmaster to the education department," he said. "When they met the liaison there it did more to help us than anything. The education department was able to provide a lot of the supplies we desperately needed - file cabinets, glass for the windows, paint, desks, even wiring for the electrical fixtures."

Even the Northern Oil Company was able to led a hand by putting in some urgently needed drainage and constructing a small foot bridge to allow the children safe passage across a ditch without having to approach a nearby highway. To the tune of more than $41,000 dollars and more then a month's work, the doors are ready to open. The school looks like something you'd see in almost any normal society.

There are cartoon images of cats and mice, looking suspiciously like Tom, (of Tom and Jerry fame) and some like Mickey Mouse, but corporate lawyers here are as hard to find as WMDs and the school, its students and its neighborhood have more pressing concerns then copyright infringement.

Some supplies were easier to come by. A playground set, found on the airfield, but not getting much use by the current U.S. Army and Air Force occupants is being repaired and will soon hear the laughter of kids again.

Supplies from families and friends back home will eventually make up the bulk of the schools disposable supplies; paper, pencils, glue and glitter, and so on. Indeed, many supplies, not unlike many other schools in Iraq, are coming from corporations in the U.S. eager to help out.

But more supplies are urgently needed and by the time this article is printed school will most likely be in session.

Supplies will be accepted through Bagby for the school. Paper, pencils, glue and glitter are all gladly taken, just send to: SFC John Bagby, HHC 2/503d, APO AE 09347.