Tue, October 28, 2003

Honoring Soldiers
1-508th pay respect to their fallen comrades

Story and photo
By Sgt. 1st Class Todd Oliver
173d Abn Bde Public Affairs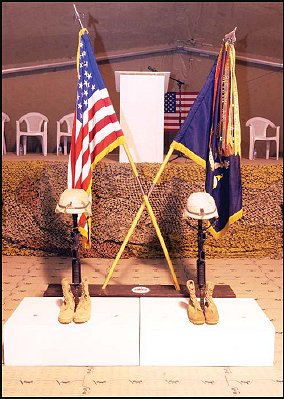 The rifles, boots and Kevlar helmets of 1st Lt. David Bernstein and Pfc. John D. Hart are displayed during a memorial service at Kirkuk Military Airfield, Iraq. Both soldiers were killed during a fire fight in a small village south of Kirkuk. Both Bernstein and Hart were members of the 1st Battalion, 508th Infantry (Airborne), deployed to Iraq with the 173d Airborne Brigade.

"What would the dead say if they could speak," asked Chaplin Charles Burgess to a crowd of hundreds at a memorial ceremony Friday, 24 October, for two paratroopers killed in action in Iraq.

1st Lt. David Bernstein and Pfc. John D. Hart, C. Company, 1st Battalion, 508th Infantry (Airborne), were honored for giving their lives during Operation Iraqi Freedom.

Two M4 rifles, muzzles down between two pairs of wellworn desert boots with Kevlar helmets perched atop their stocks stand before the crossed flags of the United States and the 173d Airborne Brigade.

Behind these are portraits of both Bernstein and Hart with narration's describing their military careers.

The chairs, and there are many of them, are filled quickly and soon it's standing room only inside the large tent. Even though industrial air conditioners blast cold air into the vast tent it's still hot, sweat pours off the skin. No one seems to mind though, all eyes, some of them wet with tears, stare at the speaker or sometimes, in a moment of reflection, blindly ahead.

"Tough as nails and courageous, he always took the hard right over the easy wrong," said 1st Lt. Thomas Hando during the memorial. "He always put his platoon's needs way above his own, always looking for a way to take them to the next higher level."

Hando went on to describe how Bernstein, not happy with his platoon's road marching abilities, had them out marching far before the morning physical training was scheduled to start.

"He implemented a new PT plan," Hando said, his voice beginning to strain with emotion. "Back in Italy, when I would be driving to work at zero five, I would see him with his platoon, far from post, road marching with rucks far exceeding the company standard. They had stepped off at zero four two hours before the company started PT.

"If only I could half as good with my son as Dave's parents did with him, I'd be a truly exceptional father," Hando continued. "David R. Bernstein was an inspiration to us all. We'll never forget him. He was the best our nation produced, and the best we had."

Pfc. John D. Harts story was no less tragic. Coworker and friend Pfc. Devin Schuette spoke for a few moments about Hart.

"Hart was a good friend of mine, he was a good friend to a lot of people. He was a quiet person and kept to himself but if you ever needed help he was there for you," Schuette said. "If there was anyone, in this whole world, I could emulate it would be him. There are no words that can express how nice this young man was."

"We honor our fallen red devils," said Burgess near the ceremonies conclusion.

The final episode at the memorial is perhaps the hardest to bear without emotion. Roll call. 1st Sgt. Toby Boland reading out loud names from a company roster. You know as you listen to the names roll by, who the final two names will be, but the silence that follows them is deafening.

"Roll call," the First Sergeant barks. Anyone who has ever heard Boland speak before knows immediately it is him.
"Hartwoth," he shouts.
"Here first sergeant," comes the reply from the back of the room.
"Rayes," he again calls.
"Here first sergeant," again comes the answer.
And so it repeats until, "Bernstein."
Silence.
"Lieutenant Bernstein," he yells.
Again silence.
"First Lieutenant David R. Bernstein!" he shouts with deliberation.
Silence.
"Hart."
Still silence.
"Pfc. Hart."
Maddening silence.
"Private First Class John C. Hart!"
Silence.

"If the dead could speak. If Pfc. Hart and 1st Lt. Bernstein could speak, I think they would say, 'the battle is still on … we must be brave and we must be courageous," said Burgess.

But of course they cannot speak, they can only answer with silence.