Web posted Sunday, September 28, 2003

Juneau GI injured on Iraq patrol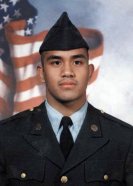 Wounded: Spc. Josel Carrillo, a 2001 Juneau-Douglas High School graduate, was seriously injured Thursday in an attack in Iraq.
Courtesy of the CaRrillo family

Spc. Josel Carrillo, a former Juneau-Douglas High School soccer player, was seriously injured last week in Iraq, his family said.

Carrillo's mother, Remy, received the news in a phone call from the U.S. Army casualty center on Friday. Carrillo, 21, was injured Thursday evening. The casualty center staff told Remy Carrillo that her son was injured while on patrol in Tikrit, Saddam Hussein's hometown, when a trash can blew up. Josel Carrillo serves in the 173rd Airborne Brigade.

An Associated Press report that came out Friday said one soldier in the 173rd was killed and two others injured in Kirkuk, Iraq, when someone fired a rocket-propelled grenade at the soldiers' vehicle. It's not clear if that was the same event.

"I'm shaking. I don't know what happened," Remy Carrillo said.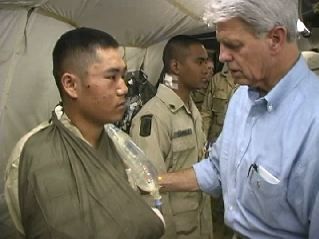 Awarded the purple heart by the acting Sec. of the Army
Josel is in center of picture.

The casualty center receives updates on soldier conditions every three to five days, so she will have to wait for more news of her son.

The 173rd parachuted into Kurdish-controlled northern Iraq on March 26 to open a northern front for U.S. forces. Before that, Carrillo had been stationed in Vincenza, Italy, since 2001.

Remy Carrillo, who works for the state Department of Transportation, said the last she heard from her son was a letter in July. She last spoke to him on the phone in April.

No further information was available from military authorities.