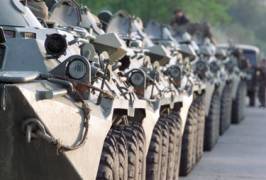 Hungarian BTR-80 tanks prepare to leave Kecskemet, Hungary, as part of this year's Hungarian Response exercise. (photo by Sgt. Thorin Sprandel, 173d Abn Bde Public Affairs)
---
---
SETAF leads off JTF readiness exercise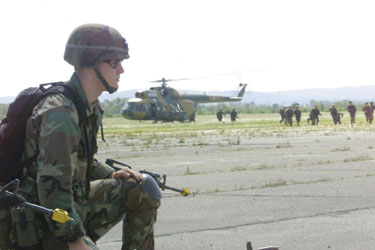 A soldier from Company A, 2nd Battalion, 503rd Infantry (Airborne), guards an airfield near Papa, Hungary as more paratroopers come in on a Hungarian MI-8 HIP helicopter during a non-combatant evacuation operation May 15. (Photo by Sgt. Thorin Sprandel, 173d Airborne Brigade Public Affairs)
By Pfc. C. Terrell Turner
SETAF Public Affairs
KECSKEMET, HUNGARY— At approximately 10:30 p.m. Monday, 10 C-130 and two C-141 aircraft approached low and fast out of the darkness to rapidly release almost 500 paratroopers conducting a lightning-fast tactical seizure of an airfield.
This was the start of exercise Hungarian Response 2002.
Supported by U.S. Air Forces, Europe (USAFE) and Air Mobility Command, United States Army Europe's Southern European Task Force (Airborne) conducted a tactical night insertion and airfield seizure operation at Kecskemet air base in Hungary.
This exercise, called Hungarian Response 2002, is the culmination of precise planning, cooperation and execution of a multinational force, consisting of soldiers and airmen from U.S. Army, Europe (USAREUR) and USAFE, along with Hungarian and Italian defense forces, held in Hungary, May 13-22.
"This exercise truly captures the rapid deployability of forward deployed Army and Air Force troops in Europe," said Maj. Gen. Robert Wagner, Joint Task Force commander. "The exceptional cooperation and interoperability achieved through year-round military to military training throughout the theater gives EUCOM the flexibility to quickly deploy forces and transition from peacetime to combat operations. From U.S. and Hungarian advanced force recon operations and U.S. and Italian Airborne operations to operating with the U.S. Embassy, light airborne and heavy [armored personnel and tank] forces working together, Black Hawks and Hind helicopters and the great partnership between the Army and Air Force in Europe, this was a super exercise. Thanks to all, most assuredly to the Hungarian government and military for allowing us to jump, operate and train on an active fighter airbase and other remote sites out to 160 km away, and for the superior partnership and support."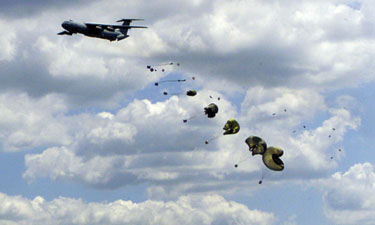 An Air Force C-141 Starlifter drops supplies at a former Soviet airfield near Papa, Hungary during as part of Hungarian Response. (Photo by Sgt. Thorin Sprandel, 173d Airborne Brigade Public Affairs)
Between the time the first aircraft entered the drop zone and the final pass, 470 paratroopers exited the aircraft and landed safely along with five heavy equipment platforms. The night sky with zero percent illumination was filled with silent, dark canopies falling to earth, each carrying a well-trained, combat ready soldier, prepared to commence the operation, exactly as planned.
Immediately after landing, the "Sky Soldiers" of the 173rd Airborne Brigade, including members of the 1st Battalion (Airborne), 508th Infantry and the 2nd Battalion (Airborne), 503rd Infantry, began gathering equipment, securing perimeters and accounting for people and securing the airfield for the arrival of armored personnel carriers, tanks and additional combat forces from U.S. Army Europe's 1st Armored Division in Germany.
The brigade's Airborne Combat Engineers quickly recover their scooploader, heavy equipment and runway repair kit and repaired a crater caused by a 40lb. cratering charge on an asphalt road to support the arrival of follow-on forces by C-5, C-141 and C-130 aircraft.
Hungarian Response 2002 is a chance to exercise the immediate deployability of Europe's forward-based forces in response to possible threats and to sustain a theater-level joint and combined non-combatant evacuation operation and follow-on combat operations. The exercise clearly demonstrates NATO's interoperability and cooperative functionality between the allied forces of our different nations.
HR 02 is the first time the entire USAREUR Immediate Ready Force deployed within 48 hours and conducted operations in a tactical environment. The IRF, a combination of combat and support units capable of deploying to meet the multi-leveled challenge of a potential threat within EUCOM's area of responsibility ranging from peacekeeping to possible heavy combat missions.
The exercise is also a chance for the U.S. Air Force to conduct multi-phased air operations, while functioning in and coordinating airspace command and control with other NATO countries. In addition to a drop of paratroopers and combat support operations, the Air Force conducted heavy drop operations and combat landing of C-130 aircraft on unimproved grass fields.
HR 02 involves Army units from the Southern European Task Force (Airborne), V Corps, 1st Armored Division, 12th Aviation Brigade, 5th Signal Command, and the 21st Theater Support Command. Active and reserve Special Operation Forces and assets of the U.S. Air Force, including the 3rd U.S. Air Force, 86th Air Wing and stateside units who provide support during the exercise, which concludes May 22.